Some of the highlights of my wife's recent visit home was that she's spent quite a bit of her time learning to cook authentic Turkish food. Over the three weeks she was home she got to share some of those recipes with us and now we get to share them with you.
This recipe for flatbread (gozleme) is one that I think every kitchen needs. It's simple, versatile and extremely tasty. These chewy flatbreads are wonderful for enjoying hummus, havuçlu haydari or any other dip that you're fond of. They are also wonderful filled with a variety of ingredients, from spinach to meats or potatoes.
Prep time is minimal at around 30 minutes and cooking time is only two or three minutes per flatbread. Most of this is resting time, so the rest of the meal can be prepared while the dough rests, which is always a plus in a busy kitchen.
I'm sure there are other variations on this recipe. My wife has learned all of her recipes in the Adana region of Turkey which is heavily influenced by Mediterranean culture, so if you have a different version of this recipe lying about, I'd love to hear about it. do you have a favorite way to make and use these flatbreads? What fillings do you use? leave a comment and let us know. I'll be making these a lot in the future, so ideas are welcome!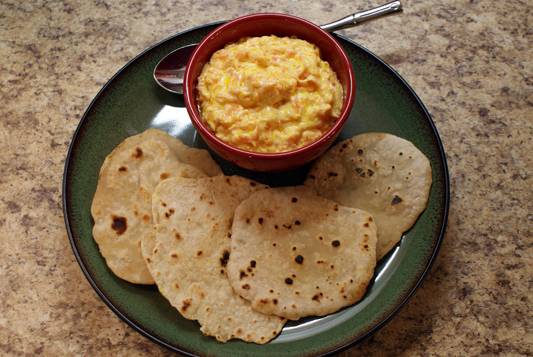 Yield: 12 flatbreads
Turkish Flatbread (Gözleme - Adana Style)
Prep Time: 5 minutes

Cook Time: 10 minutes

Total Time: 15 minutes
Ingredients
1 Cup all purpose flour or whole wheat flour
1/2 tsp salt
1 Tbsp olive oil
1/2 Cup room temperature water
Instructions
Sift flour and salt together in a large bowl. form a well in the center . Pour olive oil and water into the well and work together to form a soft dough with your fingers. Be sure to knead the dough thoroughly.
Cut dough into 4 equally sized pieces. Knead and roll into balls using the palms of your hands. Place on a floured surface and cover with a damp kitchen towel. Allow to rest for 30 minutes.
Heat a nonstick or cast iron skillet with 1 Tbsp of olive oil over medium high heat until oil is shimmering, but not smoking. Roll dough into thin 6 to 8 inch rounds rounds on a lightly floured surface.
Cook rounds one at a time in preheated skillet. Watch for the dough to bubble up (Approximately 1 minute per side) before turning. Turn dough and brush with olive oil. cook for an additional 1 minute for the second side, or until flatbread has puffed up and has a fluffy appearance. Remove from heat, brush the remaining side with oil.
Repeat for each round.
Serve immediately or at room temperature with your favorite hummus, dip or as a side for your favorite meal.
Nutrition Information:
Yield:
6
Serving Size:
1
Amount Per Serving: Calories: 164Total Fat: 3gSaturated Fat: 0gTrans Fat: 0gUnsaturated Fat: 2gCholesterol: 0mgSodium: 195mgCarbohydrates: 30gFiber: 3gSugar: 0gProtein: 5g


What I would have done differently had I thought of it at the time:
I really need a better pan for cooking these, or they need to be made on the grill. My cast iron skillet gets far too hot on my ceramic cooktop and tends to cook the bread too quickly. My nonstick skillets are too small (I use those primarily for omelets and frittata.) A larger nonstick griddle or grill pan would be preferable for this particular recipe.
I'm going to try grilling these later this week and let you know how that goes.
Links to other recipes like this: