Perfectly creamy, light, airy and infused with vanilla, this may just be the best homemade ice cream I've ever had. But just as good as its flavor and texture is that it doesn't need an ice cream maker, just a mixer. i would have made this for any and all of those reasons, but this ice cream like many of the recipes we've published here, comes with its own story. So let me take a moment to share it with you…
I was sitting at my desk one day last week doing something of great importance (Yes, Candy Crush is important!) when my wife shouted "Jerry! Come here!" from her office. So of course I bolted in, thinking that something was wrong, that one of the dogs had done something unseemly or worse, that I'd gone and done something stupid.
Nope. None of the above.
I burst through the doorway in her office to see what was wrong, where she greeted me with a beaming smile. My wife excitedly pointed to her computer screen, exclaiming breathlessly that we just had to make this whipped milk ice cream her friend had discovered at Crunchy Creamy Sweet, then went on to explain just why we needed to make it.
Like I needed an explanation. It's ice cream. Come on.
"It only has two ingredients, see!" She said, chock full of wonder and amazement.
So I looked. And I looked again. The recipe actually has three ingredients, uses no custard, and anyone with an electric mixer can make it. All of these are things that make me happy. I dislike custard bases, I'm not a fan of complicated ingredient lists and I like sharing things with you that anyone can make and make well. This was a winner.
"Yep. I'm on it." I replied, and set about preparations.
First, grab yourself a can of evaporated milk and toss it in your fridge. It's got to chill completely. At least three hours, but I'd say overnight is good. Once that's cooled down, you're ready to get started, so here we go. (This is pretty simple stuff, trust me.)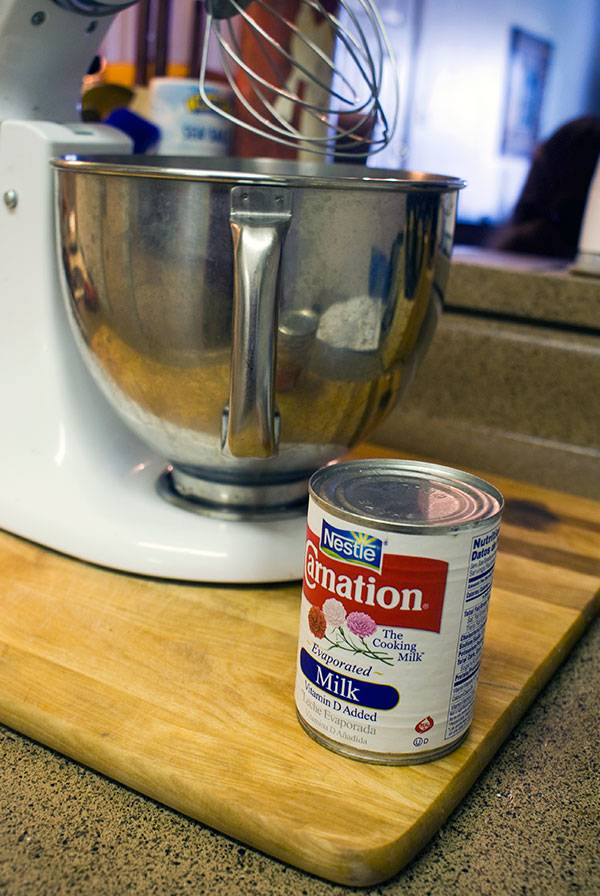 First off. Find your can opener and get the lid off that can. then pour it into a large mixing bowl. I used our stand mixer, but a handheld mixer will work, too.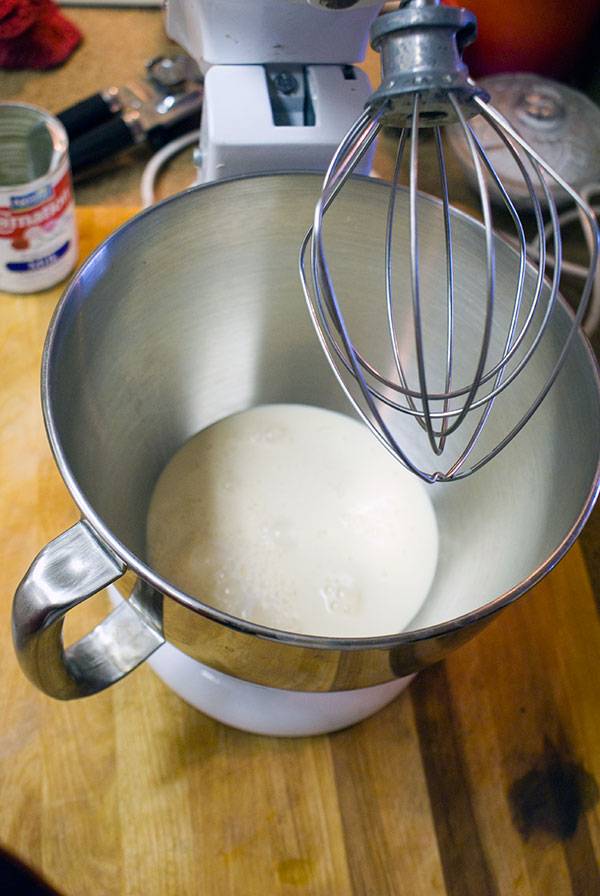 Next, crank the mixer up all the way and let it rip along for about 45 seconds.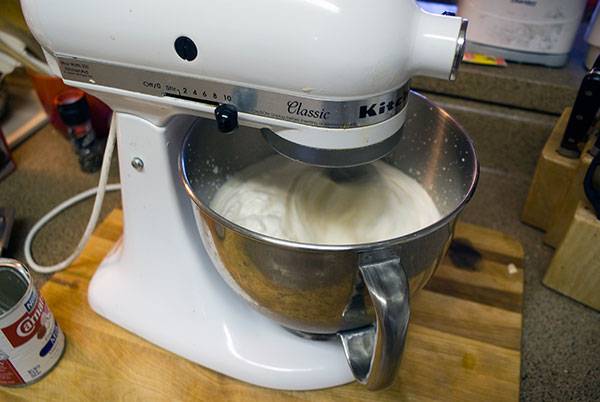 The milk should just about triple in size and look wonderfully frothy, almost as thick as whipped cream.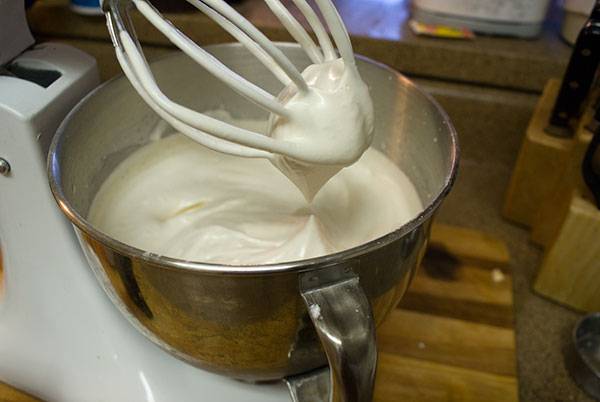 Mix in powdered sugar and vanilla, whip until mixed and then toss the bowl in the freezer for an hour. Pull it back out and whip it again, for a minute this time. (See, the mixing bowl is all frosted up.)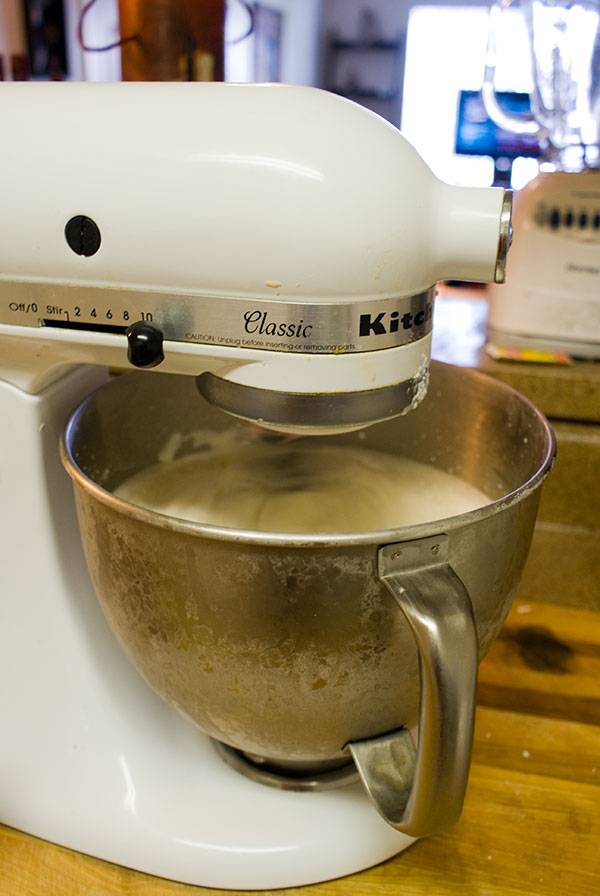 Repeat this step 4 or 5 times over the course of the day. Freeze, whip for a minute, freeze again. Once it hits the consistency you want, transfer it to an air tight container and store frozen (Or just eat it.)
See. I told you it was simple. but it's also delicious, elegant and best of all, you can make this tomorrow, or next week. Over the summer or for the Holidays. It doesn't matter when you make it. I'm sure that once you've tasted it, you'll be making it all the time.
Here. Have another look at the finished vanilla ice cream. Yep, just 3 ingredients and a freezer.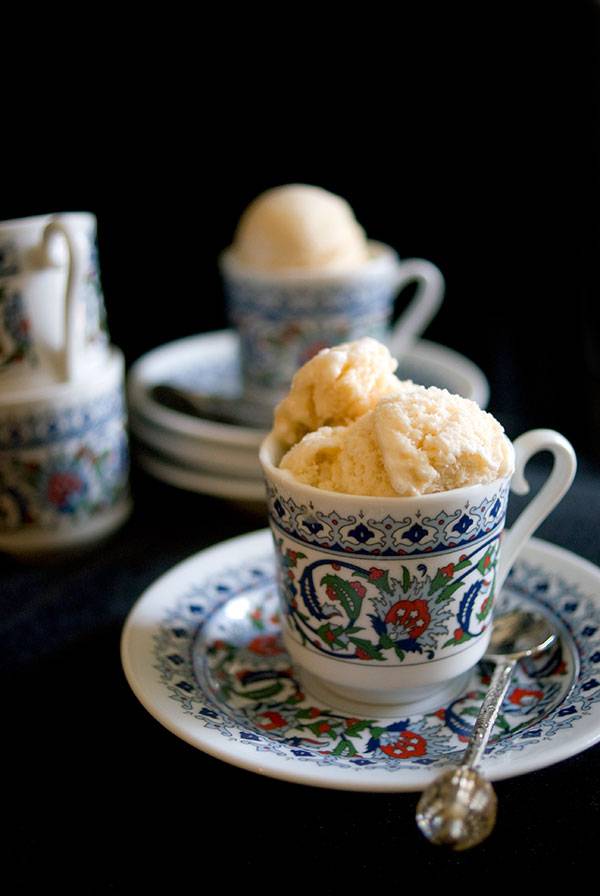 Gorgeous, isn't it?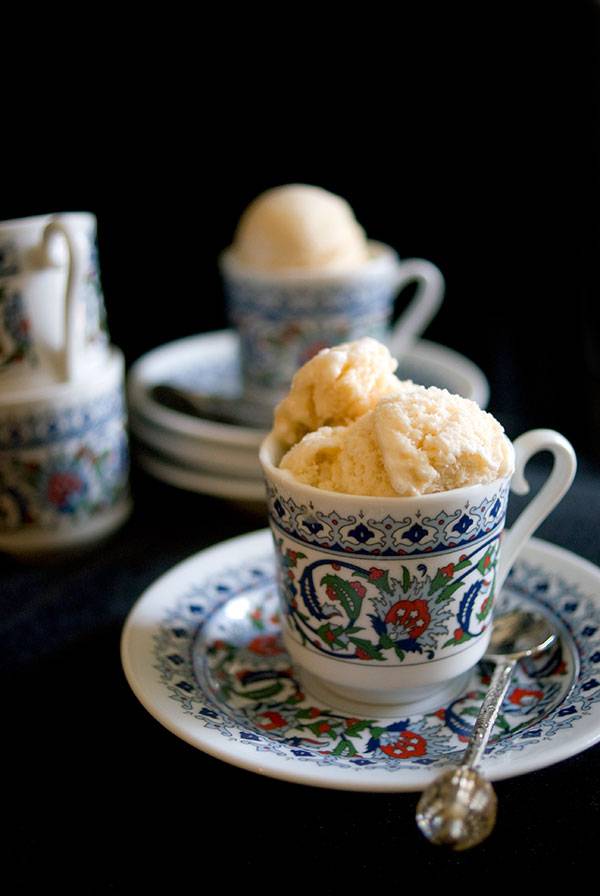 Yield: 6 servings
3 Ingredient Whipped Milk Vanilla Ice Cream (No Machine Required)
Prep Time: 20 minutes

Cook Time: 3 hours

Total Time: 3 hours 20 minutes

Luscious, creamy, light vanilla ice cream from just three simple ingredients, no ice cream machine required
Ingredients
1 (13 ounce) can evaporated milk
1 1/4 cups powdered sugar (confectioner's sugar)
2 teaspoons vanilla extract
Instructions
Chill the evaporated milk in the fridge until thoroughly cold. (At least overnight, but a few days at the back of the fridge is better.)
Pour the milk into the bowl of a mixer or a large mixing bowl. Whip on high speed until fluffy (About 50 seconds in my stand mixer, but it might be longer if using a hand mixer.)
Add the powdered sugar in thirds, whipping to combine each addition. Add the vanilla and whip until soft peaks form. (About 20 seconds.) Place bowl in the freezer for one hour.
Remove from the freezer and whip for one minute. Return to the freezer for another hour. Repeat 4 times.
Remove ice cream from mixing bowl and place in a chilled air tight container with a lid. Store in the freezer for up to a week. (As if it would live that long.)
Share and Enjoy!
Nutrition Information:
Yield:
6
Serving Size:
1
Amount Per Serving: Calories: 100Total Fat: 0gSaturated Fat: 0gTrans Fat: 0gUnsaturated Fat: 0gCholesterol: 2mgSodium: 6mgCarbohydrates: 24gFiber: 0gSugar: 23gProtein: 0g
What I would have done differently had I thought of it at the time:
Nada. Nothing. Zip.
As vanilla ice cream goes, this is amazing. I am looking forward to experimenting with flavors, though.
What are your thoughts? Have you made a version of this ice cream before? Will you now that I've told you how awesome it is? Do you have a flavor you'd like us to try? Leave a comment and let us know!
More like 3 Ingredient whipped milk vanilla ice cream from around the web: