Remember that big ol' bag of chicken leg quarters you picked up at the market? The one that's taking up a ton of room in the fridge because you haven't gotten around to packaging all the chicken up a and freezing it. Or worse yet, it's lying in the fridge while you try to decide what to make with all that chicken.
Wait, you didn't grab one? Why not?
At the rate that prices on meat are going up, chicken leg quarters are quite possibly the most cost-effective protein available now. I've seen them locally for as little as $4.25 for a 10-pound bag in the meat department of the BigScaryMegaMart. That's a lot of meat for very little money folks. A Lot. About 4 dinners worth on average. You can't beat that with a stick. But a lot of people just don't buy them.
I suppose the reason is that people haven't worked with leg quarters as much as they have chicken breasts or thighs. It's not like most food shows on TV go to lengths to show you how to cook them. Most of the examples you see use boneless, skinless (and often flavorless) chicken breasts. To be honest, I buy chicken quarters almost exclusively. They're cheaper, they have more flavor and they cook just like any other chicken.
They also happen to look darned good on a plate, don't you agree?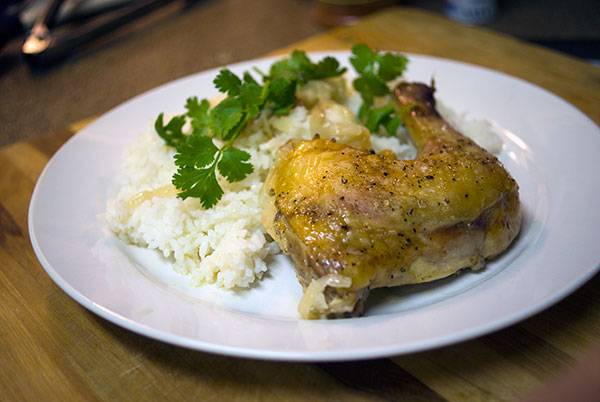 If you've held off buying leg quarters because you weren't quite sure what to do with them, let me suggest this simple, one-dish recipe for baked chicken leg quarters. It's sure to change your mind about this particular cut of chicken forever. You just need 3 ingredients and about an hour an a half to whip this out. You'll get rave reviews for it, too. Trust me. I got plenty of them last night when I made the dish pictured here.
When I say that this is simple, I'm not joking. You don't need to be a chef to pull this off, or even an accomplished cook. This is probably the first chicken recipe I'll teach my son, because it's nearly foolproof as long as you can read a thermometer and the results are spectacular every time.
Just slice some onions and lay them in a skillet: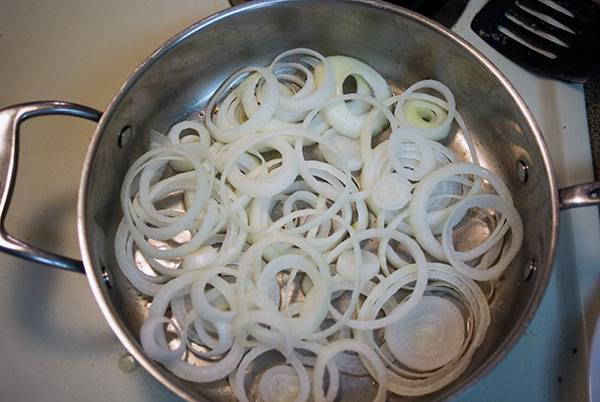 Sprinkle some salt and pepper on them, toss in a bay leaf and cover 'em up with some chicken leg quarters:
Add some more salt and pepper, then you toss the whole thing into a hot oven for about 90 minutes. When they're all done, you get this:
All you have to do is make a side dish and you're all set. The onions and drippings are perfect over rice or tossed with pasta, so the sauce is already made for you, right in the pan. Simplicity in action.
Yield:

4 Servings
Baked Chicken Leg Quarters with Braised Onions, a one dish wonder
Cook Time:
1 hour
30 minutes
Total Time:
1 hour
35 minutes
Crisp, juicy chicken with succulent caramelized onions. Baked chicken leg quarters cook in one pan with minimal fuss. Perfect chicken every time.
Ingredients
4 chicken leg quarters
1 large onion (Or two smaller onions), sliced
1 bay leaf
Salt and Pepper to taste
Instructions
Heat oven to 350 degrees. layer onions in the bottom of a heat-proof skillet, casserole dish or baking dish. Season with salt and pepper. Add the bay leaf.
Rinse leg quarters and pat dry.Season liberally with salt and pepper. Lay the chicken over the onions, arranging pieces so that they are in a single layer. Bake at 350 degrees until juices run clear or until the internal temperature reaches 170 degrees. (About 1 1/2 hours in my case)
Discard bay leaf.
Serve with rice or mashed potatoes, and be sure to spoon some of the onions and pan juices over the top!
Share and enjoy!
Nutrition Information:
Yield:
4
Serving Size:
1
Amount Per Serving:
Calories:

489
Total Fat:

23g
Saturated Fat:

6g
Trans Fat:

0g
Unsaturated Fat:

14g
Cholesterol:

328mg
Sodium:

328mg
Carbohydrates:

3g
Fiber:

0g
Sugar:

2g
Protein:

62g
What I would have done differently had I thought of it at the time:
Play with it. This is a recipe that calls for personal touches. Add more onion if you'd like. Add garlic and herbs. Go crazy. you'll find that you really can't mess this up unless you try very hard to do so.
Links to other baked chicken leg quarters recipes: