If there's one food a kid can't resist, it's pizza. Of course, ordering pizza for two kids with different tastes can cost a small fortune, so making your own is much more budget-friendly. (I think this round of french bread pizza cost me a total of 6 dollars.)
On a normal day, I would have simply made a batch of pizza dough, some marinara sauce and topped the pizza as desired. Unfortunately, I haven't had the chance to restock after the move and while I have flour, I have no yeast, nor did I have have the time to buy it and then make the dough. Luckily, my local bakery sells sweet French loaves for 97 cents each, and just one loaf is more than enough dinner for two growing boys.
The trick to this recipe isn't so much what you use, but how you cook the "pizzas". Timing is critical if you want the bread to be crisp on the outside, soft and warm in the center and not soggy from the sauce. With just a little preparation and a touch of patience (difficult with two boys screaming "I'm Hungry! in your ear every ten seconds), you can have a wonderful meal in just a few minutes that will please kids of all ages.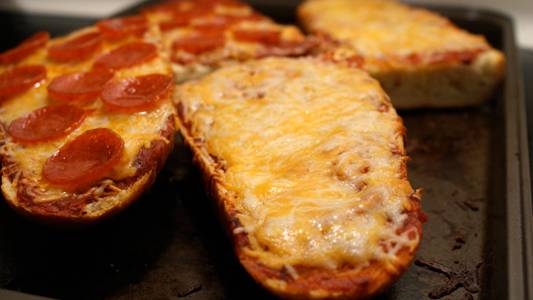 Yield: 4 servings
French Bread Pizza
Prep Time: 5 minutes

Cook Time: 10 minutes

Total Time: 15 minutes

Need lunch or dinner ready in a hurry? Just grab a loaf of french bread, a jar of your favorite marinara or pizza sauce, and some toppings. You're all set to make your own French Bread Pizza!
Ingredients
1 loaf french bread
Extra virgin olive oil
Pizza sauce
Any cheese blend you prefer
Whatever other toppings make you happy
Instructions
Preheat oven to 450 degrees. Meanwhile, slice french bread in half lengthwise and cut into desired portion sizes. Arrange bread on a baking sheet cut side up, drizzle with olive oil and bake for 5 minutes.
Remove bread from heat. Spread on pizza sauce, sprinkle liberally with cheese and top as desired. Return to oven and bake for approximately 8 minutes or until cheese is melted and bubbly. Remove from heat, allow to cool for 5 minutes and serve.
Share and Enjoy!
Notes
Nutrition information applies to only cheese as a topping
Nutrition Information:
Yield:
4
Serving Size:
1
Amount Per Serving: Calories: 383Total Fat: 8gSaturated Fat: 2gTrans Fat: 0gUnsaturated Fat: 5gCholesterol: 7mgSodium: 786mgCarbohydrates: 62gFiber: 3gSugar: 6gProtein: 15g

Nutritional information does not include toppings other than cheese


What I would have done Differently had I thought of it at the time:
One thing to note about making French bread pizza rather than regular pizza is that the temperature must be set lower so that the bread does not burn. Toppings should be selected that are best eaten raw or just heated through unless you're willing to par-cook them or place already cooked toppings on the pizza. Other than that, have fun with it!
Links to other recipes like this: