Who doesn't love a perfect piece of fried chicken? There's something magical about biting through crisp skin and into juicy, succulent, tender chicken. It's like a little piece of heaven. Trust me, just try this recipe and you'll have perfect oven fried chicken every single time. No fuss. No muss. No fryer.
Please note, this isn't a "healthy fried chicken" recipe. The thing that makes this chicken incredibly crisp and juicy is butter. Yep. Butter. The chicken gets tucked into a preheated baking dish that's been coated with melted butter before it even hits the oven. The butter, in turn, browns the breading and crisps the skin to perfection while keeping the juices inside. No soak in buttermilk required. (Though I'm sure it would help even more.)
To say that this chicken was a hit would be an extremely large understatement. The kids went for seconds and my wife and I were right behind them. We didn't quite fight over the last drumstick, but a few glances were made around the table and it's possible someone might have been kicked under the table. We'll be making this chicken again, and soon. But the next time we do, I'm going to make a lot more!
So, are you ready for some chicken? Dive on into the amazingly simple recipe below and enjoy some today!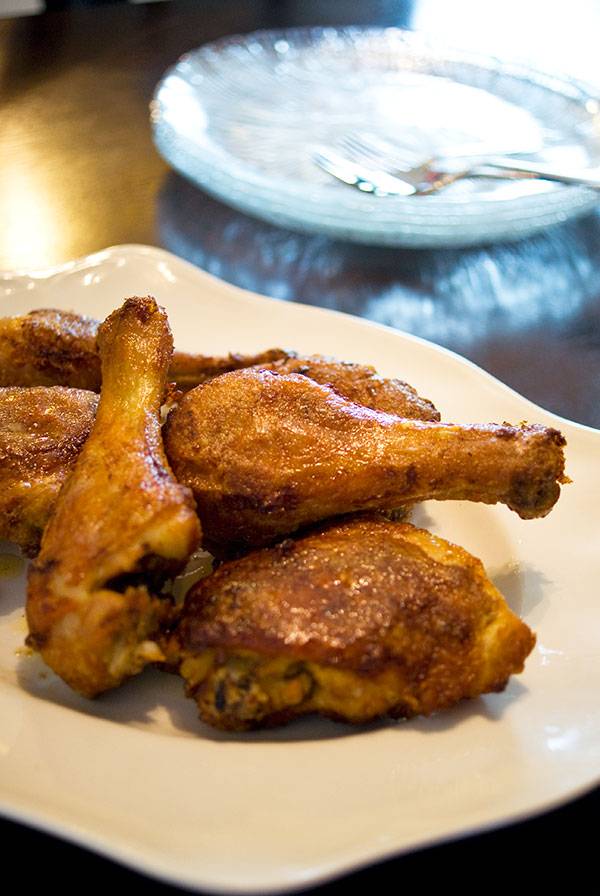 Yield:

8 servings
The Ultimate Oven Fried Chicken Recipe
Perfectly crisp skin and tender, juicy chicken every time. This oven fried chicken recipe is sure to be your family go-to.
Ingredients
3 to 4 pounds chicken pieces (Skin on)
1/4 cup flour or rice flour
1 teaspoon paprika
1 teaspoon chipotle chili powder (Or cayenne, if you want a lot of heat)
1 teaspoon salt
1/2 teaspoon ground black pepper
3 Tablespoons butter
Instructions
Heat oven to 425 degrees.
Place butter in a shallow baking dish and place in the oven.
Wash chicken and pat dry. Mix flour paprika chili powder salt and pepper in a shallow dish. Coat chicken pieces in seasoned flour. Shake off excess. flour.
When butter is melted, place chicken skin side down in baking dish. (Careful, it'll be hot!) Bake chicken for 30 minutes. Turn chicken and bake an additional 15 minutes, or until cooked through. (Juices should run clear.) Remove from oven and let stand 5 minutes before serving.
Share and enjoy!
Notes
For a gluten free version, use rice flour in place of regular flour.
Nutrition Information:
Yield:
8
Serving Size:
1
Amount Per Serving:
Calories:

568
Total Fat:

25g
Saturated Fat:

9g
Trans Fat:

0g
Unsaturated Fat:

14g
Cholesterol:

276mg
Sodium:

513mg
Carbohydrates:

19g
Fiber:

1g
Sugar:

0g
Protein:

61g
What I would have done differently had I thought of it at the time:
Aside from making a bigger batch? Not much. This is about as good as oven fried chicken gets!
Thoughts on our oven fried chicken recipe?
Do you have a favorite oven fried chicken recipe? Maybe a preferred soak or breading? If so, leave us a comment and let us know.