One of the treasures my wife brought with her on her recent visit home was her version of Turkish style mashed potatoes. While you might not find mashed potatoes something sexy, with the addition of a few ingredients they are. Oh yes, they are.
While these are generally made with saffron in Turkey, we opted for turmeric. This was mostly a cost issue, since we're feeding 5 and turmeric is an awful lot less expensive here in the States than saffron is.
(She bought something that was labeled saffron and brought it with her, but I'm pretty sure that it's actually sunflower, not the real article. I blame a shady spice vendor, whom I curse in multiple languages with a foul tongue and reference his lineage and several unclean habits.)
In any case, Turmeric was a wonderful substitution, or it is until such time as I have a lovely stash of saffron lying about. There is a wonderful earthy flavor, mingled with subtle florals and the strength of onion and garlic to tie everything together. Some of the ingredients aren't authentic, but the result is amazing and I think you and your family will absolutely love this dish.
The plating above was done by my lovely wife, and she tells me that this is how these are served at her favorite restaurant in Adana Izmir, optionally with a sauce or pan-drippings from one of the main dishes. I thought they were gorgeous as-is, so I just shot the plate as it was, though I may go back later and take another run of photos with a sauce, too.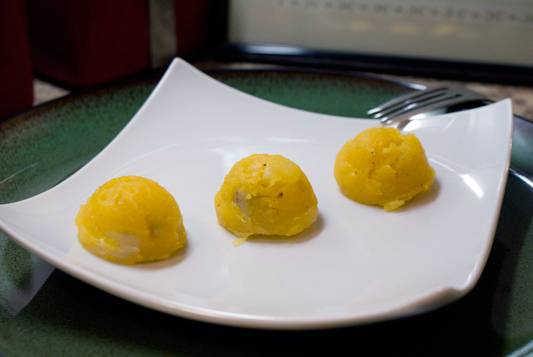 Yield: 4 servings
Turkish Style Mashed Potatoes (Patates Püresi)
Prep Time: 10 minutes

Cook Time: 20 minutes

Total Time: 30 minutes
Ingredients
5 potatoes, peeled and cut into 1/2-inch cubes
1 cup chicken stock (or vegetable stock, if you want to go vegetarian)
4 cloves garlic, minced
1/8 tsp turmeric (or 1 tiny pinch saffron, if you have it handy.)
1/2 tsp seasoning salt
1/4 Tbsp butter (olive oil for vegetarian)
2 tsp dehydrated minced onion (or 1/8 tsp onion powder)
Salt and pepper to taste
Instructions
Boil potatoes in 3 or more quarts salted water until soft. Drain and set aside (do not rinse.) Allowing the potatoes to dry allows for better absorption of flavors.
Melt butter in a large skillet over medium heat. saute the garlic in the melted butter until just olden. Add seasoning salt and mix into butter for 10 seconds.
Add stock, turmeric, salt, pepper minced onion. Bring to a boil, stirring constantly.
Add the potatoes and mash together, being sure to mix thoroughly.
Share and enjoy!
Nutrition Information:
Yield:
4
Serving Size:
1
Amount Per Serving: Calories: 235Total Fat: 2gSaturated Fat: 1gTrans Fat: 0gUnsaturated Fat: 1gCholesterol: 4mgSodium: 378mgCarbohydrates: 49gFiber: 5gSugar: 4gProtein: 7g


What I would have done differently had I thought of it at the time:
I really want o try this with actual saffron. Aside from that, it was a massive crowd-pleaser and my kids loved it, so I will definitely make it again.
Links to other recipes like this: