After a weekend of wanton excess, both at the Grapevine Texas Grapefest and visiting one of the best burger joints in the country, last night was all about light, healthy fare. Since my wife is using Weight Watchers, I figured I'd try for something she could eat to her heart's content without guilt. This Weight Watchers zero point Asian soup is the result.
While this may have Zero Weight Watchers Points, it gets a full ten points from us when it comes to flavor and its ability to leave you feeling full.
The taste is rich, decadent, and robust. It's loaded with veggies and there's just enough heat in the background to leave you thinking that a glass of tea might not be enough, that you should go with milk instead. Even without added meats or proteins, the mushrooms give the soup a deep meaty flavor that lingers on the back of the tongue in a very pleasant way.
This modified version of the original Weight Watchers zero point Asian soup recipe still has no points as far as my calculations can find.
(OK, it has one point, but so does the original recipe when I run the numbers. The number refers to the fact that as far as Weight Watchers is concerned, these are all zero point foods, hence zero point Asian soup.) I've added bit more liquid so that one batch will last a good long time. Great for guiltless snacks and lunches. It also goes perfectly with perfectly steamed rice, if you can spare a little room for carbs.
And Now the Printable Recipe for Zero Point Asian Soup
Yield:

8 servings
Weight Watchers Zero Point Asian Soup Recipe
A guilt free, flavor packed soup that's rich, hearty and satisfying as well. Our Weight Watchers 0 Point Asian inspired soup won't let you down on flavor, and it will never leave you hungry.
Ingredients
2 cups bok choy, chopped
2 cups Napa cabbage, chopped
5 cloves garlic, minced
1/4 cup fresh ginger root, thinly sliced and julienned
6 ounces. shitake mushrooms, sliced
2 cups scallions, chopped
1 cup canned water chestnuts, sliced (8 oz can)
1 can bamboo shoots, sliced (5 oz. can)
1/2 cup red bell pepper, thinly sliced
1/4 teaspoon red pepper flakes
8 cups vegetable broth
1 cup fresh bean sprouts or half of 1 can of bean sprouts, optional
2 cups snow peas, stringed
2 Tablespoons low-sodium soy sauce
1/2 cup cilantro, finely chopped
Instructions
Put boc choy, Napa cabbage, garlic, ginger root, shitake mushrooms, scallions, water chestnuts, bamboo shoots, red bell pepper, pepper flakes and vegetable stock into a large soup pot. Stir to combine. Cover and bring to a boil over high heat. Reduce heat to low and simmer, partally covered for approximtely 10 minutes.
Add bean sprouts, if using, soy sauce and snow peas. Cook for an additional 4 minutes. Stir in cilantro and serve piping hot.
Enjoy!
Nutrition Information:
Yield:
8
Serving Size:
1
Amount Per Serving:
Calories:

84
Total Fat:

1g
Saturated Fat:

0g
Trans Fat:

0g
Unsaturated Fat:

0g
Cholesterol:

0mg
Sodium:

837mg
Carbohydrates:

16g
Fiber:

4g
Sugar:

7g
Protein:

6g
What I would have dine differently had I thought of it at the time:
If you are making this as a multi-day meal, it might be wise to blanch and shock the snow peas and scallions so that they keep their bright colors. Otherwise the soup turns a kind of sickly gray-green after about an hour, although it still tastes fantastic.
Consider also that since this is simply a radically flavored vegetable mixture, you don't have to limit its use to soup only. It served me well as poaching liquid for fish later in the evening, and my wife poured it over long grain rice, declaring the result fantastic as well as completely vegetarian. I think it would also be great with a serving of cellophane noodles or soba noodles if you're looking for something with a lot more weight to it.
Whatever your chosen method, try this dish! It's worth it, really!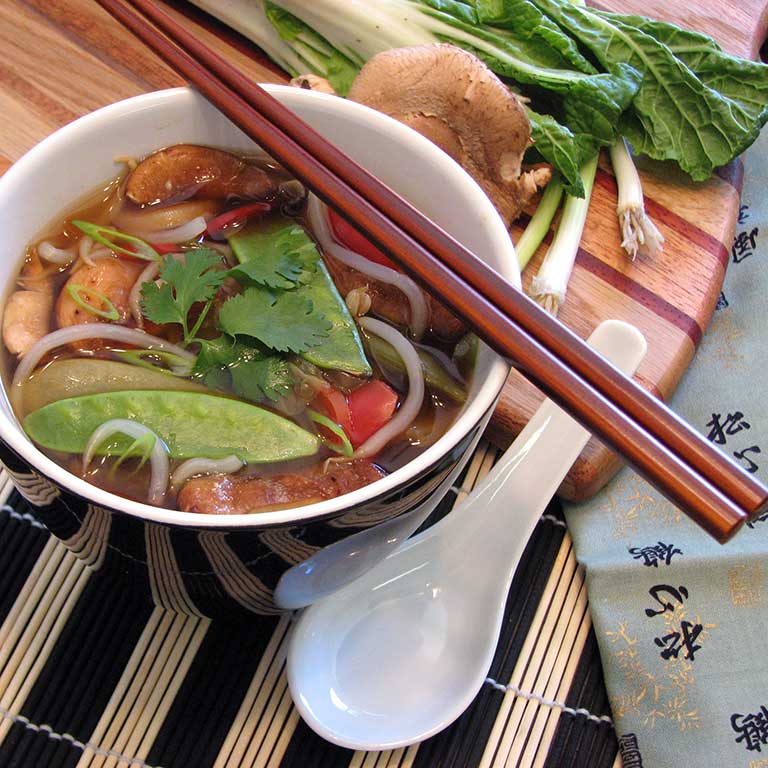 Links to other recipes like this: