I don't know about your house, but in ours, we try to shave as many dollars off the grocery bill as we can each month. Quite often, that means cutting more expensive proteins like beef, pork, lamb, and fish out of the budget. (O.K. In all seriousness, it means we usually cut out all the more expensive proteins.) But even for an experienced cook, there are only so many ways to cook chicken, and eventually, we cave in to the need for some variety.
Sure, we could hit the meat department and go crazy, but we find it's better to look for the best deal we can. That usually means walking past the already butchered items and heading for a whole, or primal cut. We've done this before with a beef brisket, a picnic ham, and most recently we butchered a turkey (OK, actually we parted out a turkey, but you get the idea.), but this time around we had a different option.
This past week, We… (OK, Aunt Jessica, also known as Mrs. Uncle Jerry), found this bad boy hanging out in the meat department.
She asked me if I could do something with this beauty. I said yes, and in the cart it went.
Sure, you can cook a whole pork loin all in one go. But to a family of three, that just means mountains of leftovers that all taste the same. Which quickly equals boredom. And really, if you think about it, much of the pork you buy is cut from the loin anyway. With just a little forethought any home cook can turn a whole pork loin into multiple meals fairly easily.
Preparation:
First; clean your counters well. Get rid of anything you don't need on your surface and scrub it well. I like to cover mine with freezer paper while working, just so I have less clean up at the end. As long as you've got a bleach cleaner to finish up the job with, the paper isn't necessary. You'll also need a plastic or teflon cutting board, so that you don't dull your knives or scratch your counters.
Next we need to consider knives.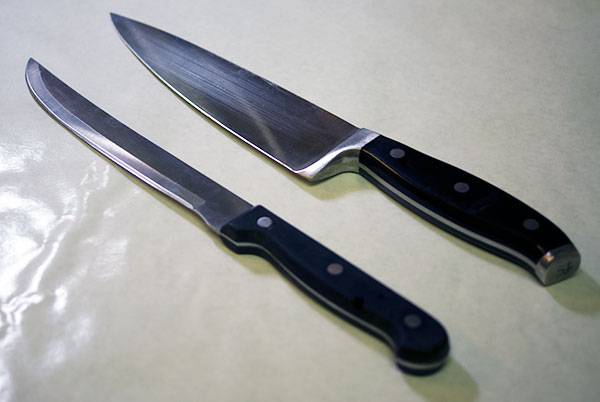 While I love my J.A. Henckels 8-Inch Chef's Knife
(Pictured on right) and use it nearly every day, it's not really the right knife for this job. A far better choice is an inexpensive carving knife like the one pictured on the left. It has a much more flexible blade that is more forgiving for trimming meat and will make the final product much cleaner.
If you don't already have one of these, you can get it at most grocers, or through Amazon. in either case, you'll want a Traditional 8-Inch Slicing/Carver Knife
. The shape and flexibility of this style knife will make your task easier.
Let's Get Butchering Your Whole Pork Loin:
The number of meals you can get out of a single pork loin depends entirely on the size of the cut. In our case, this was just over 8 and one-half pounds. I figure that this works out to about 9 different meals since you don't always need a ton of protein at one sitting.
(Technically, I could have made more meals out of it, but we've really been craving something other than chicken or ground meat, so I went a little extravagant on a few of the cuts.)
Regardless, the key here is a little planning before you start butchering your whole pork loin. Since this one cost a bit under 2 dollars per pound, I was determined to make the most of it.
When you lay out a primal cut, it can be intimidating. It's a huge chunk of meat. But that huge chunk is full of possibilities. It can make roasts, chops, stew meat, stir fry meat, or a hundred other things. It all depends on how you want to break it down.
After a bit of thought, this is the basic plan I came up with.
Two small roasts, a bunch of thin cut chops, some pork stew meat (which can also be used for kabobs), and a bit intended for stir fry, since my family adores it.
Here's the basic diagram:
Let's get to butchering our whole pork loin
For starters, I took a big chunk out of the middle. In the store, they'd call that a pork loin roast.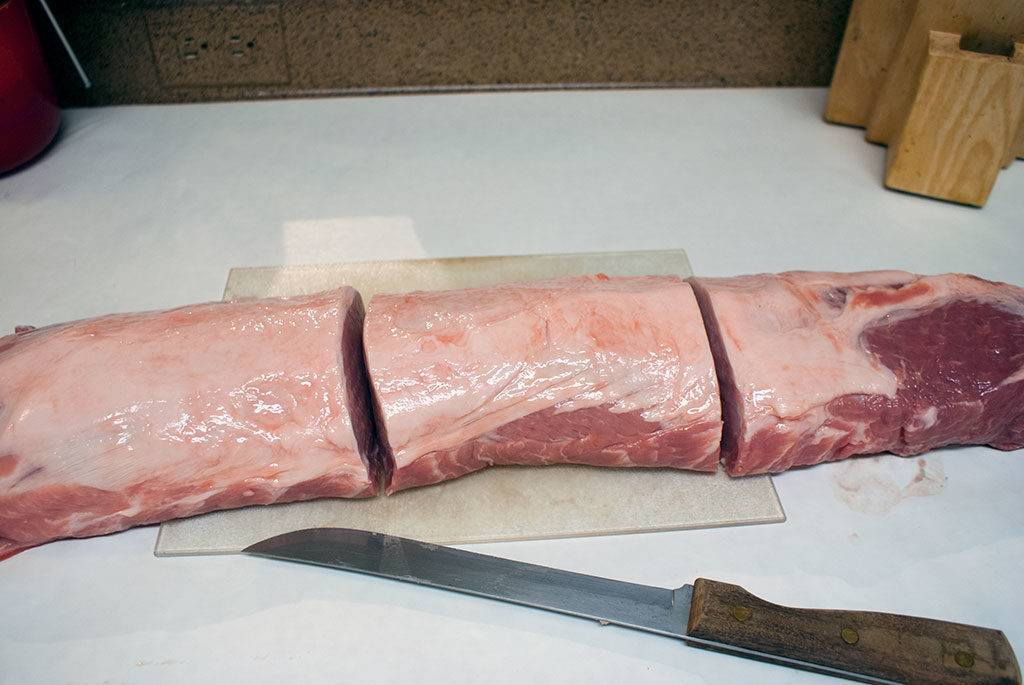 Then I cut that bad boy in half. Again, two adults and a 10 y10-year-old't need that much protein at one sitting and I wanted the option of changing the flavors up.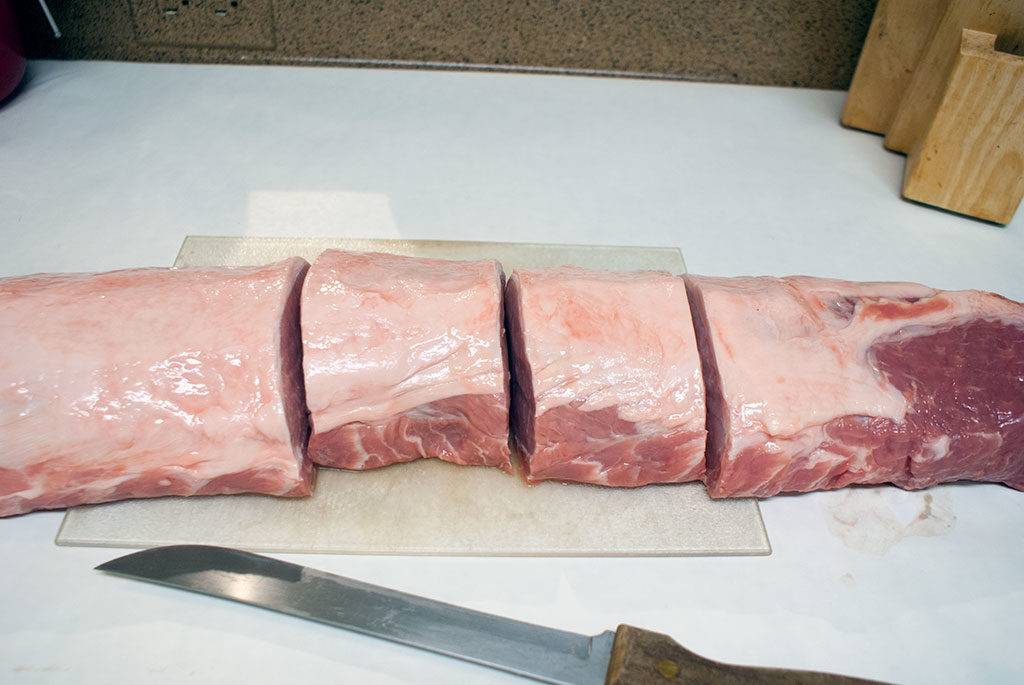 Now you're left with two massive chunks of pork. You can just roast them if you'd like, but I wanted to get a lot more mileage out of this noble beast. I sliced off the caps at both ends to use as stew meat, then concentrated on the leaner side of the loin.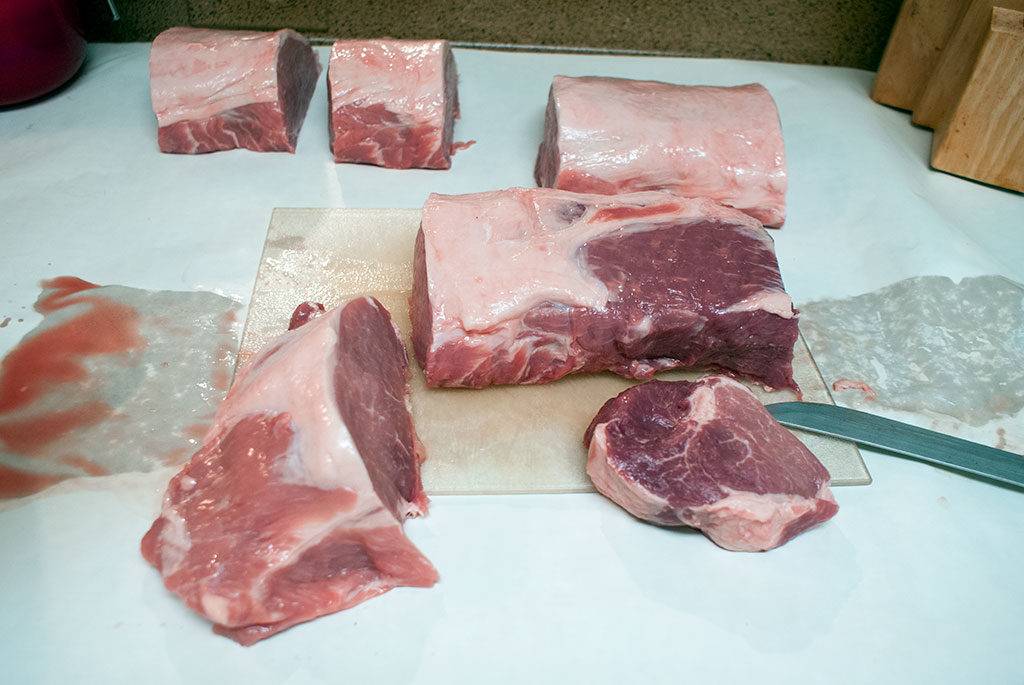 This portion of the pork loin is probably familiar to most of you. It's where you get center-cut chops, pork loin chops, and pork sirloin chops. (depending on what your butcher wants to call them.) The meat is very lean but wrapped in a very thin layer of fat. This meat is perfect for pork chops, Tonkatsu (Japanese breaded pork cutlets.)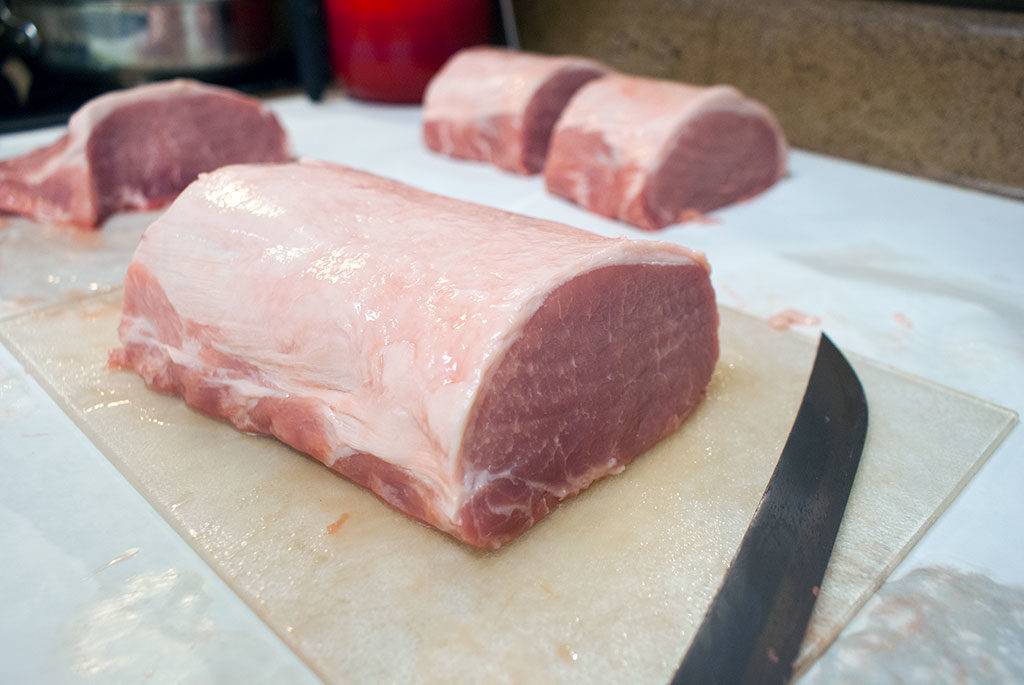 This piece was broken down into thin cut chops.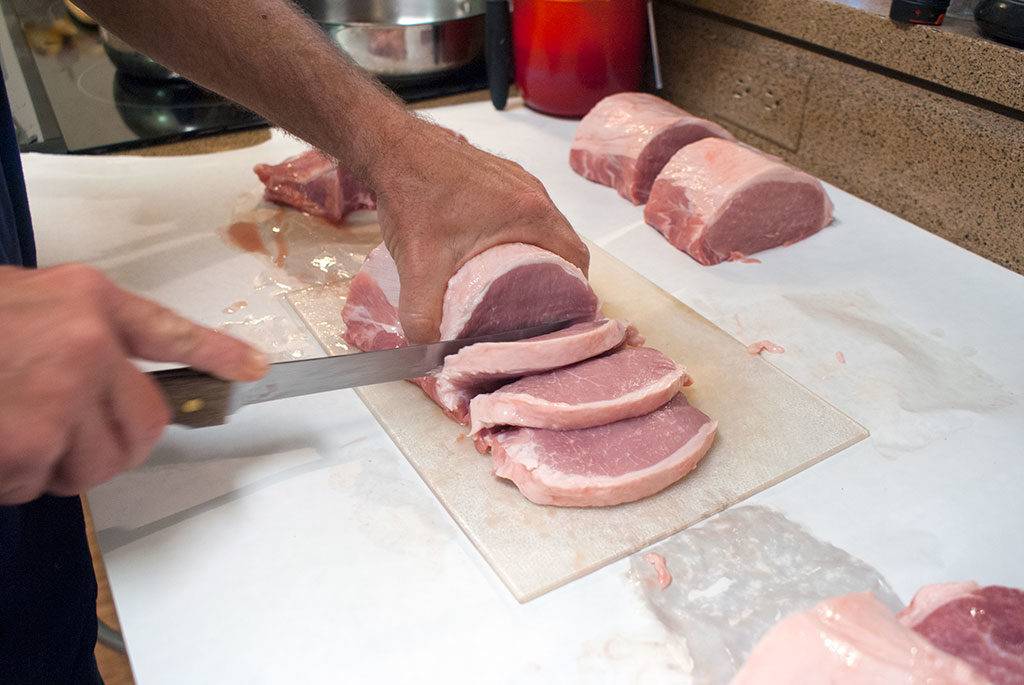 I managed 8 out of it. Four I'll just cook, and 4 are for Tonkatsu. (We'll discuss that in a later post.)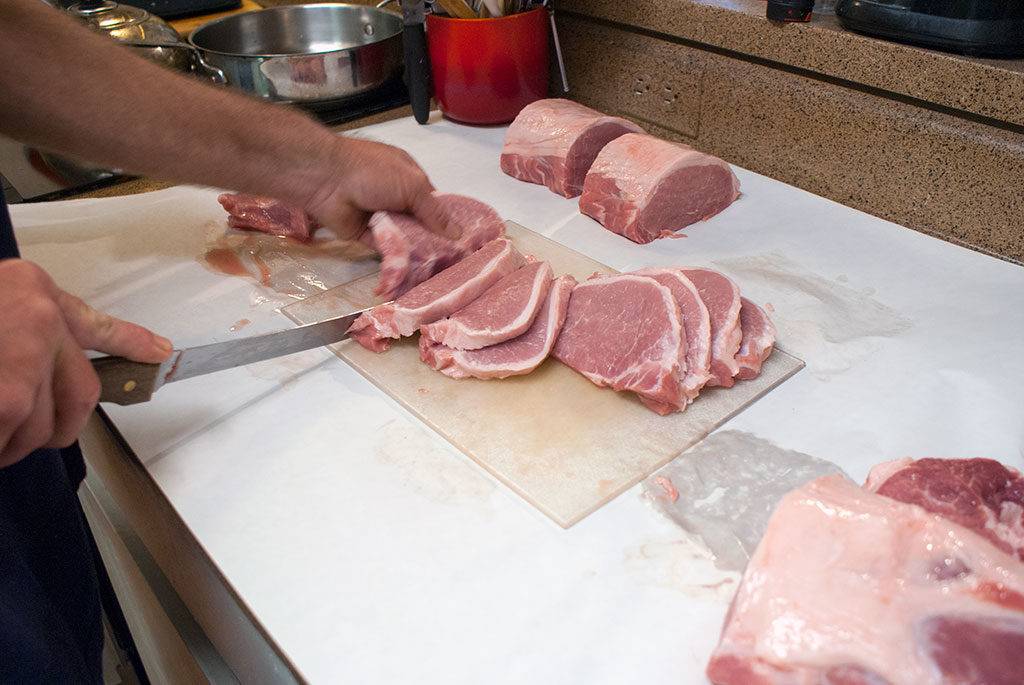 So now we have 2 roasts and 8 chops. Easily 4 meals.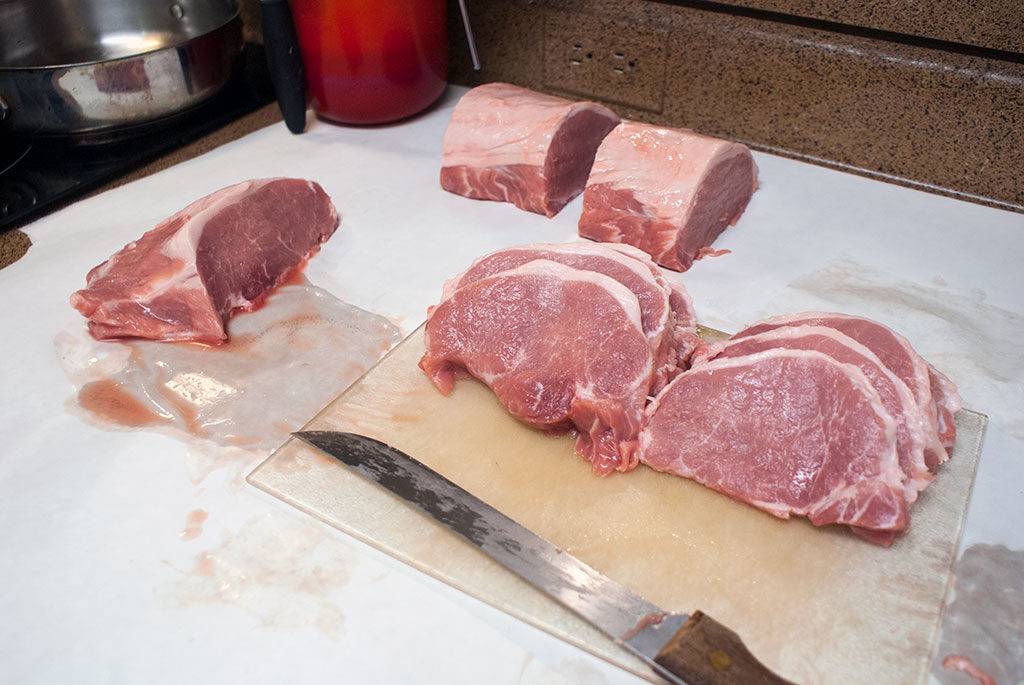 Setting those cuts aside, it's time to tackle the "rib eye" end of the pork loin. (For those of you who don't know, they have recently changed the name of all pork cuts to mimic their respective cuts of beef… No idea why, but okay. Whatever.) This end of the loin is marbled in fat and is wonderfully tender.
(That's it on the right.)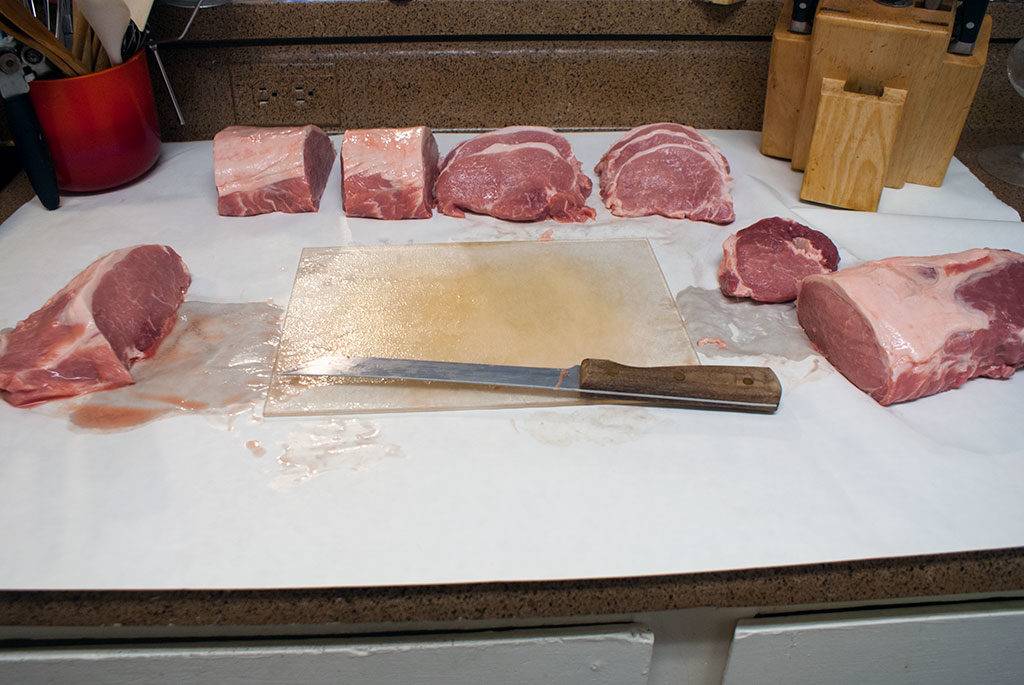 There's no way I'm going to use this as a roast. The most gorgeous end of it got turned into 4 fat pork ribeye chops. These won't need much more than salt and pepper to be amazing.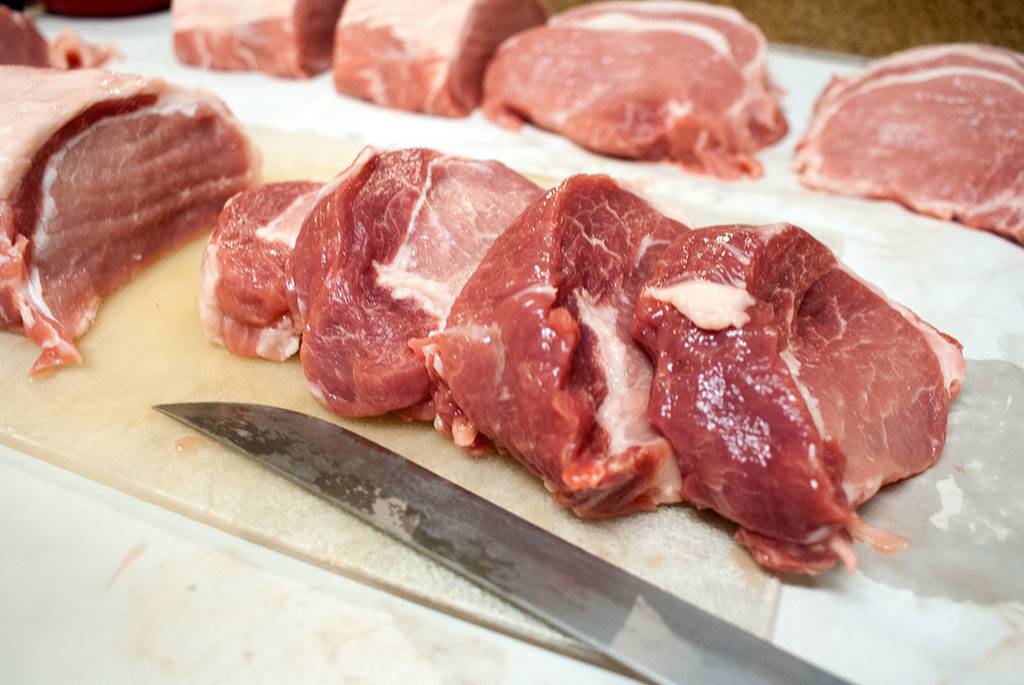 And now we have a little left. It's between the ribeye cut and the center cut. Yes, the marbling is alright, but it's not that gorgeous ribeye meat.
It's also not lean enough to be a loin chop. So what to do?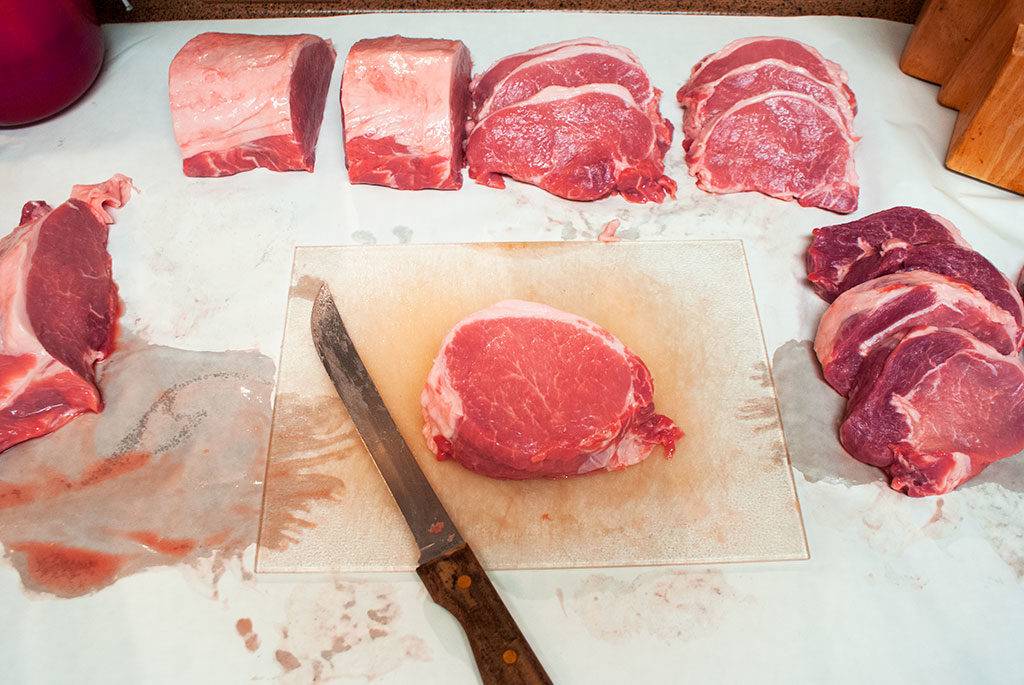 Well, it has enough fat to be moist but is lean enough to take a marinade. My choice? Strips for stir fry! Just remember to portion and cut against the grain. This keeps the meat tender when it's flash fried.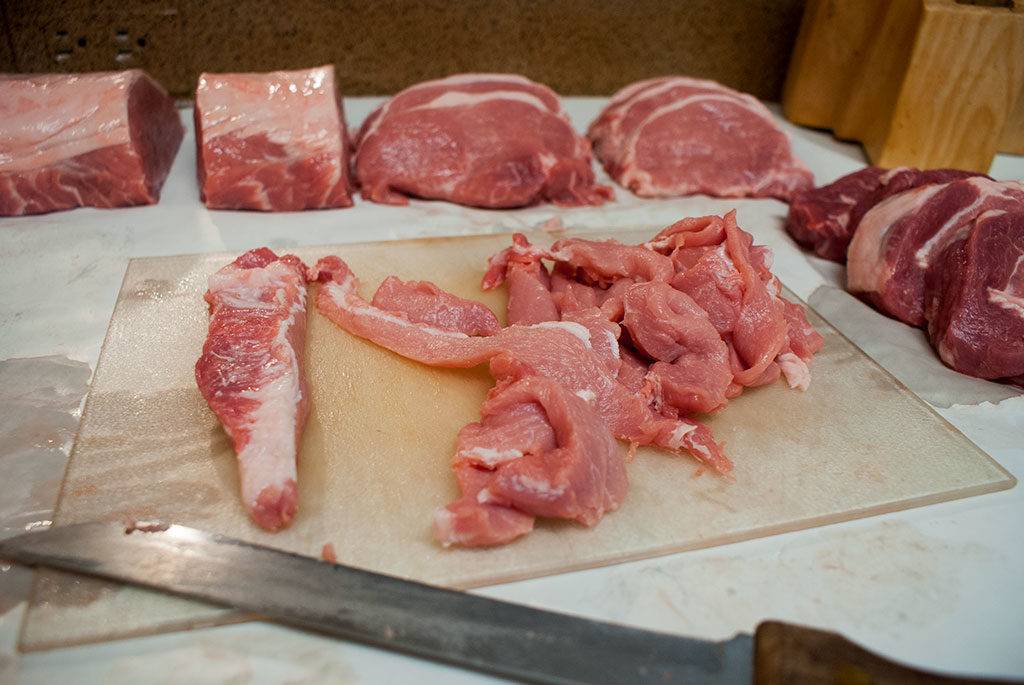 As for the caps of the loin… Again. You could keep them whole, but I cut them into chunks and mixed it all together as a stew meat or kebab meat.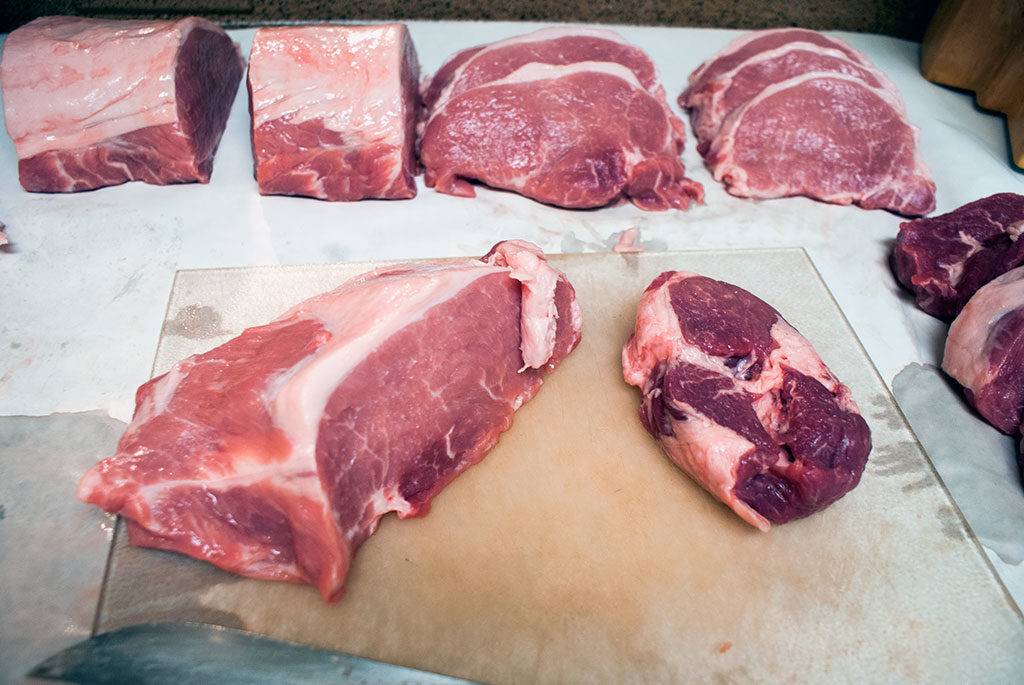 And there you go. $17.00 in our case, though I've seen lower prices nationally. 9 complete meals, including:
2 pork roasts.
8 center cut chops (4 for each meal.)
4 thick-cut pork ribeye chops.
2 packages pork stew meat.
2 packages of pork stir-fry meat.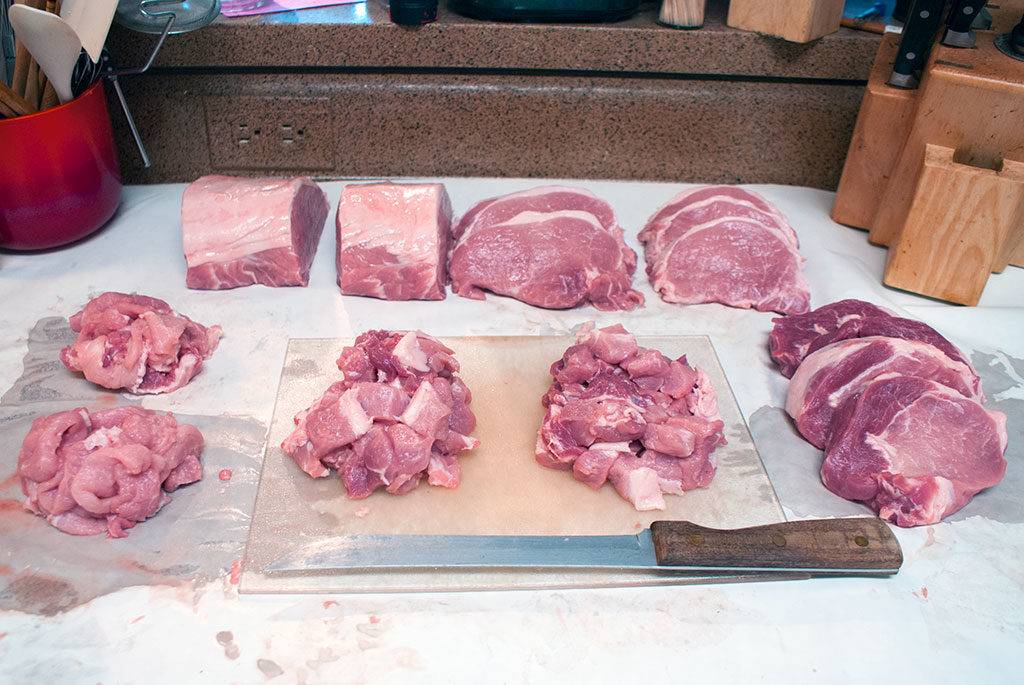 Just get it all packaged quickly and get it in the freezer. You've saved a ton of money, and you have a new accomplishment under your belt.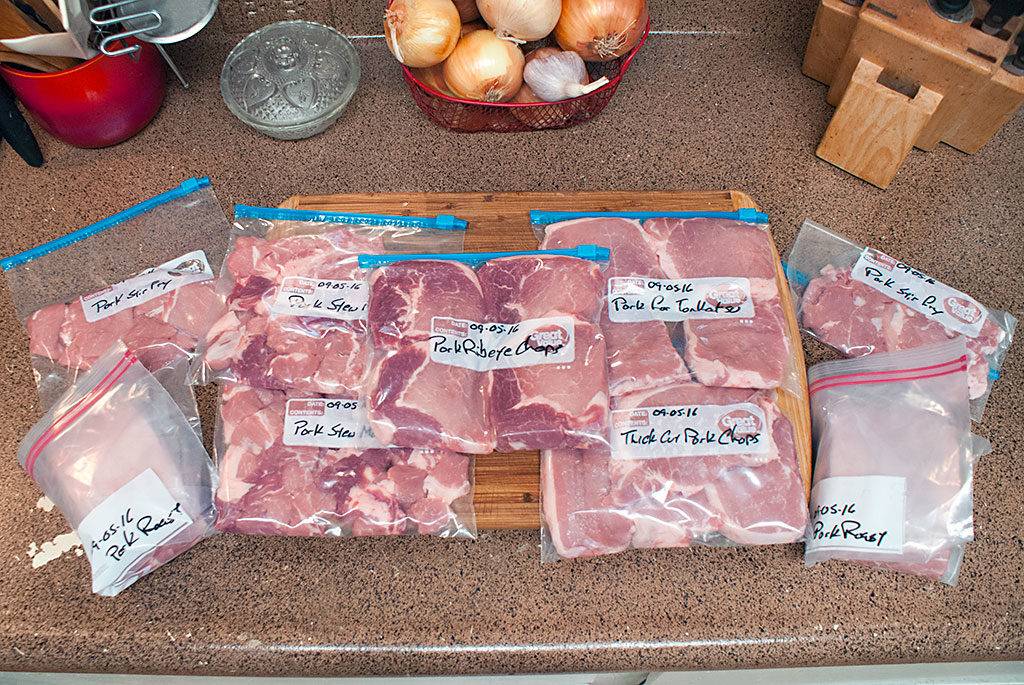 And now to you:
Did you find this post helpful? If so, would you like to see more like it? (We have one on cutting down a brisket already.)
Or do you regularly buy primal cuts and have a different way of butchering them?
Either way, we'd love to know. Leave a message in the comments or on Facebook. Let us know your experiences. (And if you're a professional butcher, tell me what I did wrong. I don't mind.)
Until next time.
Food is love. Share and enjoy!