There are those who will go out of their way to tell you (loudly) that you cannot possibly create a great, smoky brisket in a home oven. They will extol (also loudly) that you cannot get the flavor or texture of smoked brisket without a specialized smoker or pit. These people will then usually go on to mock (very loudly) what has come to be known as Faux-B-Que as the greatest evil to ever be foisted upon the world of Barbecue, and that an oven smoked brisket is, even if done well, never going to be anything close to BBQ.
Sadly, in as much as I know and love some of these people, they are terribly, horribly wrong.
First of all; Faux-B-Que isn't necessarily a bad thing. Let's face it. Not everyone has the luxury of using his or her own smoker, either because of living situations or lack of space to use one. (I doubt many New York building supers would be happy with a smoker running inside one of their buildings.) And then you have the time and maintenance issue. You have to invest the better part of a day to smoking a piece of meat in a smoker. With faux-b-que, you invest minutes and let the oven or slow cooker do the work.
True, there is no way that I have found to get an exact duplicate of a slow smoked brisket without smoke… A lot of it… Over long periods of time. And an oven smoked brisket will never be exactly like its smoked counterparts. You can however, come very close in terms of flavor and have an almost identical texture, all without owning a smoker of your own. This is Faux-B-Que at its best, and it has passed the test in a home full of regular eaters of real pit smoked meats. If it gets their seal of approval, it will pass muster for your guests as well.
While I will not under any circumstances call this barbecue, I swear to you that it is absolutely, utterly and completely succulent and delicious. If you like beef, you'll love this oven smoked brisket. I promise you that.
Let's get on with it, shall we?
First, lay out a sheet of foil on a large baking sheet. Rinse and dry your brisket and lay it on the foil fat side down.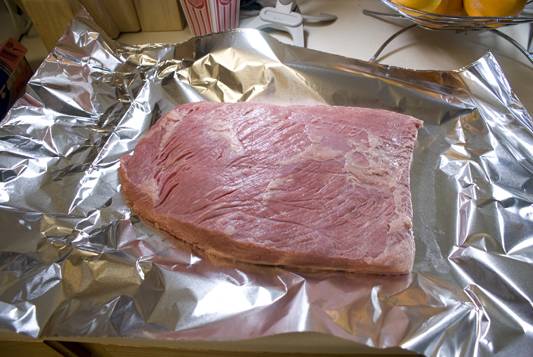 Mix together a batch of oven "smoke juice" marinade (Recipe Below).
Brush the brisket liberally with smoke juice.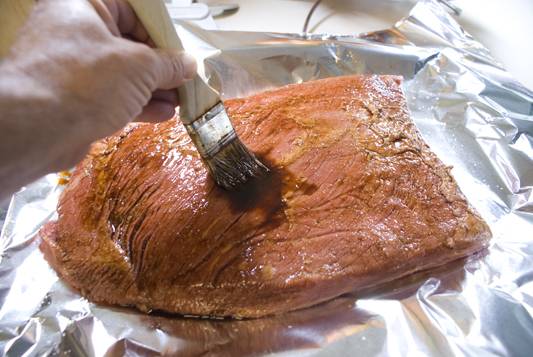 Flip the brisket over and brush the rest of the oven smoke juice on the other side, then wrap tightly in foil. (I think I need new baking sheets soon.)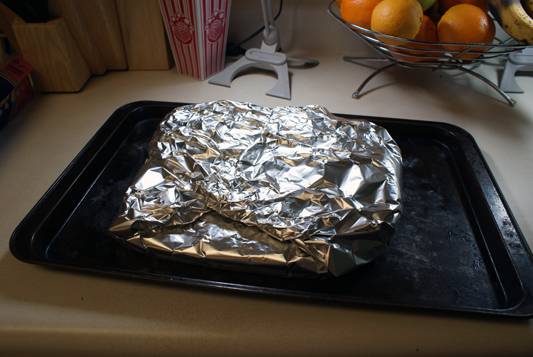 Place your beef parcel in a low-slow oven and forget about it for 8 or 9 hours. (If you've got a big slow cooker, you can just drop the brisket in your crock pot on low.) Don't worry about it. Don't peek. It will be fine. Give the beef and the marinade time to work. You'll be rewarded with something that should look like this: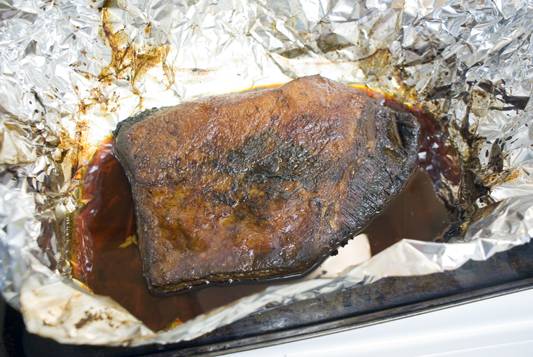 Pull out of the oven and allow to rest for about ten minutes or until it's cool enough to handle before slicing. It's already as tender as it's ever going to get.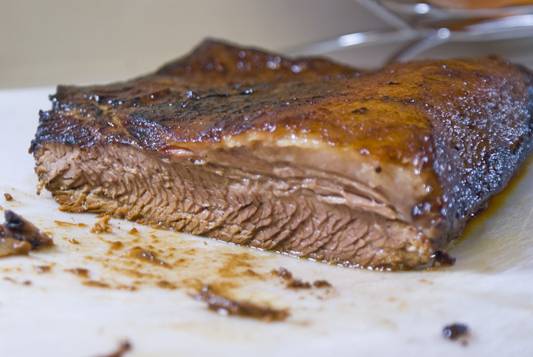 Serve with whatever makes you happy. We chose mashed potatoes.
Remember all that glorious juice sitting in the foil? Don't waste it! Drizzle everything liberally.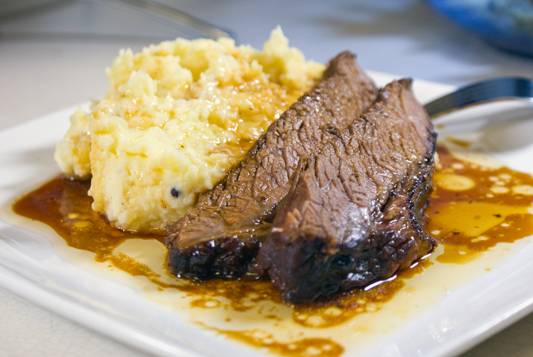 And there you have it. Enjoy!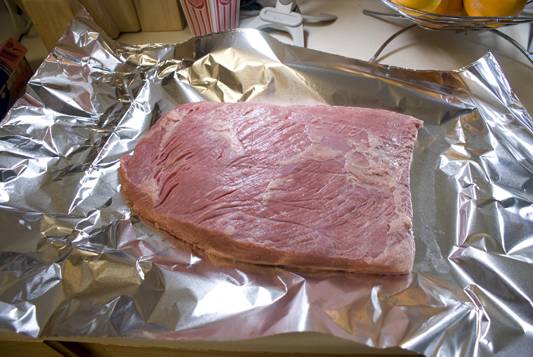 Yield: 10 - 12 servings
Oven Smoked Brisket
Prep Time: 10 minutes

Cook Time: 8 hours

Total Time: 8 hours 10 minutes

Oven smoked brisket may use liquid smoke, but has all the flavor of a Texas BBQ. Right from your oven or Crockpot. You're gonna love this one, Y'all.
Ingredients
Brisket:
1 – 4-6 pound beef brisket
"Smoke Juice" Marinade:
1 Tbsp molasses
1 tsp liquid smoke
2 Tbsp Worcestershire sauce
1 -2 Tbsp chipotle sauce )Or the liquid from a can of chipotle peppers in adobo sauce)
Instructions
Heat oven to 220 degrees.
Rinse Brisket and pat dry.
Mix remaining ingredients in a medium bowl. Allow to sit 5 minutes.
Lay brisket fat side down on a baking sheet covered with a large piece of aluminum foil. Brush liberally with oven smoke marinade. flip brisket and brush the fat side with the rest of the marinade.
Wrap tightly in foil and bake at 220 degrees for 8-9 hours.
Share and enjoy!
Nutrition Information:
Yield:
12
Serving Size:
1
Amount Per Serving: Calories: 676Total Fat: 42gSaturated Fat: 17gTrans Fat: 0gUnsaturated Fat: 20gCholesterol: 241mgSodium: 190mgCarbohydrates: 4gFiber: 0gSugar: 2gProtein: 66g
What I would have done differently had I thought of it at the time:
If you'd like for the outside of your brisket to have a bit os a char, unwrap and place under a broiler for a few minutes before serving. This isn't necessary at all, but it can add to the feel of pit smoked meat.
Links to other oven smoked brisket recipes: