White gravy is a staple in every Southern household. Everybody claims that their Mom or their Grandma makes the best gravy in the world. (They're all correct, by the way. Every one of them.). This is how my mother and my grandmother made their white gravy, and I'm sure you'll agree that it's some of the best around.
This post isn't a random thing. By far, the most popular thing I've ever written on this blog was for "Restaurant Style Southern White Gravy". It's never fallen below the top 10 recipes viewed here daily. It's also the post I've received the most negative comments for.
That post was meant to show how Southern gravy is made in a restaurant kitchen, or in a home kitchen where bacon grease isn't something that's regularly available. Yes, it's good, but as many of my readers have pointed out over the years, it isn't authentic. It isn't Southern white gravy like Momma made. In short, it just isn't right.
I agree. Southern gravy is made with bacon grease, period. Anything else is wrong to a Southerner. (Unless you're making sausage gravy, which is a different thing entirely.) With that in mind, let's make some honest to goodness, down-home, real deal Southern gravy. It takes a little more work, but it's well worth it.
First, you need to cook up about half-a-pound of smoked bacon (For the love of all that's good and right in the world, make sure it's pork, and not lean, and not maple!). Once that bacon is all fried to crisp perfection, remove it from the pan. What you do with it after that is up to you, because as far as this recipe is concerned, it has no use. Eat it, feed it to the dog, make some colcannon or a batch of potato soup with it, whatever. We don't need it.
Next, pour the bacon grease into a separate container and immediately spoon about 5 Tablespoons worth back into the skillet.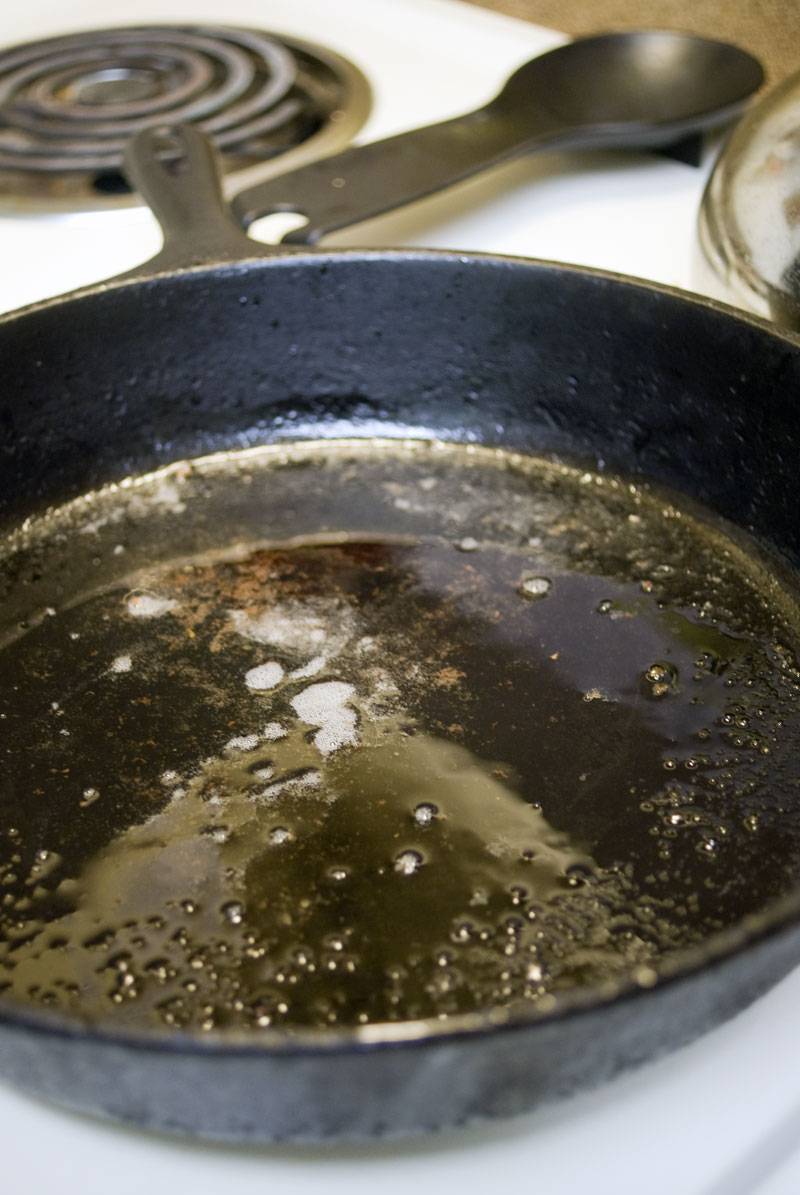 Then add in about 4 Tablespoons of flour. All-purpose is fine. I've never needed to use anything else for this gravy. (Whole wheat flour is a bad idea, though.)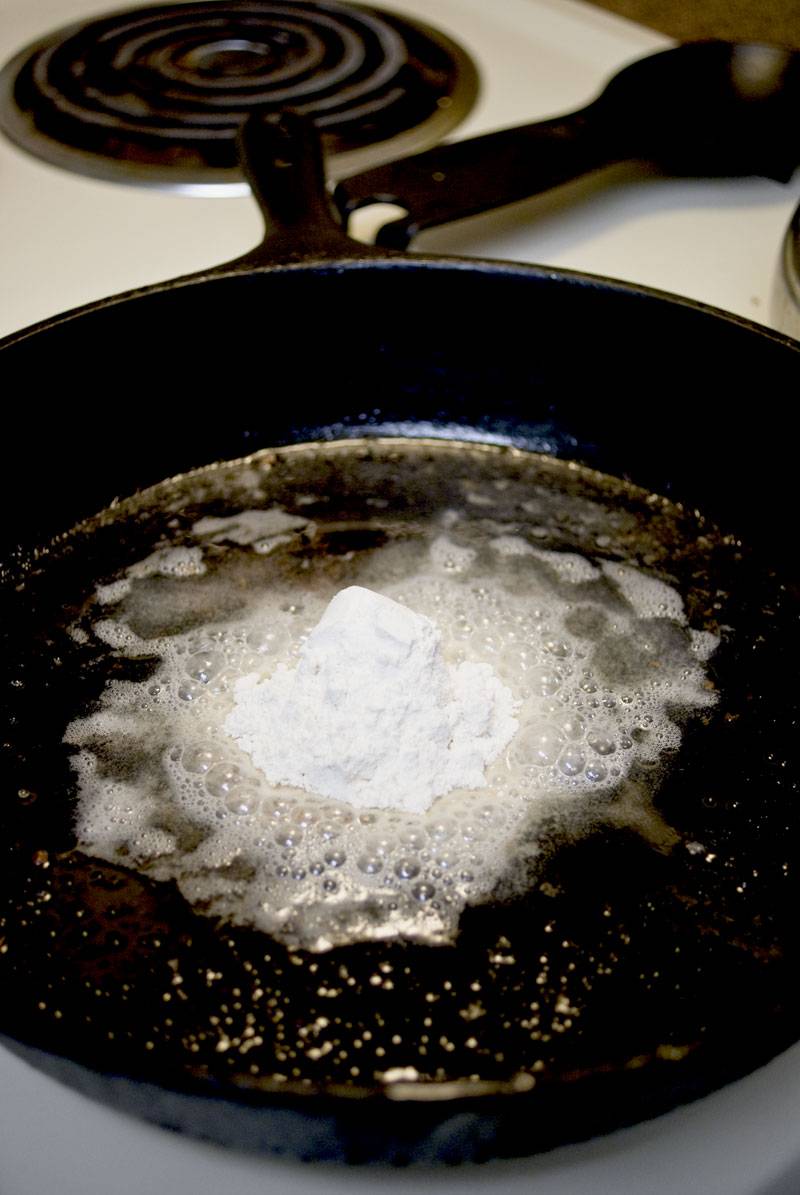 Whisk the flour into the grease, then add some salt and pepper (Black pepper. Southern Gravy has black specks in it. It's supposed to!). Keep whisking the flour until it's a deep tan color and smells nutty.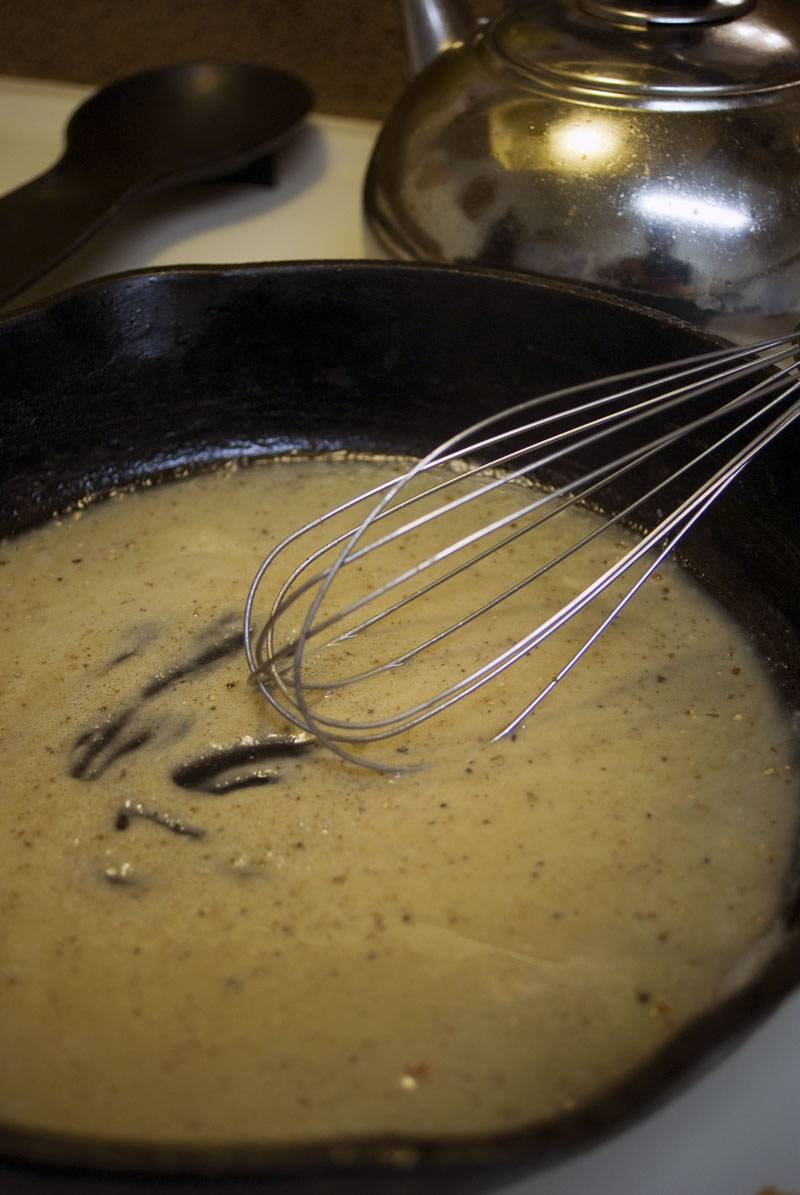 Now it's time to add in the milk, stirring constantly. I add mine in a bit at a time, until the gravy is where I want it, which in this case, was here: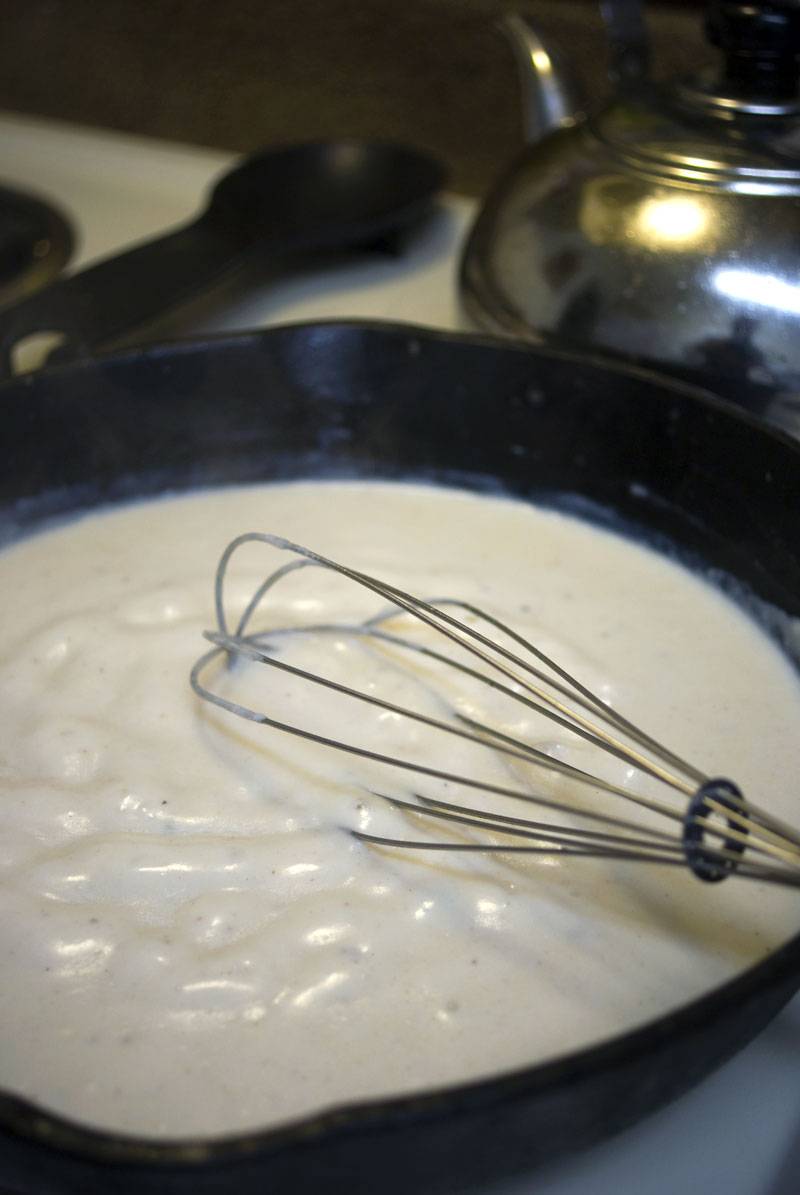 Note… Southern Gravy will keep thickening after you've made it, so it should always be made when it's needed. If you have to make it ahead, make it a LOT thinner than you think you'll need it.
And there you have it folks. The South's answer to all your problems. Perfect white gravy, just waiting to be slathered on something… Like biscuits.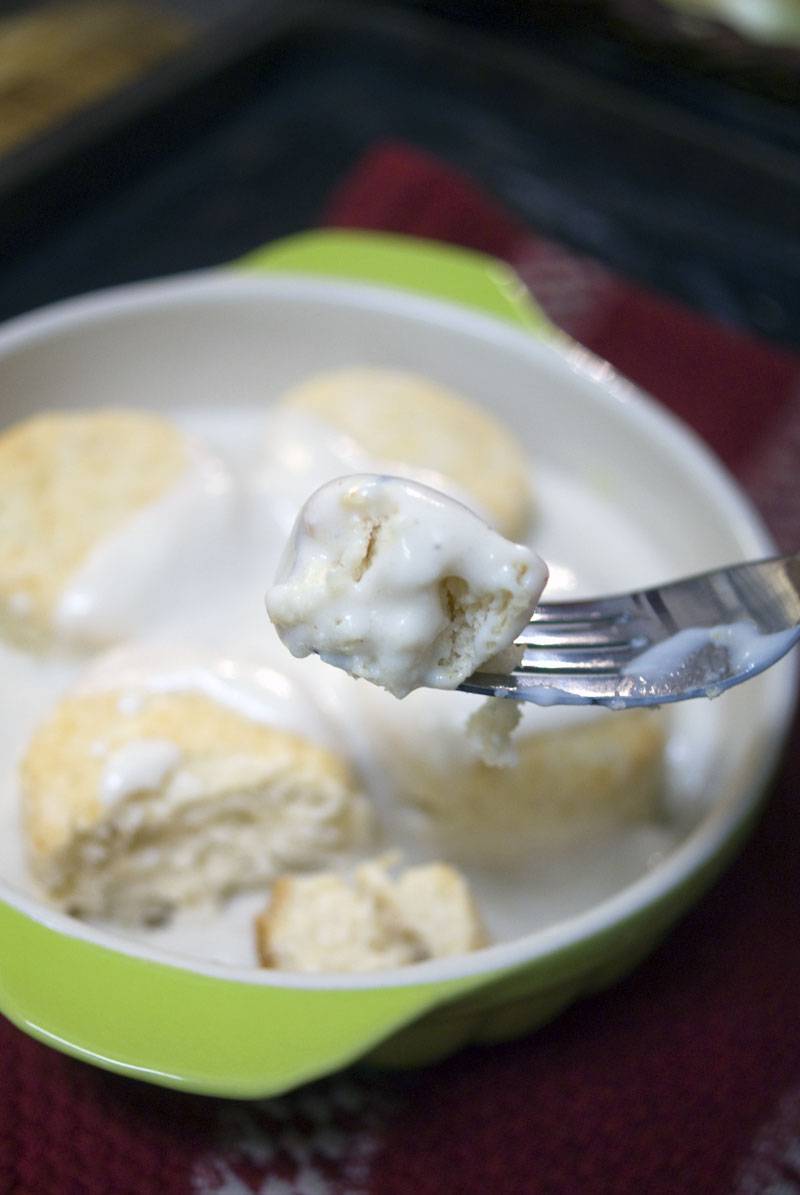 Yield: 8 servings
Southern White Gravy, It's all About the Bacon Grease
Prep Time: 1 minute

Cook Time: 10 minutes

Total Time: 11 minutes
Ingredients
5 Tablespoons Bacon Drippings (Bacon Grease)
4 Tablespoons all-purpose flour
Approximately 2 cups milk (Whole or 2%, not skim, fat-free, fat-less, or other, and nothing heavier, it won't work.)
Salt
Freshly ground black pepper
Instructions
Heat bacon grease in a large, heavy bottomed skillet over medium heat. Add flour and combine. Add ¼ tsp salt and around 10 grinds pepper. (More or less if you prefer)
Stir until the flour is about the color of peanut butter and smells nutty. Add ½ of the milk, reduce heat to medium low.
Allow to come to a simmer, stirring constantly to avoid sticking. On the first run, the gravy is likely to nearly seize, be ready with more milk.
Add milk by quarter or half cups until gravy has thickened considerably. If using a whisk you'll know the gravy is ready when drawing the whisk through the gravy leaves "tracks" from the wires that remain visible for at least 5 seconds.
Add at least 10 more grinds pepper and another pinch of salt, to taste.
serve over whatever you happen to have around. Biscuits, chicken fried steak, fried chicken, mashed potatoes. The choices are endless!
Share and enjoy!
Nutrition Information:
Yield:
8
Serving Size:
1
Amount Per Serving: Calories: 88Total Fat: 4gSaturated Fat: 2gTrans Fat: 0gUnsaturated Fat: 2gCholesterol: 14mgSodium: 254mgCarbohydrates: 6gFiber: 0gSugar: 0gProtein: 6g


I hope this goes a long way to close the gap my earlier version of gravy caused between me and other southern cooks. This is the good stuff, the gravy I make for my family on a Sunday morning. The only gravy to top my biscuits or my wife's superb chicken fried steak.
Now. Who's up for some biscuits and gravy?
Links to More Southern White Gravy Recipes