If you say beans in the southwest, it's taken for granted that you mean pinto beans. In Tex-Mex cooking they serve 'em up refrito, or refried. You get 'em in the stores with or without jalapeños, or kick 'em up a bit with some chili powder and cumin and call 'em Ranch Style.
Up in Oklahoma where my family hails from, you serve 'em with ham hocks or bacon, with cornbread and fried potatoes on the side. Of course, you can serve what you'd like, but I'll stick with my old standby.
There's not a lot to this dish, so I'll dive right in.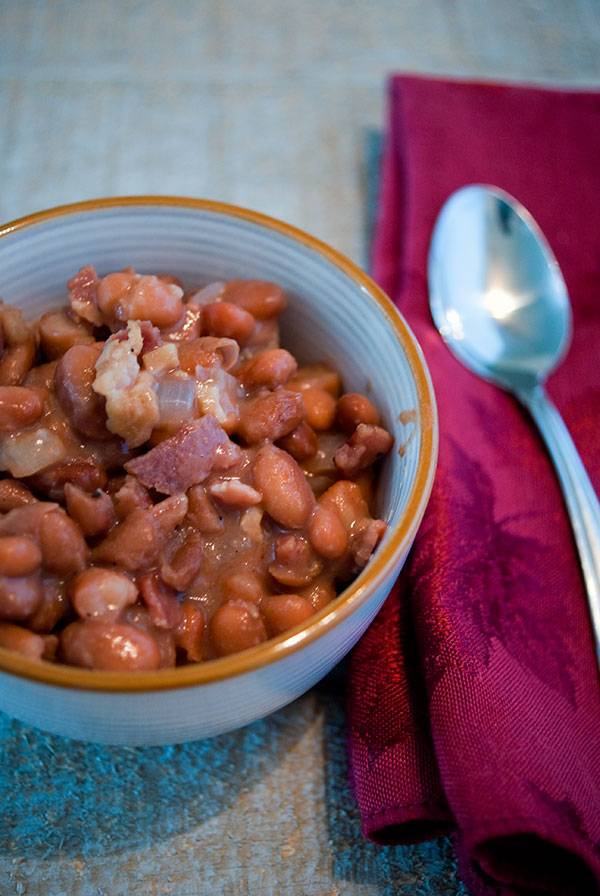 Yield: 12 Servings
Southern Style Beans & Bacon Recipe
Cook Time: 2 hours

Total Time: 2 hours
Ingredients
2 cups dried pinto beans
2 pounds seasoning bacon, cut into roughly 1/2-inch squares (or two regular store packages of bacon, cut into 1/2-inch pieces)
1 large white or yellow onion, chopped roughly
1 cup chicken or beef stock
3 cups water
Salt and pepper to taste
Instructions
Place a stockpot over medium heat. Add 2 tbsp bacon drippings or vegetable oil and cook the onions until translucent.
Add bacon and cook until most of the bacon pieces have a decent color. You don't have to make sure it's "done", we're going to be boiling it for a while.
Drain most, but not all of the fat from the mixture. Add salt and pepper. You'll want to add far more than you think you're going to need, as the beans will soak most of the seasoning into themselves.
Add remaining ingredients, bring to a boil, cover, reduce heat and simmer, stirring occasionally, 2 to 4 hours or until beans are tender. Check frequently after 1 hour to ensure that the liquid is still covering the beans. If not, add just enough to cover or they'll burn.
If the beans are almost ready and there is still a lot of liquid left in the mix, remove the lid and increase the heat by just a bit to allow the excess liquid to evaporate.
Serve hot, garnished with fresh chopped onion.
Share and Enjoy!
Nutrition Information:
Yield:
12
Serving Size:
1
Amount Per Serving: Calories: 125Total Fat: 4gSaturated Fat: 1gTrans Fat: 0gUnsaturated Fat: 2gCholesterol: 13mgSodium: 24058mgCarbohydrates: 17gFiber: 8gSugar: 1gProtein: 8g



And here you have it. A Southern staple that takes nearly no effort, but yields incredible results. Enjoy Y'all!