My wife is currently visiting for her incredibly overdue mid-tour visit from her post in Turkey and, as is common for homecomings, she came bearing gifts for both myself and for the kids. For the kids was a wonderful assortment of Turkish memorabilia. For me she brought the ultimate gift. (Herself of course!) Spices and a Turkish cookbook!
The first thing that jumped out at me was the Turkish version of Hummus, which is made with yogurt instead of tahini, a sesame seed paste. I just had to whip this recipe out… With my own twist, of course.
The original recipe called for two cloves of crushed garlic, but I'm a massive garlic fan and just had to bump that up to three cloves. It also called for paprika as a garnish only, but I figured that mixing in some sweet Hungarian paprika would do just as well, and the hummus would retain a lovely light color.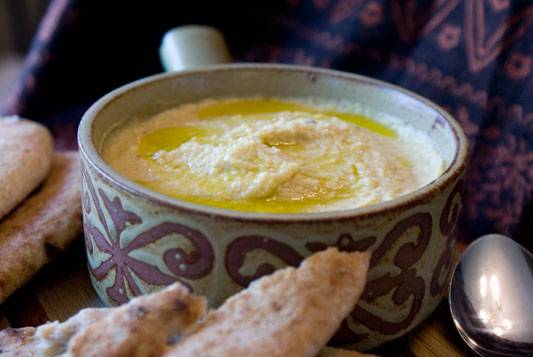 My wife has deemed that this is nearly the exact flavor she's used to, and I have to take the word of someone who has eaten Turkish style hummus with yogurt every few days for 9 months. In my opinion, it's incredible. The flavor is light and very lemony with a slight kick from the fresh garlic and paprika. It's perfect as a dip, as a spread or even straight off a spoon. If you love hummus, this is a must-try version.
Do you have a great hummus recipe or a different use for hummus than just as a dip? If so we'd love to hear about it, so leave a comment and let us in on your secrets!
Turkish Style Hummus
Adapted from Turkish Meze: The Little Dishes of the Eastern Mediterranean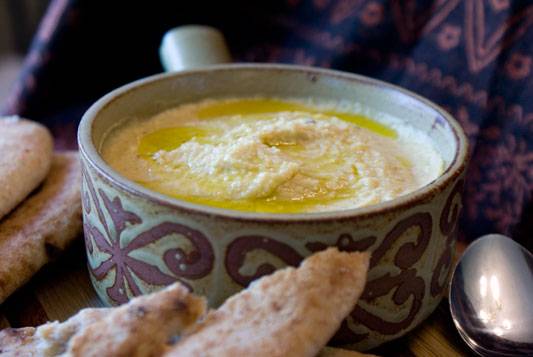 Yield: 6 servings
Turkish Style Hummus
Prep Time: 10 minutes

Total Time: 10 minutes

Turkish Style Hummus, from the Adana region of Turkey, this hummus uses no tahini, but plenty of fresh garlic and paprika for a tangy bite
Ingredients
1 - 15.5 ounce can chickpeas (garbanzo beans), drained
3-4 Tbsp olive oil
The juice of 1 or 2 lemons
3 garlic cloves, peeled and crushed
1 tsp cumin seeds or 1/2 tsp powdered cumin
1 - 2 Tbsp plain natural yogurt (Greek style, if you can find it)
Salt and pepper to taste
1/2 tsp paprika or kirmsi biber
Instructions
Place chickpeas in a food processor and blend to a thick puree. Add olive oil, lemon juice, garlic, cumin and paprika, and blend thoroughly. Add yogurt to lighten the mixture and blend until combined, scraping the sides of the bowl often. Add salt and pepper to taste (taste often, you might prefer a little more paprika or cumin.)
Serve garnished with a little olive oil or a dusting of paprika.
Share and enjoy!
Notes
Nutrition Information:
Yield:
6
Serving Size:
1
Amount Per Serving: Calories: 378Total Fat: 29gSaturated Fat: 4gTrans Fat: 0gUnsaturated Fat: 24gCholesterol: 0mgSodium: 259mgCarbohydrates: 26gFiber: 6gSugar: 9gProtein: 6g


What I would have done differently had I thought of it at the time:
While hummus is excellent freshly made, I've found that the flavor just gets better the next day, so if I'm making this as a snack or as a part of a dinner party, I would recommend making it a day in advance and storing it in the fridge overnight. Other than that, have a blast with it, it's awesome!
Links to other recipes like this: