It's simple. It's easy. It's wonderful. It's… Homemade white bread, and it only took a few minutes of actual work to make perfectly the very first time. Trust me folks, if I can do this, so can you! if you've got a stand mixer with a dough hook this is as simple as it gets, it contains no preservatives and it stores well. (The loaf pictured above spent a week in the fridge… It's still wonderful and will be finished off tonight.)
This is probably one of the tastiest bread recipes I've come across for everyday use. The recipe makes two full-sized loaves and my kids think it's got the over the counter stuff beat by miles when it comes to a good PB&J. If you figure up the cost to make it, it's about 1/4 the price of any loaf at your local market, but twice as good, so even the tiny bit of effort required makes this cost effective as well as delicious.
Another plus of this recipe over other is that it's a very firm crumb and easily handles duty as a sandwich bread. I've tried several recipes that simply could not hold up to the role of sandwich bread. This loaf does not disappoint in that regard. It's soft enough to be enjoyable, but firm enough to stand up to everything from peanut butter to hot roast beef without crumbling or turning to mush. In short, it's the perfect alternative to store-bought sandwich bread. Give it a try, you'll like it!
And if your wondering if this is the perfect bread to make your family his Thanksgiving or Christmas, the answer is YES! It'll make wonderful Turkey Sandwiches!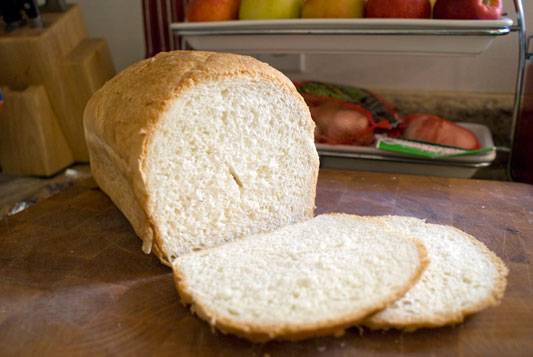 Yield: 2 loaves
Sandwich Bread Recipe for Stand Mixers
Prep Time: 2 hours

Cook Time: 30 minutes

Total Time: 2 hours 30 minutes
Ingredients
5-1/2 cups all-purpose flour
1 Tbsp. kosher salt
2-1/4 tsp. (1 packet) active dry yeast
16 oz. very warm water
1 Tbsp. extra virgin olive oil
3-1/2 Tbsp. honey
Instructions
Place all dry ingredients, including yeast, into the bowl of your stand mixer. In a separate container, add warm water, oil and honey. (tip – add the oil first and then use the same spoon to measure out the honey. This prevents the honey from sticking to the spoon.) Stir liquids well to combine.
Place dough hook attachment on mixer and set on low speed for 15 seconds to combine all dry ingredients. Turn off mixer, add the liquid and set to low speed again, this time for about a minute and a half, or until all ingredients have combined. Turn off mixer and allow to stand for 10 minutes.
Set Mixer to second speed and run for three minutes. Remove the dough hook and turn dough onto a floured surface. Knead 3 or 4 times to remove any air pockets..
Place dough in an oiled bowl and cover with cling wrap and a kitchen towel. Let dough proof in a warm, draft free area for 1 hour. At the end of the hour, punch down dough, turn dough onto a floured surface and knead another few times. Form dough into loaves and place into 2 loaf pans.
Cover with a kitchen towel and allow the loaves to rise for approximately 45 minutes or until doubled in size.
Drizzle the top of loaves with olive oil and bake in a preheated 375 degree oven for 30 to 35 minutes or until crust is a light golden brown. Remove from loaf pans and allow to cool on a rack for at least 30 minutes before cutting.
Nutrition Information:
Yield:
12
Serving Size:
1
Amount Per Serving: Calories: 101Total Fat: 1gSaturated Fat: 0gTrans Fat: 0gUnsaturated Fat: 1gCholesterol: 0mgSodium: 584mgCarbohydrates: 19gFiber: 1gSugar: 3gProtein: 3g


What I would have done Differently had I thought of it at the time:
More Honey! Yep, way more honey.
Links to other recipes like this:
Easy Basic White Sandwich Bread, from A Year In Bread
Amish White Bread, from Tammy's Recipes