When you're heading for breakfast, where you are is important. Alaska has reindeer sausage. Chicago has the blintz. Californians love their breakfast burritos. New Mexicans argue about red or green chile sauce, no matter what the dish is. But in Texas, the breakfast taco reigns supreme, and today I have the perfect breakfast taco recipe for you.
To be more specific, this is San Antonio's favorite breakfast taco recipe, the bean and cheese taco, a staple for almost every San Antonian I know.
I know what you're thinking: If there aren't any eggs on it, how can you call it a breakfast taco? It's simple. Because everyone in the Hill Country does. It's what my friends grab for breakfast on their way to work. (And sometimes they even bring a few by the store for me to enjoy!) Yes, most restaurants offer the option of eggs, potatoes and a slew of other things, it's just that nobody buys them.
This recipe is South Texas at it's finest. It's simple. It's portable. It's frugal, and it's delicious as hell.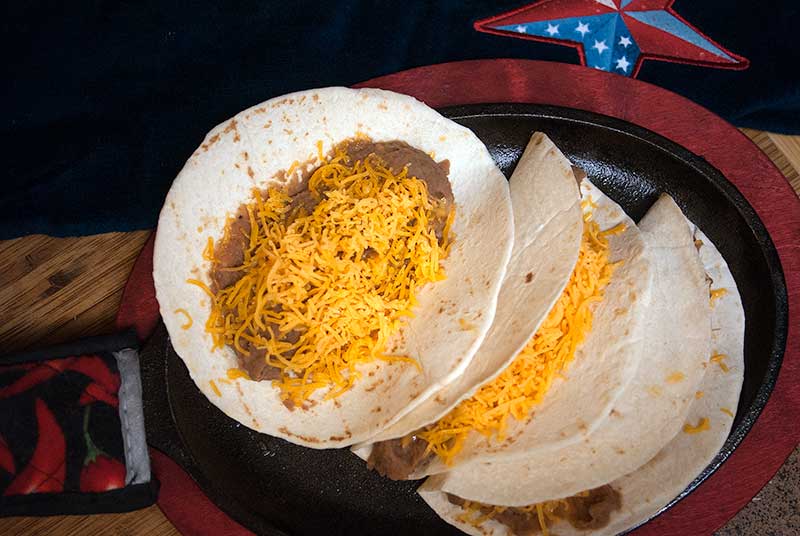 In it's most basic form, the San Antonio breakfast taco is nothing more than a flour tortilla filled with refried beans and a serious portion of cheddar cheese. Salsa is always present, but served on the side unless you ask to have it mixed in. You can add eggs, bacon, sausage, cilantro, onions, or whatever makes you happy, but these things are not required, and most folks around here never consider them. What they're after is a fresh, warm, handmade tortilla filled to overflowing with beans and cheese.
That's it.
It's OK if you can't get handmade tortillas in your area. You can still make your own refried beans, or you can opt for your favorite brand. But quality is a key here, so go with the best you can get, and no watered down beans!
For this recipe, I'll assume you've pulled together the best quality tortillas and canned refried beans you can find. We'll just add a few things to make them pop and go from there.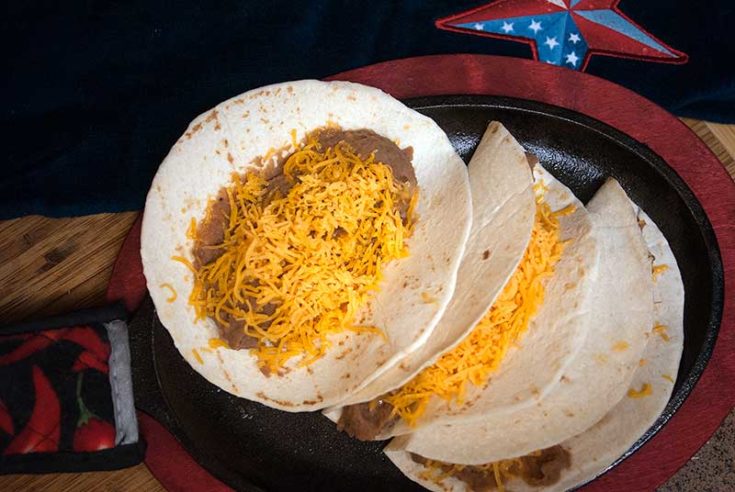 Yield:

4 servings
San Antonio Breakfast Tacos Recipe, An insanely easy breakfast idea
San Antonians love their breakfast tacos, but the ingredients may surprise you
Ingredients
2 (14.5 ounce) cans traditional refried beans
1/4 teaspoon ground cumin
Salt and pepper to taste
1 jalapeno finely minced jalapeno pepper (optional)
12 medium sized flour tortillas (the fresher the better)
1 cup shredded cheddar cheese
Salsa or pico de gayo as a side (optional)
Instructions
Mix the beans, cumin, chile powder, salt and pepper together in a small saucepan over low heat. Add jalapeno if desired. Heat, stirring occasionally until hot and bubbly, Check for seasoning and add more spice if needed.
Preheat oven to 200 degrees.
Put a large skillet over medium heat. Heat tortillas for about 30 seconds per side, or until starting to puff. Toss in the oven and repeat with remaining tortillas. (Or use a tortilla warmer if you have one) Repeat until all tortillas are hot.
Place a heaping tablespoon of beans in the center of each tortilla. Sprinkle liberally with cheese and fold. Serve immediately, three to a person
Share and enjoy
Notes
The regular serving size here in San Antonio is 3 breakfast tacos. Feel free to add whatever ingredients make you happy at the morning table
Nutrition Information:
Yield:
4
Serving Size:
1
Amount Per Serving:
Calories:

489
Total Fat:

18g
Saturated Fat:

7g
Trans Fat:

0g
Unsaturated Fat:

8g
Cholesterol:

28mg
Sodium:

1059mg
Carbohydrates:

64g
Fiber:

6g
Sugar:

2g
Protein:

18g
What I would have done differently had I thought of it at the time:
Nothing. while the possibilities are endless in this dish, I think San Antonio got the breakfast taco right. It should be simple, filling, and tasty, all without being a pain to make on a busy weekday morning. These tacos are perfect.
Feel free to add eggs, bacon, sausage, or whatever you like if time permits, but for us, these will do just fine.
What are your thoughts? Do you think they need more? Is there a single ingredient you absolutely have to have at breakfast time? Let us know in the comments or on facebook or twitter.
Other breakfast taco recipes from around the web.