If you listen to most food magazines or watch food programming on TV, ancho chili powder is becoming a required ingredient for any pantry. Ancho chilie powder is spicy, but without the heat of a lot of packaged chili pwders, leaving you with a subtle heat and smoky flavor that's really hard to beat. But what if you can't buy ancho chile powder in your local area? No problem. Just make your own. It's actually quite simple, though there are a few things to keep in mind while you're in the process.
Ancho chili's are just the name used for smoked, dried poblano peppers. Poblano peppers are most often associated with chili relleno, but have many other uses as well. Poblanos have a wonderful fruity flavor and generally have far less heat than a jalapeno, even if it's picked young. So basically, Ancho is to poblano what chipotle is to jalapeno, and the flavor is amazing.
Finding ancho chilies should not be a problem for most people in the U.S. market. You know that BigScaryMegaMart that lurks in the middle of town? They've probably got 'em. You'll find Anchos in a big clear plastic bag, usually on the Ethnic foods aisle. They're not real lookers, but they pack a ton of flavor and are useful for everything from sauces to stews.
Now that you've got anchos, making ancho chili powder is only a few steps away…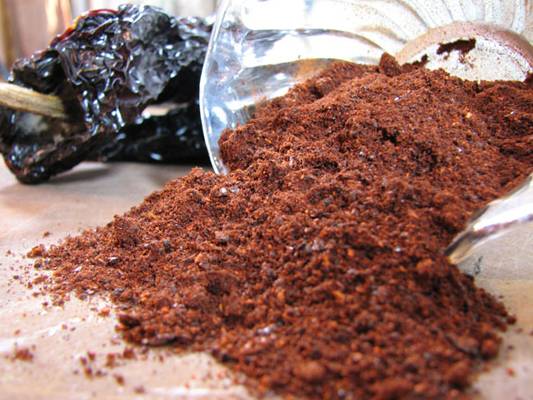 Yield: 1/4 pound ancho chili powder
Ancho Chili Powder Recipe
Prep Time: 20 minutes

Cook Time: 10 minutes

Total Time: 30 minutes
Ingredients
1/2 pound Ancho chili peppers
Instructions
Remove the stems from as many ancho's as you would like to make chili powder from. Do not remove seeds, just the membrane that holds them. It ahould all come out with a good pull.
Cut the peppers into chunks about 1/2 inch square. Toss them in a spice grinder (in batches) or blender and give them a few really good spins…
You will probably notice at this point that "dried" does not mean "completely dehydrated." If your peppers are still a little sticky, it's time to employ a little thermal persuasion…
If you've ended up with a paste, persuade it out of your grinder of choice and employ one of the following methods (be sure to wash out the grinder thoroughly and let dry.):
Take your pepper paste and place it on a parchment lined baking sheet in as thin a layer as possible. Place in the oven at the lowest temperature possible and allow to hang out for at least an hour. This should rid you of whatever left over moisture is keeping you from spice perfection.
Remove from heat and allow to cool to room temp.
Take the paste and place in a heavy bottomed skillet over extremely low heat. Toss constantly until peppers begin to smoke. (about 3 minutes.) Remove from heat and allow to cool before continuing.
Return peppers to grinder and spin until there's nothing left but a semi-fine to fine powder.
You now have ancho chili powder. Enjoy it in your favorite recipe!
Nutrition Information:
Yield:
128
Serving Size:
1
Amount Per Serving: Calories: 1Total Fat: 0gSaturated Fat: 0gTrans Fat: 0gUnsaturated Fat: 0gCholesterol: 0mgSodium: 0mgCarbohydrates: 0gFiber: 0gSugar: 0gProtein: 0g