Who said breakfast had to be predictable? Just because you're in the mood for breakfast ingredients such as bacon and eggs doesn't mean that they should be served in the classic manner. This little gem of a breakfast idea shares the same basic ingredients found in fast food breakfast sandwiches served in paper wrappers across the country, but the resemblance ends there. It is served open faced with crispy bacon, scallions and sharp cheddar on an oven crisped English muffin, and is far better suited to eating with a fork than as a hand-held item.
If your mind is flashing to soggy English muffins, overworked eggs and processed cheese, be heartened, this dish contains none of those things. The muffins are crisp, crunchy and browned to perfection, the perfect compliment to fluffy eggs, a hint of scallion and crisp bacon. the cheddar brings it all together into something that is somehow more than the sum of its parts in some subtle way sure I can describe.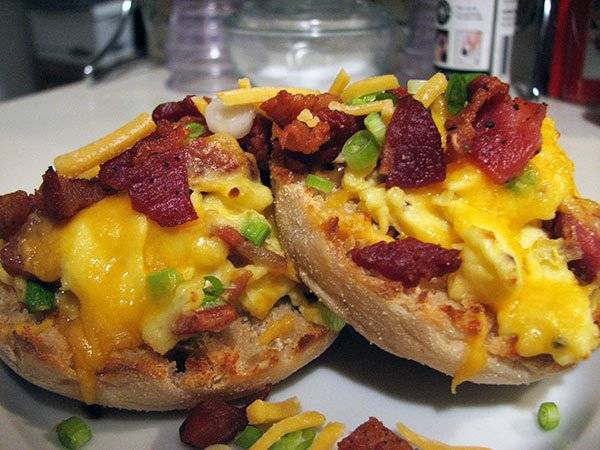 Yield: 4 "pizzas"
English Muffin Breakfast "Pizza" Recipe
Prep Time: 10 minutes

Cook Time: 20 minutes

Total Time: 30 minutes
Ingredients
2 English muffins
4-5 slices bacon, chopped into 1/2 inch pieces
3 eggs
3 tbsp. milk
3 scallions, including whites, chopped
Approx 3/4 cup shredded sharp cheddar cheese
Salt and pepper to taste
Instructions
Preheat oven to 525°F (Broil on an electric oven)
Cook bacon in a large heavy bottomed skillet over medium-low heat, stirring occasionally, until all fat has rendered and bacon is crisp. (Approximately 15 minutes, all bacon fat should be completely clear, and the meaty parts a deep red in color.) Remove bacon from skillet and drain on paper towels. Pepper liberally if desired.
Split English muffins with a fork, place split side up on a baking sheet and place on center rack of preheated oven until toasted as you like them. Remove from oven and set aside.
Heat a small nonstick skillet and 2 tbsp of the rendered bacon drippings over low heat. Whip eggs, milk, 3/4 of the bacon, 3/4 of the chopped scallions, salt and pepper in a medium mixing bowl, pour into skillet. Stir constantly until eggs are just lightly set but not fully scrambled. Remove from heat.
Sprinkle muffins with cheese, spoon egg mixture equally over 4 muffin halves, top with remaining cheese. Return to oven until cheese is melted and bubbly, approximately 3 minutes.
Move muffins to plate and sprinkle remaining scallions and bacon pieces over the top. Serve immediately.
Nutrition Information:
Yield:
4
Serving Size:
1
Amount Per Serving: Calories: 372Total Fat: 24gSaturated Fat: 11gTrans Fat: 1gUnsaturated Fat: 10gCholesterol: 197mgSodium: 783mgCarbohydrates: 16gFiber: 1gSugar: 1gProtein: 23g


What I would have done differently had I thought of it at the time:
Honestly, nothing. I was originally going to try for a sauce of some kind, but by making sure the eggs weren't hard set, it was unnecessary.