It's getting close to dinnertime and everyone in the house is grumbling about food… Or worse, their stomachs are! You need to get something on the table quick, but you're tired of making the same-old same-old.All of us have gone through it. And that's where these pork and pineapple rice bowls come into play. They're quick, they're easy, and they taste absolutely fabulous. If you're like us and love the combination of ultra-savory, umami, and pops of sweetness, then this is a meal everyone in your house will love.
This dish is based off of Asian and Polynesian flavors, combining tropical fruit with the ingredients I typically associate with a Japanese donburi (丼), or the Chinese Jin (丼), both simply meaning rice bowl, but usually meant to signify a dish of rice served with either meat, vegetables, fish, or a combination of the three.
And the best part of these pork and pineapple rice bowls is that they're made with ingredients that are both inexpensive and available nearly everywhere. I'd bet if you looked, you probably have half of the ingredients in your pantry or freezer right now.
So what are you waiting for? You need this dish in your life.
Let's make some pork and pineapple bowls!
First off, you'll notice that the recipe calls for boneless country-style ribs, which is what I thought I'd bought, but hadn't. You can see in the photo below that some of these guys were mostly bone.
So out came the boning knife and I performed a little surgery. As you can see, this left me with a lot of pork bones to make stock with later!
When all was said and done, I ended up with right around 2 pounds of cubed pork meat.
I added a little bit of soy sauce and salt and pepper and set this off to the side while I worked on the pineapples.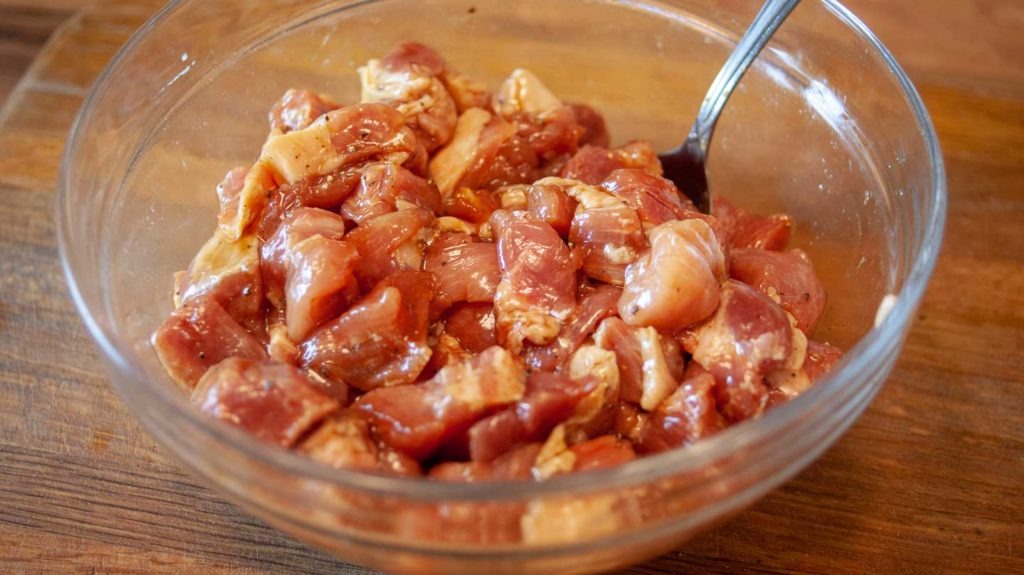 Next we'll need to drain a can of pineapples, and I've got a trick for you here. Just peel back the lid a little and then turn the pineapples over a bowl. You won't need a strainer, and there's less to clean up.
Get that juice in a bowl and set that aside. We'll need it in a minute.
Then you just cut your pineapples into bite-sized pieces. (Or, if you bot cubed pineapple, you're already golden!)
We'll grab a bag of 3 pepper and onion blend out of the freezer. (This may be called fajita mix vegetables in your area, but it's all the same stuff.) And yes, we'll be using the whole bag. Of course, if you want, you can use fresh peppers and onions here, but we're going for quick, so no chopping needed!
Heat some vegetable oil in a large skillet. When it's hot, drizzle in a little toasted sesame oil. Give that a swirl around to mix. You want to add the sesame oil last to prevent it from scorching.
Next, go ahead ant toss about a third of that pork in the skillet.
Stir-fry your pork until it's a lovely golden brown.
Continue to cook in batches until all of the pork is browned, but not quite all the way cooked. Transfer it to a bowl with a slotted spoon or a kitchen spider.
Once all the pork is browned, just pour your pepper and onion mix in and cook until the onions are translucent.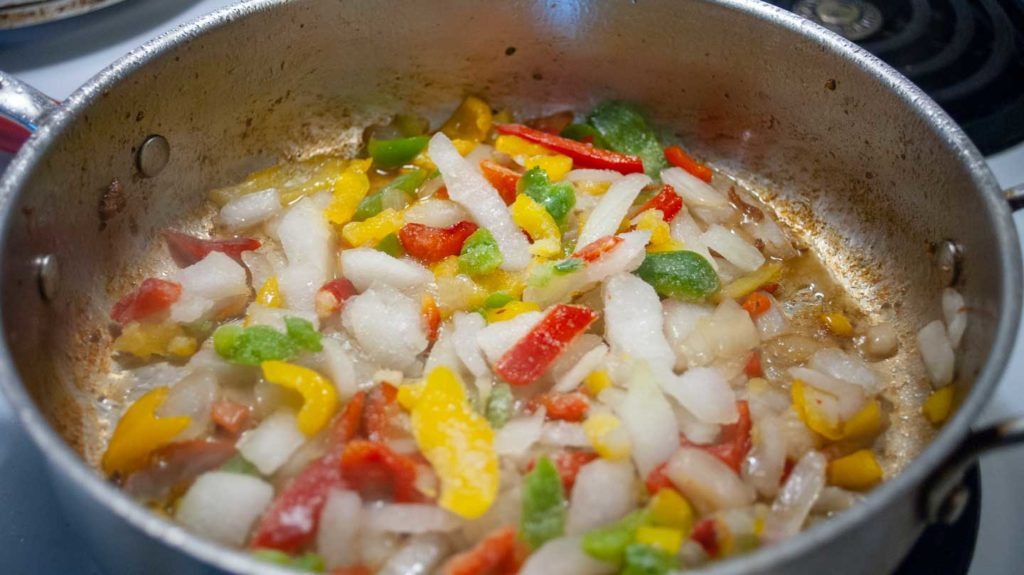 Then just put that in the bowl with the pork. We'll get back to it in just a minute.
Next, toss the pineapples into the same pan. Cook until they've started to caramelize and look relatively dry. This is going to amplify their flavor a lot.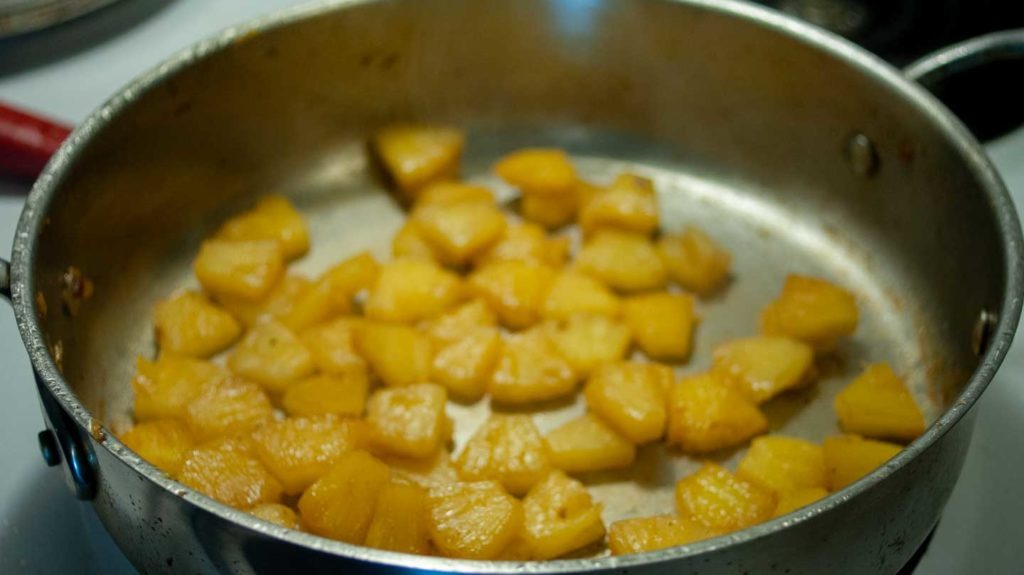 Next Put the pork and peppers back in the pan and give everything a good toss. We'll need to cook this until the pork is completely done, but we're not quite finished yet.
Add a couple of good glugs of soy sauce to your reserved pineapple juice and give it a stir.
Add that into the skillet with everything else, and cook for about 5 more minutes. That's it, you're good to go!
Just spoon a good ladle of your pork and pineapple over a piping hot bowl of steamed rice, and you're good to go. And don't forget to add a good bit of the liquid as well!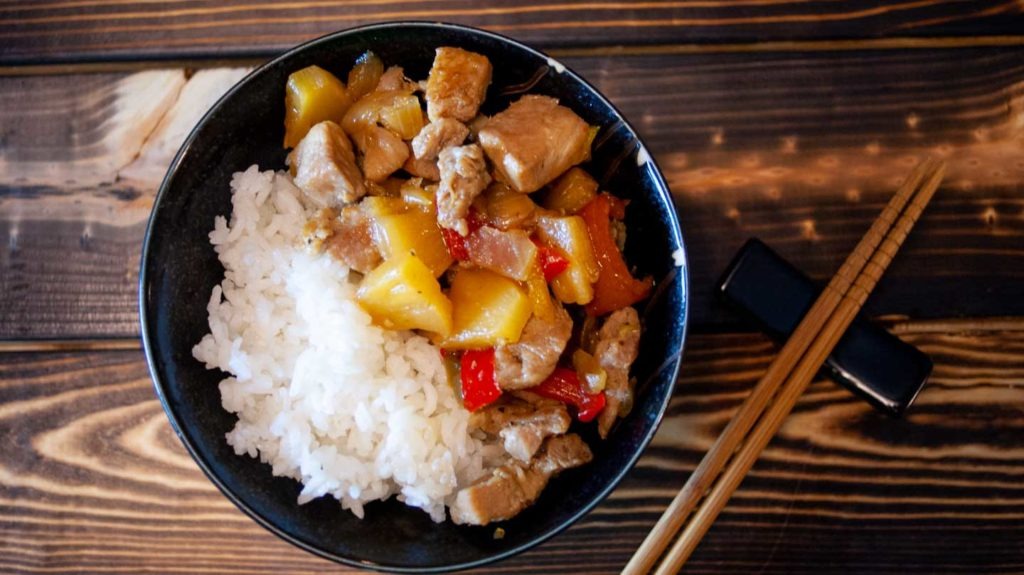 There you have it guys. Gorgeous pork and pineapple rice bowls. They're sweet and savory. Delicious and filling. Oh, and gorgeous, If I do say so myself. Doesn't this make you want to dive right in?
And that's it, my friends. A quick, simple meal That feeds 6 people easily, ready in about 40 minutes (or 30, if you remember to buy boneless ribs!) This one wowed the whole family, including the picky eater.
I know I didn't cover cooking the rice in this recipe, because you can use any rice you'd like. But if you want to find out how to make perfect rice every time, you should check out our recipe for perfect rice every time here.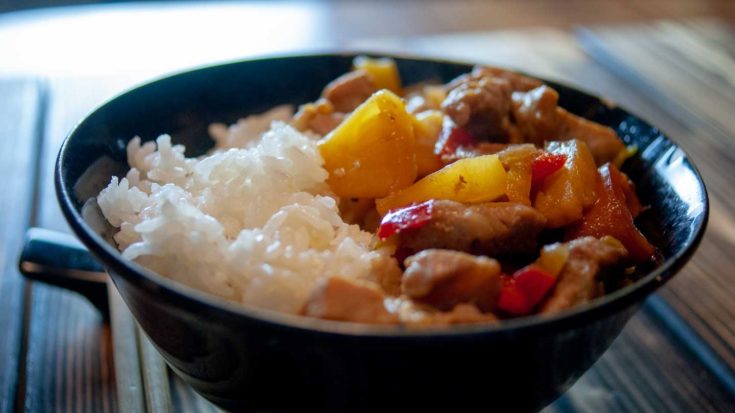 Yield:

6 Servings
Pork and Pineapple Rice Bowls
Ingredients
2 pounds Boneless pork country-style ribs
1/3 cup Soy sauce, divided
Salt and pepper, to taste
1 15 ounce can Pineapple rings, with juice
22 ounces Frozen 3 pepper and onion blend vegetables
3 tablespoons Vegetable Oil, for frying
1 tablespoon Roasted sesame oil, for frying
6 cups Cooked white or brown rice, for serving
Instructions
Cut pork ribs into bite-sized pieces. Sprinkle with salt and pepper, place in a large bowl and toss with 1/4 cup soy sauce. Set aside.
Drain and reserve juice from the pineapples. Cut into bite-sized pieces.
Heat a large skillet over medium-high heat. Add the vegetable oil. When hot, add the sesame oil.
Add the pork to the skillet in batches, being careful not to overcrowd the pan. Cook until all pork is well browned. Return to bowl and set aside.
In the same skillet, Cook pepper and onion blend, stirring often, until onions are translucent. Place in bowl with pork and set aside.
Place pineapple in skillet and cook until heated through and slightly browned (caramelized). Return pork and peppers to pan along with any accumulated juices and cook, stirring often, until pork is cooked.
Mix 3 Tablespoons soy sauce with the reserved pineapple juice. Stir to combine and pour over pork and pepper mixture in pan. Stir to coat everything well.
Serve over fresh hot rice.
Nutrition Information:
Yield:
6
Serving Size:
6 Servings
Amount Per Serving:
Calories:

1067
Total Fat:

37g
Saturated Fat:

10g
Trans Fat:

0g
Unsaturated Fat:

23g
Cholesterol:

155mg
Sodium:

960mg
Carbohydrates:

134g
Fiber:

13g
Sugar:

65g
Protein:

56g
What I would have done differently
Personally, nothing at all. This is a brilliant recipe. but if you're someone who doesn't do pineapple, then this might not be your thing. If that's the case, I'm fairly confident that mango would work. (Although I despise mango, so it's not my thing!) But hey, you do you.
Otherwise, this hits all the marks. It's savory, sweet, tangy, a tiny bit salty, and the rice pulls all of it together perfectly. A winner for sure.
What are your thoughts?
Are these pork and pineapple bowls something you'd love, or something you'd hate? Can you think of an addition to the recipe that you think would make it better?
And hey, if you make this recipe, post it to Pinterest or Instagram and use the hashtag #unclejerryskitchen so we can see what you did. Because Y'all are amazing, and we're sure that your version will be just as good, if not better than ours!
As always guys, keep cooking. Food is love. Share and enjoy!