Rice. It's an unassuming grain that also just happens to be the staple food of nations all over the world. It's speculated that rice may have been cultivated in Japan for as long as 6,000 years.
Rice was never a big thing for me growing up. I'm a California kid, raised in a predominantly Southern household. We're of Irish-American and Native American descent, so rice wasn't a staple food. But the commercials told us what it was supposed to be like.
"Soft and fluffy, with each grain separate."
That's what we thought. And I believed it… Until I got into Asian food.
If you've ever tried to eat American packaged rice with chopsticks, you already know this. It doesn't work. In fact, it can't realistically be done.
To make perfect white rice in an authentic Asian dish, you have to use short or medium grain rice, not long grain rice.
Shorter grain rice is stickier than its long grain cousins. This makes it perfect for things like musubi, onigiri, and being eaten with chopsticks. It sticks to anything and everything. Including itself. It also has a much richer and robust flavor that makes it the perfect foil for umami-rich Asian foods.
Enough of the history lesson, you're here to learn ow to make rice, and I'm going to show you how I do it.
How to make perfect white rice every time
Before I dive into this, I have one comment. You can make perfect rice with or without a rice cooker. Yes, a high-end Zojirushi rice cooker is going to make good rice, but it's not necessary.
In the photos below, I'm using a 20-year-old Aroma rice cooker. I also own a fuzzy logic rice cooker that can make 20 cups of rice, but as long as you've got a pot with a lid, you can make perfect white rice. It's in the steps, not the equipment.
Let's Go
First, measure out the amount of rice you're going to need. Rice, like most beans, will double in volume. so for two people, I'd usually say that one cup of dry rice is enough. But if you're like us, you'll probably want 2 cups.
Next, you'll want to rinse your rice. I don't care if the package says that it's "no rinse." Rinse it anyway. Add your rice to a bowl and cover it with cold water.
Gently rub the rice between your fingers. You'll quickly notice that the water gets cloudy.
Drain off the water and repeat until the water is clear.
If you want to make your life a little easier, you can spend a few dollars and buy a rice washing bowl. And though you can find these in stainless steel, I prefer the plastic models. They're inexpensive and they work well.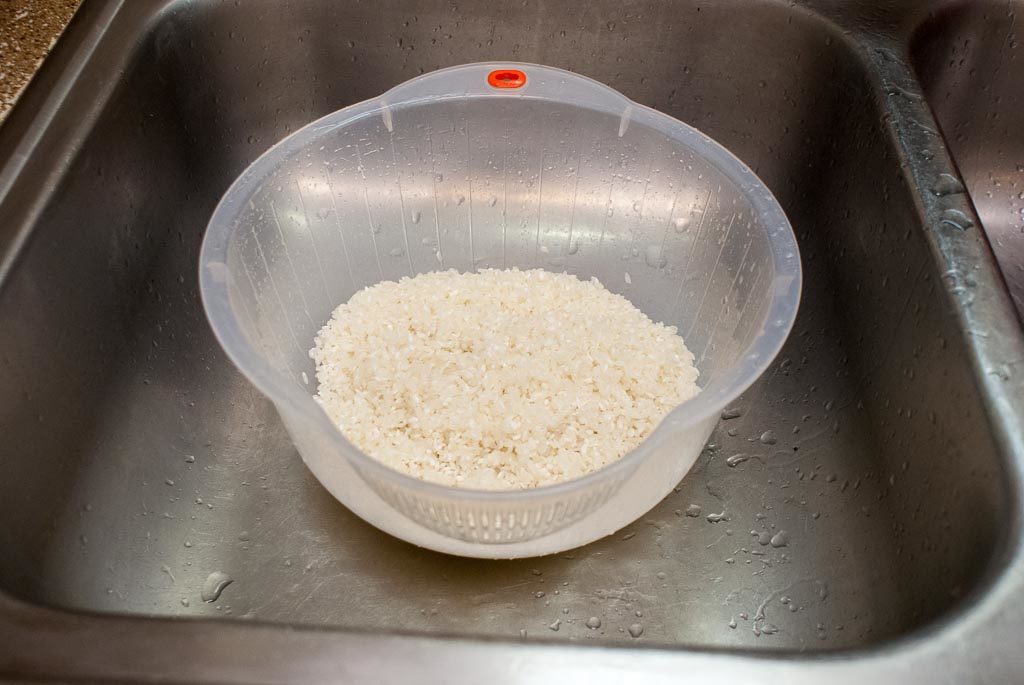 Once your rice is rinsed, put it in the bowl of your rice cooker. Cover with the proper amount of water, and walk away for awhile. At least 10 minutes. You want the rice to be hydrated evenly.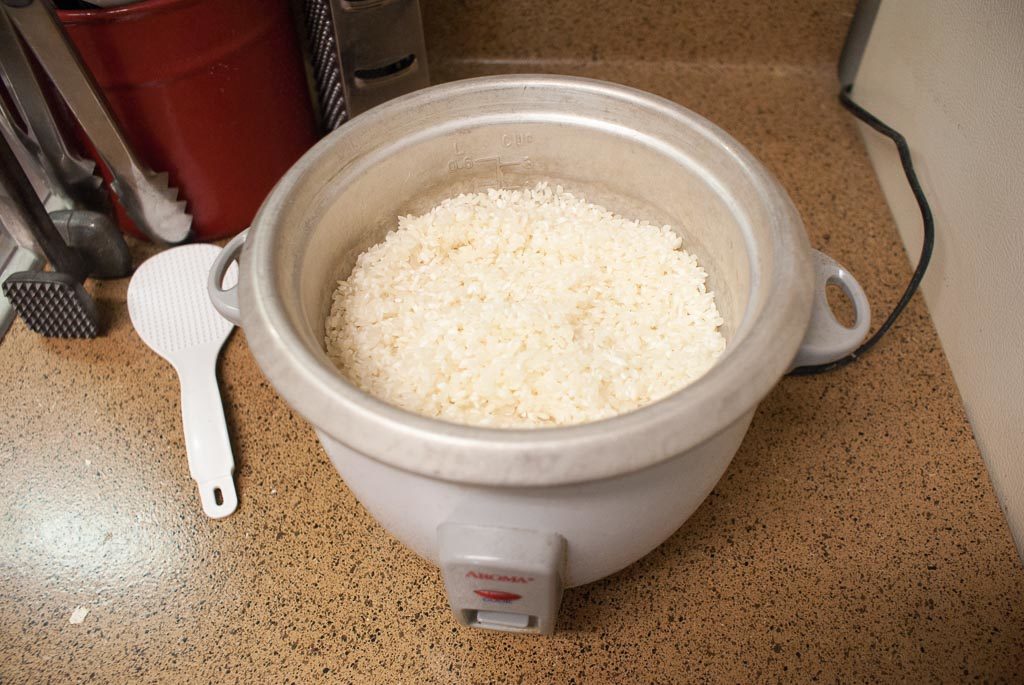 Next, pop on the lid and hit that cook button.
You probably won't have the steamer basket attached while you're doing this, but we wanted broccoli with dinner, so I packed it up and used the steam from the rice to cook the broccoli at the same time.
Multitasking. It's a good thing.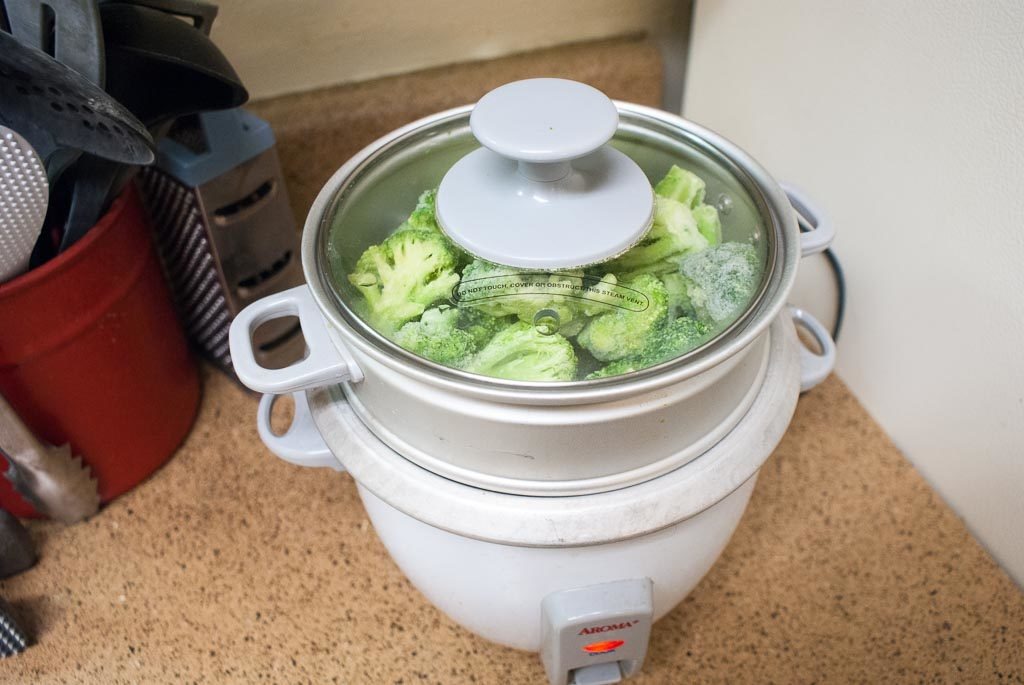 When the cooker flips off you'll be tempted to dive right in.
Don't.
Give it about 10 minutes to make sure that all the rice is steamed perfectly. Then Give it a fluff with a rice paddle or a spoon.
Bingo. Perfect white rice.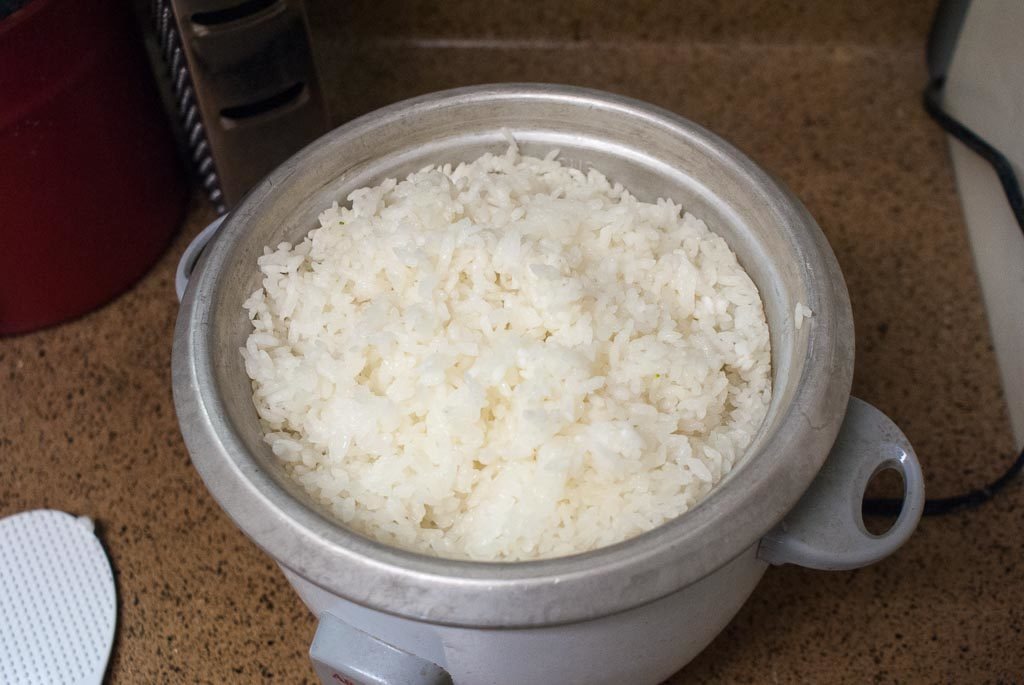 What you do with it is up to you, but we love our rice with a little Furikake.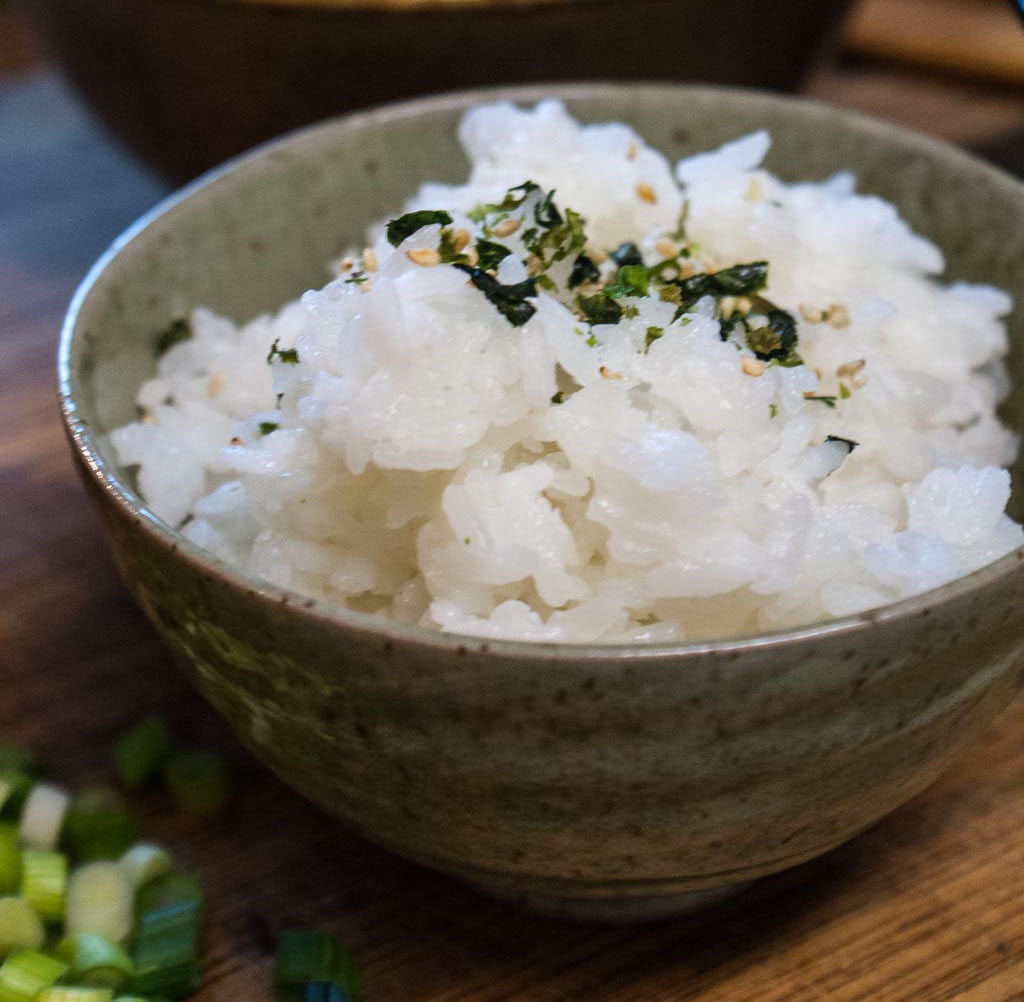 And now the printable recipe, with notes
Yield:

2 to 10 cups perfect white rice
How to Make Perfect White Rice Every Time
Ingredients
Short or medium-grain rice
Water
Salt (optional)
Instructions
Measure rice into a suitably sized bowl, a sieve placed over a bowl, or a rice washing bowl.
Rinse under cool running water, gently rub rice between your fingers. Pour off the water once it becomes cloudy and repeat until the water is clear.
Place rice in a pot or in the bowl of a rice cooker. Cover with water according to package directions or your rice cooker instructions (These amounts will be different depending on the type of rice, milling process, or rice cooker manufacturer.) Allow to rest in water for at least 10 minutes. **SEE NOTES**
If using rice cooker:
Add a pinch of salt, if desired. Place lid on cooker and hit the cook button, or quick cook setting.
If using a pot:
Add a pinch of salt, if desired. Bring rice to a boil, cover the pot and reduce heat to low. Simmer 15 to 20 minutes, or until water is absorbed. Remove from heat.
Allow rice to sit for 5 minutes, fluff gently with a rice paddle or spoon. Serve immediately, or refrigerate.
Notes
Some brands of rice are labeled "No Rinsing Necessary." I have never gotten equal results from not rinsing short or medium grain rice. Just do it. It will be better.

The volumes of rice and water will vary depending on rice type, milling process, and cooking method. Rice cookers are tested thoroughly to produce high-quality results every time, so follow the manufacturer's' instructions. (Fill water to the level of dry rice you've added.)

When cooking in a pot, follow the grower's measurements for water and rice.They've tested this. They know what they're talking about.
Nutrition Information:
Yield:
10
Serving Size:
1
Amount Per Serving:
Calories:

21
Total Fat:

0g
Saturated Fat:

0g
Trans Fat:

0g
Unsaturated Fat:

0g
Cholesterol:

0mg
Sodium:

59mg
Carbohydrates:

4g
Fiber:

0g
Sugar:

0g
Protein:

0g
In conclusion:
Can you make rice with less hassle… Yes.
Will it be as good… No
It took me years to learn just what I'd done wrong with rice-making. I hope to save your this trouble. If you want to make perfect white rice every single time, this is how you do it.
Enjoy Y'all.