Fried Rice is the perfect go-to meal. As long as you have Rice, eggs and scallions you already have all the basics of fried rice on hand. Anything and everything else that you happen to have lying about in the fridge or the pantry is fair game for this dish and there's absolutely no reason not to throw just about anything including the kitchen sink, into the pan.
This particular fried rice incarnation is brought to you by my brand-spanking new smoker/grill. When I bought it I knew I wouldn't use it all that often as a smoker, but I absolutely had to christen it as such. To justify the expense of burning three bags of charcoal and two bags of wood chips, I offered up close to 15 pounds of proteins to the gods of the grill and they did not disappoint.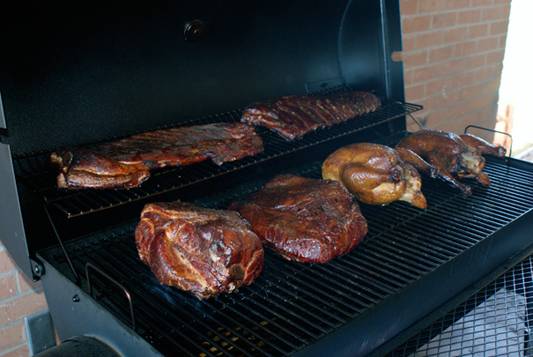 My larder now happily includes 6 pounds of smoked chicken, 5 pounds of smoked brisket, 6 pounds of smoked ribs and 4.5 pounds of smoked pork. If you've got this amount of smoky goodness on hand, you use it.
I was debating between making spring rolls and a simple batch of fried rice. My wife made up my mind for me and I was off to create something worthy of the time taken in preparing such a wonderful feat of wood infused goodness. I think I've managed to do so, but I'll let you be the judge.
Of course, if you can't smoke your own pork for 7 hours you can easily recreate the spirit of the dish by cooking a pork roast wrapped in foil with 3 tsp of liquid smoke in the oven at 250 degrees for about 4 hours. The flavor isn't exactly the same, but it's a close second.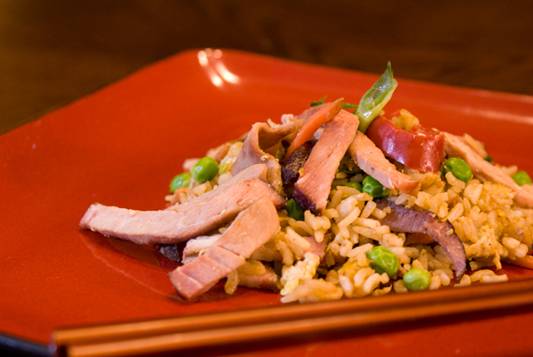 Yield: 4 servings
Smoked Pork Fried Rice Recipe
Cook Time: 10 minutes

Total Time: 10 minutes
Ingredients
4 cups cold cooked rice
Approximately 1 lb smoked pork butt, cut in 1/2-inch strips
2 carrots, julienned
1/2 cup assorted bell pepper strips
1 tbsp. Minced Garlic/ginger stir fry seasoning (or 3 cloves garlic and about an oz of ginger, minced fine)
3 eggs
1/2 cup green peas
4 green onions, sliced thin on the diagonal
1 tbsp. hoisin sauce
3 tbsp. low sodium soy sauce
3 - 4 tbsp peanut oil, for stir frying
Instructions
Wash and thinly slice green onions. Beat eggs in a small bowl with a bit of salt and pepper. Julienne carrots and slice pork. If using fresh bell pepper, seed and slice. Have all ingredients in separate containers at the ready.
Heat a large wok or stir fry pan over high heat. When pan is just smoking, add 2 tbsp peanut oil. Stir fry carrots approximately 1 minute. Add bell pepper strips and continue stirring for approximately 1 minute.
Add another 2 tbsp peanut oil to wok. Crumble rice into wok and stir thoroughly. Push mixture to one side of pan to expose a section of bare wok. Add hoisin sauce, Stir Fry Seasoning mix and soy sauce. Stir vigorously, then mix together with rice mixture.
Create well again and add 1 tsp oil. Pour eggs into well and stir for a few seconds. Stir entire contents of wok until all rice is coated and eggs are cooked through.
Add pork, peas, salt and pepper. Toss together and add green onions. Serve immediately with soy sauce on the side.
Share and Enjoy!
Nutrition Information:
Yield:
4
Serving Size:
1
Amount Per Serving: Calories: 1073Total Fat: 73gSaturated Fat: 18gTrans Fat: 0gUnsaturated Fat: 50gCholesterol: 261mgSodium: 848mgCarbohydrates: 58gFiber: 4gSugar: 5gProtein: 46g


What I would have done Differently had I thought of it at the time:
Hard to say, really. Fried rice always varies with what I have on hand. this might have been a bit better with just a little brown sugar to counterbalance the smokiness of the pork, but it's hard to say.
Links to other recipes like this: