It's a weekday. It's dinner time. You need a side for that gorgeous plum glazed chicken you just tossed in the oven. It's time to whip up some mashed potatoes. But not just any old mashed potatoes. We're going to make some lemon garlic mashed potatoes… From a box.
Yes, from a box.
*A quick note. This post is not sponsored by any brand mentioned or shown. We paid for everything with our own money, and this is just what we had in the kitchen.
Why? Because they're quick. Because they're easy. Because you just want to get dinner done without peeling a half-dozen spuds. Or maybe because you just don't HAVE any fresh potatoes lying about, but you do have that box of instant mash in the pantry.
The reason doesn't matter, because we're going to elevate those simple boxed mashed potatoes to a whole new level with this recipe.
Before I move forward and show you just how delicious these things are, I have to give credit where it's due. My wife came up with the idea for this recipe, so all credit here is hers. And she deserves it, guys. This really is a fantastic mashed potato recipe!
Let's make some lemon garlic mashed potatoes!
Like I said before, this one is easy guys. All of the ingredients used are things we always have either in the pantry or in the fridge. And most of the time that's all you need to dress up an otherwise plain or boring recipe.
In this case it's just instant mashed potatoes, minced garlic, lemon juice, butter. (Yes, real butter, because… Butter!), milk, and water. A bit of seasoning at the end and we're all set.
So, melt about a tablespoon of butter in a saucepan over medium and add some minced garlic.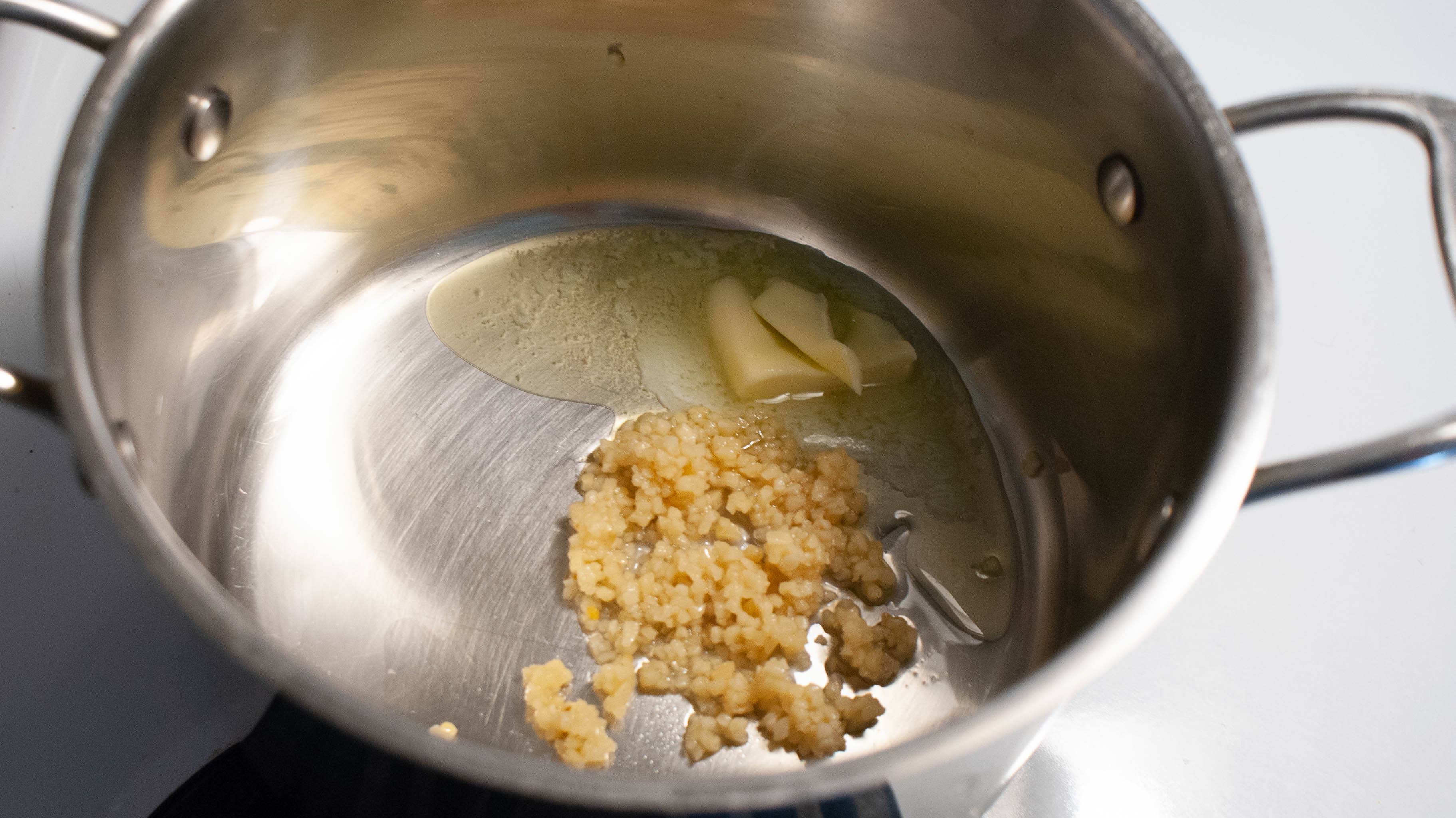 Season with salt and pepper, then let that simmer away until your garlic has some color on it, then add a few tablespoons of lemon juice.
Next, follow the directions on the package for your preferred variety of mashed potatoes. Then add more butter. Because butter makes it better! Then test for seasoning.
And that's it.
Seriously. Put it on a plate and go for it. (You might want to add more butter *wink*)
Yield:

4 people
Lemon Garlic Mashed Potatoes
Why eat boring instant mashed potatoes? This easy recipe for lemon garlic mashed potatoes elevates a simple pantry staple to a whole new level and still takes less than 10 minutes to make!
Ingredients
1 Tablespoon Minced garlic
3 Tablespoons Lemon juice
1 1/3 cups Water
1/2 teaspoon Kosher salt
4 Tablespoons Butter
2/3 cup Milk
1 1/3 cups Potato flakes
Instructions
Melt 1 Tablespoon butter in a small saucepan over medium heat. Add garlic and simmer, stirring often, until golden. Add lemon juice and allow to simmer 1 additional minute.
Add water, salt, and remaining butter. Bring to a boil and remove from heat.
Add milk and potato flakes. Stir to combine. Let rest for 5 minutes, fluff with a fork and serve.
Notes
Amounts given are for the Idahoan® brand of instant mashed potatoes. If you are using a different brand of potato flakes or prefer your spuds a different consistency, these amounts may vary slightly.
Nutrition Information:
Yield:
4
Serving Size:
4 people
Amount Per Serving:
Calories:

179
Total Fat:

12g
Saturated Fat:

8g
Trans Fat:

0g
Unsaturated Fat:

4g
Cholesterol:

34mg
Sodium:

389mg
Carbohydrates:

15g
Fiber:

1g
Sugar:

1g
Protein:

3g
What I would have done differently:
There are a million ways to hack instant mashed potatoes, and this is only one of them. (Though again I'm going to give a ton of credit to my wife for the concept, it was delicious, honey!)
Mix and mash this with whatever recipe ideas you come up with. They're fast, they're simple, and they're cheap.
I'm thinking that they might make for an interesting and quick colcannon, and they'd be pretty good with a touch of curry as well.
Until next time guys,
Food is love. Share and enjoy!