I know, I know. There's never enough time in the week. And there's definitely no time to think up an upscale dinner on Wednesday, right? Wrong. If you've been craving a simple, satisfying, yet slightly fancy dinner idea, this recipe for plum glazed chicken leg quarters is just what you've been looking for.
And it couldn't possibly be simpler.
I whipped these up at my wife's request a few nights ago, and the raves are in from everyone who tried it. And there were quite a few people over… It's just that good.
The thing is, you probably have just about everything you need for this recipe hanging around in your fridge or pantry right now. (And if you don't, we're talking about a 5-minute store run here, guys. I kid you not!)
I'll let you in on the secret of these amazing, tender, succulent glazed chicken leg quarters…
It's jelly.
Yep. Jelly. Of course you can substitute with preserves of any type, but a simple plum jelly is really all it takes to make a perfect glaze that will knock your socks off.
Still don't believe me?
Then let's make some plum glazed chicken leg quarters, and I'll show you!
Start by grabbing a chicken leg quarter per person you're serving. (In this case, it was 5, but my son isn't really into chicken lately, so…) Pack your chicken into an appropriately sized oven-safe vessel and season well with salt and pepper. Then toss them in the oven.
Get a few tablespoons of your favorite jelly or preserves and place them in a heat-safe bowl or into a small saucepan. (Think flavors that go well with chicken, like plum, apricot, apple, or pear. I'd stay away from grape and most berries, though.)
You're going to want to melt your jelly. You can do this in a saucepan, but I find it easier to simply put a glass bowl over my oven exhaust vent. The jelly will melt in about 25 to 30 minutes, which is right when we want it melted anyway, so I call bonus! You can always melt it in the microwave, too.
After about 30 minutes, take the chicken out of the oven. If you've got a lot of fat collected in the pan, which you often will with chicken leg quarters, pour it off.
Then brush that gorgeous melted jelly all over the top of your chicken and pop it back in the oven for another 15 minutes.
Repeat the glazing process every 10 or 15 minutes until you run out of jelly, then let the chicken cook until it hits an internal temperature of about 165 degrees. (You do have a meat thermometer, right? If not check these thermometers out. I highly recommend them.)
Pop those lovely glazed chicken leg quarters out and let them rest for about 10 minutes before serving.
They go great with mashed potatoes, and in this case, I served them with emon garlic mashed potatoes, which added just the right amount of zing to the meal.
Looks lovely, doesn't it? And in total, this whole dinner cost around $6.00. Not bad at all.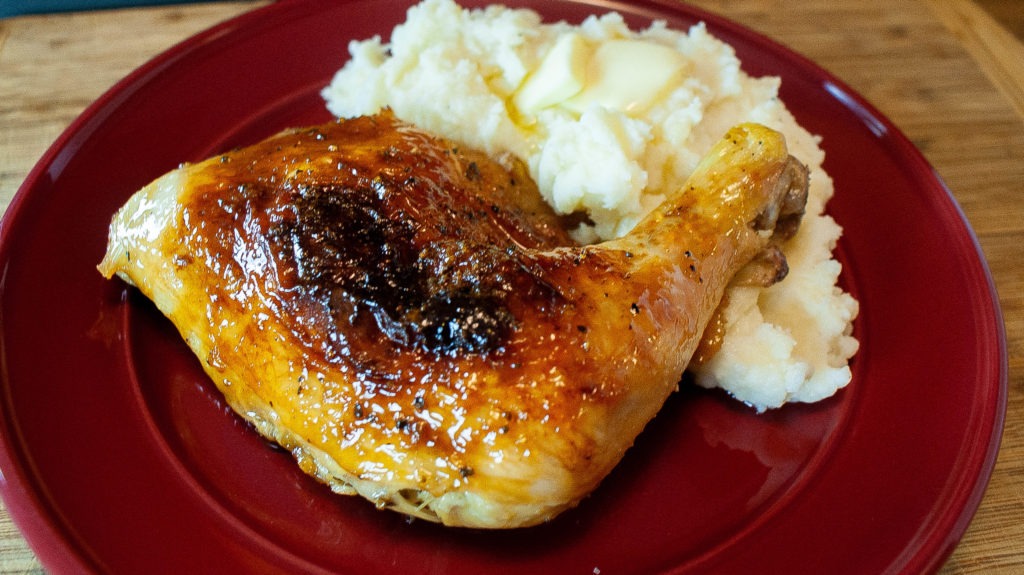 Yield:

4 people
Plum Glazed Chicken Leg Quarters
Total Time:
1 hour
15 minutes
Succulent, tender chicken leg quarters glazed in a delicately sweet and tangy plum glaze. Weeknight dinners will never be the same!
Ingredients
4 individual Chicken leg quarters
Salt and Pepper , to taste
2 Tablespoons Plum jelly, or preserve of your choice
Instructions
Heat oven to 375 degrees F (190 C, Gas Mark 5)
Place chicken in an oven-safe dish large enough to hold all the chicken without crowding. Season well with salt and pepper.
Place 2 Tablespoons plum jelly (or preserve of your choice) in a small bowl or saucepan. Heat gently over very low heat until melted
Bake chicken for 30 minutes. Remove from oven and drain fat if necessary. Brush each piece of chicken generously with the jelly.
Return to the oven for 10 to 15 minutes, then brush again, repeating until all the jelly has been used.
Cook chicken for an additional 10 minutes, or until the internal temperature measures 165 degrees F (75 C). Remove from the oven and allow to rest 10 minutes before serving.
Notes
You can use any preserve you enjoy for this recipe. Just look for flavors that pair well with chicken, such as apple, pear, apricot, plum, mango, or pretty much any other stone fruit. (And if you can find pineapple preserves, just do it, trust me!)
If you want to add a bit more depth of flavor, try adding a dash or two of dried herbs to your jelly. Rosemary, marjoram, basil,  or thyme would all work very well here.
Nutrition Information:
Yield:
4
Serving Size:
4 people
Amount Per Serving:
Calories:

491
Total Fat:

23g
Saturated Fat:

6g
Trans Fat:

0g
Unsaturated Fat:

14g
Cholesterol:

328mg
Sodium:

328mg
Carbohydrates:

4g
Fiber:

0g
Sugar:

3g
Protein:

62g
What I would have done differently:
Oh, I could take this recipe a hundred different directions. Seriously, we whipped this concept up in just a few minutes with things we had lying about, and it's the perfect launch platform for a LOT of other ideas.
Think herbs, spices, different jams, jellies or preserves (Orange marmalade with rosemary, anyone? Oh. Yaaas!) What about pork loin? I could go on and on.
But I'll be getting to those later.
Now it's on to you
Does this sound like something your family would love? What would you change about it? We'd love to know, so leave a comment below, or hit me up on Facebook at Uncle Jerry's Kitchen. And as always, if you make this, share a pic on your favorite platform with the hashtag #unclejerryskitchen. We'd love to see what you came up with!
Until next time guys,
Food is love. Share and enjoy!