The ability to cook by the seat of your pants can be a benefit at times. For example, I was in a rush to find something for dinner that would both feed my wife and myself for the night, and serve as a satisfying lunch the next day. This Fennel and herb crusted pork roast was the perfect solution for both problems.
A quick rush around the meat department at the local grocery store gave me the answer. The pork blade roast was on special! Now I love me some pork roast so I grabbed up an 8.5 pounder and a few other sundries that we were in need of before heading back home brimming with excitement and satisfaction.
After arriving safely back home and situating Mr. Seat of his Diaper safely in his bouncy-chair for another round of Baby Einstein *shudder*, I proceeded to lay out my battle plan for the magnificent specimen of porcine perfection that now sat in my humble kitchen.
Wow. That's a lot of really overbearing and semi-pompous chatter, isn't it?
O.K. (several deep breaths.) I'm over it.
What was I going to do with the roast?
I wanted to actually roast the roast. That much I knew. Pulled pork is great, but that either means braising or slow cooking the meat for a very-long-time. It also significantly changes the texture of the pork, which didn't sound that good to me at the time. In true seat of my Pants style, I hit the spice rack and the spice cupboard to see what I had lying around.
The combination I finally settled on had several perks for me. One, I got to use my nifty new spice grinder, (Yay!) and I got to use my nifty new remote readout probe thermometer. (Double Yay!)
Here's what I came up with in the end:
Now let's make some herb crusted pork roast!
Grab a pork roast and lay it out on a cutting board. Pat it dry and set it to the side for a minute. we'll get right back to it.
Measure out your fennel seeds. In this case we're using a generous Tablespoon worth of them.
pour your fennel seeds into a spice grinder. (Yes, this is a coffee grinder, but it's only EVER used for spices, and it works great. You can get a grinder like it on amazon. You can also just use your blender or food processor. And if you don't have any of those gizmos, you can just smash them inside a zip-top bag with the bottom of a skillet. (It works, trust me!)
In the end, you want you fennel seeds to looks something like this…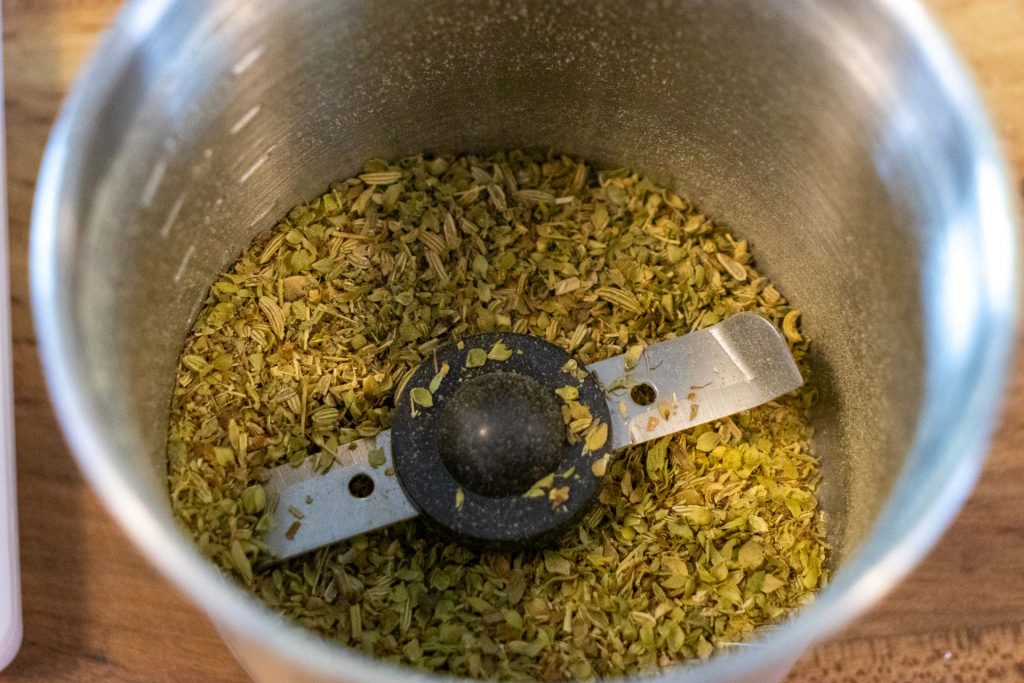 And now that they'e all ground up, mix all the rest of the spices together and give that pork roast a good rub down.
Once you've got your roast good and covered in herby goodness, pop it in a roasting pan FAT SIDE UP.
I can't stress the fat side up point enough here. It's going to do 2 things for you. Firstly, that fat is going to render during cooking and baste the pork as it cooks. Secondly, It's going to turn into an amazing, crispy, delightfully chewy bit of absolute YUM when the roast is done cooking.
Like this…
I mean seriously. Just look at this beautiful thing. You just want to dive right into it. But don't. Not yet. let it rest for a good 10 minutes uncovered before you cut into it.
(Yes, i usually say to tent things loosely when resting, but in this case that would steam the crunch out of the fatty layer at the top, and that is definitely not what we want here.
And just look at how moist and juicy this turns out! It's absolutely dripping with goodness. No dry, overcooked pork roast here, guys.
All that's left now is to slice that bad boy up and serve it with some veggies. (The spuds in this photo were actually roasted in the pan with the pork, but I didn't get a shot of that.)
Yield:

12 servings
Fennel and Herb Crusted Pork Roast Recipe
Total Time:
2 hours
20 minutes
Our Fennel and Herb Crusted Pork Roast recipe is packed with flavor. Simple to prepare, perfect for the weekend. Awesome leftovers, too!
Ingredients
1 tbsp fennel seeds
1 tbsp dried rosemary
1 tbsp dried oregano
1 tbsp whole peppercorns
1 tbsp kosher salt (approx, and use whatever kind of salt you like)
1 tbsp garlic powder
1 7lb to 9lb Pork shoulder blade roast
Instructions
Preheat oven to 350° (Fahrenheit)
Combine fennel, rosemary, oregano peppercorns, and salt in a spice grinder, pulse until roughly the consistency of kosher salt. (No grinder? Use a mortar and pestle or the bottom of a heavy frying pan to grind the herbs and pepper down)
Turn roast fat side up on a roasting rack or in a roasting pan, cover roast liberally with spice mixture.
Place a probe thermometer in the meatiest part of the shoulder, careful to not touch bone as it will alter the temperature reading drastically.
Roast uncovered on the center oven rack until internal temperature reads 170°F (About 2 hours.)
Remove from oven, and let rest at least 10 minutes before carving.
Share and enjoy!
Recommended Products
As an Amazon Associate and member of other affiliate programs, I earn from qualifying purchases.
Nutrition Information:
Yield:
12
Serving Size:
1
Amount Per Serving:
Calories:

1022
Total Fat:

74g
Saturated Fat:

27g
Trans Fat:

0g
Unsaturated Fat:

40g
Cholesterol:

315mg
Sodium:

818mg
Carbohydrates:

2g
Fiber:

1g
Sugar:

0g
Protein:

82g
What I would have done differently:
Nothing. Nothing at all. This was fabulous.
But I have had to make this recipe when I didn't have all the herbs listed. A great alternative is to just sub-out all of the herbs (except the fennel seeds) with your favorite Italian seasoning blend. It's not exactly the same, but it's still fantastic, and you might even prefer it better that way.
I usually toast my spices, but that's not really necessary here because they're going to release their essential oils pretty quickly in a dry 350° oven. You can toast them if you'd like.
As for what to do with the leftovers, (and my need to turn this into lunch the next day) this roast made crazy-good herb crusted pork sammiches, too! (Especially when you put it on some gorgeous homemade bread or quick hamburger rolls!)
What are your thoughts?
So what are your opinions, guys? Do you love the flavor combo of pork and fennel? Are you into serious Mediterranean flavors, or are you more into something else?
Either way, we'd love to hear your opinions. So please feel free to leave a comment below. And if you try this recipe, be sure to rate it! The recipe ratings help us decide what we've done right so we know what to make next.
Also, be sure to check us out on all the social medias. Just do a quick search for UncleJerrysKitchen or click on the social media icons scattered all over the site. You'll find us there.
Love Y'all, and until next time,
Food is love. Share and Enjoy!