From the archives. Lumpia is a perfect back to school meal, since you can roll them the night before and cook them on the next evening. They're also the perfect vehicle for leftovers. Give them a try!
Basically, lumpia is the Filipino equivalent of the Chinese egg roll. I first experienced lumpia in my early 20's, when our Guamanian next door neighbor made them and presented them to us as a housewarming gift, along with a massive platter of kelaguen. It was a nearly religious experience for me, even at the beginnings of my love affair with food. I've been hooked ever since and I have no intention of turning back.
When I mentioned this to my wife, she grinned, went to work, and brought home a huge tray of lumpia few days later. It seems that one of her coworkers' wives was from Guam also, and once again the flavors carried me away on the wings of culinary angels to a place I've never been, but that I dream of going to one day. They say the best way to experience the world is through its food, and I agree.
After that couple moved away, I decided we'd try to make this on our own. Unfortunately I never got the recipe from the lovely woman who made them for us, so we were on our own. Off to Google!
I'm really not sure if any of the recipes I found when I was looking this up are actually authentic, but the one we did find seemed to mirror most closely the ingredients we grow in the region and in the spirit of "cook locally", I adapted it to fit not only what we had around the area, but also what we had around the house. I saw many that called for cabbage, and then there were many that didn't. We had it on hand but chose not to include it in this recipe, as it's slated for another wrapped food recipe we've been talking about for a few weeks now. (If nothing else, I've been dying to try Colcannon, and it will give me the perfect excuse!)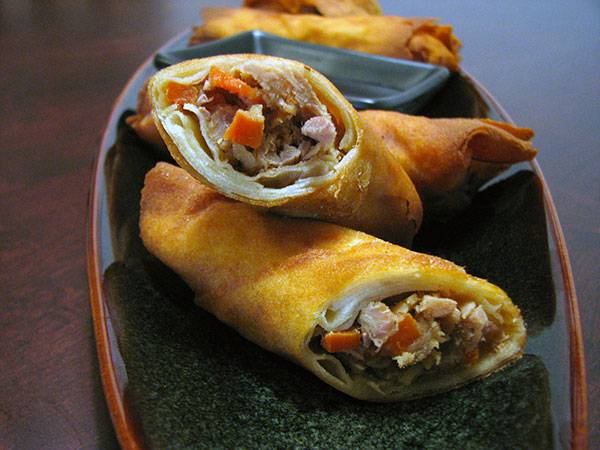 Yield: 24 lumpia
Roast Pork Lumpia Recipe
Prep Time: 10 minutes

Cook Time: 30 minutes

Total Time: 40 minutes
Ingredients
Lumpia:
1 pkg. lumpia wrappers
2 tbsp. vegetable oil
1 tbsp. finely minced garlic
1/2 cup finely minced onion
1 lb. shredded roast pork
2 cups chicken broth
4 medium carrots, diced fine
3 medium Yukon gold potatoes, cut into approximately 1/8 inch squares
2 – 3 tbsp. soy sauce
2 tbsp. finely chopped parsley
Dipping Sauce:
4 tbsp. roasted garlic rice vinegar
4 tbsp. soy sauce
Instructions
Lumpia:
Heat a large, heavy bottomed skillet over low heat and sauté garlic until golden brown. Add onion, raise heat to medium high and sauté until transparent. Add pork and broth, reduce heat and simmer for 20 minutes. Add carrots, potatoes and soy sauce. Cook until vegetables are tender, remove from heat and set aside until cool.
Spread out lumpia wrappers on a flat surface (Keep any wrappers you're not using immediately covered in a damp kitchen towel to prevent them from drying out.) Place approximately 3 tbsp. filling in center of each wrapper, sprinkle with parsley. Wrap on a diagonal, tucking in the sides of the wrapper when you've reached the half-way point. Seal with a few drops of water or an egg wash.
Fry in 375°F oil until golden, drain on wire rack or on paper towels.
Dipping Sauce:
Mix vinegar and soy sauce.
Nutrition Information:
Yield:
24
Serving Size:
1
Amount Per Serving: Calories: 102Total Fat: 6gSaturated Fat: 2gTrans Fat: 0gUnsaturated Fat: 3gCholesterol: 19mgSodium: 479mgCarbohydrates: 7gFiber: 1gSugar: 1gProtein: 6g


What I would have done differently had I thought of it at the time:
All-in all, these were really very good, but they aren't what I was aiming for. The flavor profile without the dipping sauce is almost like eating a pot roast in a wrapper. (Which ain't bad, I'm telling you!) The sauce actually completely changed the flavor, and the dipped lumpia simply popped with the tastes of the islands.
The original recipe called for boiled pork, and I think that perhaps it would work better in the long run. It also called for shrimp, which I'll probably toss in on the next round as well.
Almost all recipes I've seen for lumpia include chick peas, so I think they'll go in next time.
There was a definite need for something fresh and crunchy happening. I'm not sure if I'll use cabbage or sprouts, but I'm going for more veggie action on the next attempt, mostly because I think it would make them a bit more refreshing, and definitely more satisfying.
I'm also going to make dessert lumpia in a week or so… Yum!