I take a good deal of pride in making really good burgers. The problem is, what's the point of making the perfect patty, regardless of what went in to it, if you can't be proud of the bun that it rests on? I usually just grab some kaiser rolls and call it good, but today I decided that I'd had enough! I was going to take some pride in my buns! Err.. Rolls! I mean really. How can you be a "seat of your pants" cook and not have pride in your buns?
Just in case you've never looked, there are as many recipes on the Internet for hamburger buns as there are for burgers, so choosing just one wasn't easy. There are whole wheat, artesian, gluten-free, honey glazed and so many more it boggles the mind. In the end I bowed to the fact that this recipe at allrecipes.com was the simplest of the ones I found, and I only had to adjust it a bit to fit in with what I had on hand. Not only that, but it made a lot of buns, so there will be leftovers for egg sammiches in the morning. (Bonus!)
As for why I needed buns… Well, you'll just have to wait until tomorrow to find out, won't you?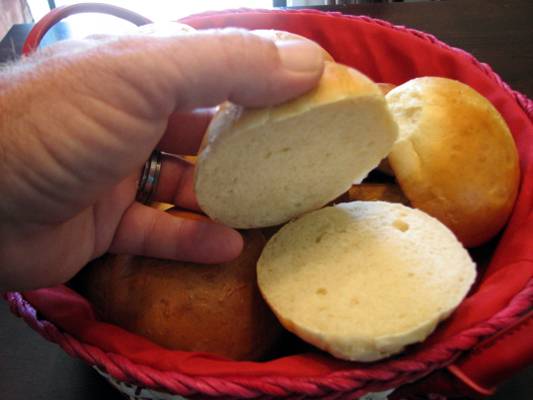 (These are actually pretty good sized. I just have really large hands!)
Yield: 16 rolls
Easy 1 Hour Homemade Hamburger Buns
Prep Time: 10 minutes

Cook Time: 45 minutes

Total Time: 55 minutes
Ingredients
2 cups milk
1/4 cup butter, melted
1/4 cup warm water
1/4 cup sugar
4 1/2 tsp. Active Dry Yeast (Or two 2.5 oz packages)
2 tsp. kosher salt
6 cups all-purpose flour (+/- 1/2 cup)
1 egg, beaten with 2 tbsp. water (as wash)
Instructions
Mix together milk, butter, water and sugar in a medium saucepan or microwave safe bowl. Heat over very low heat or microwave until butter is melted and all ingredients are combined. (If mixture is too hot to touch, it's far too hot for the yeast. It should not exceed 110 degrees F. If too hot, allow to cool to just above lukewarm before proceeding.)
If using a stand mixer:
Transfer mixture to mixing bowl of mixer fitted with dough hook. With mixer set on low speed, gradually add flour until a soft dough forms, scraping sides occasionally.
If mixing by hand:
Stir in flour gradually until soft dough forms, being careful to keep flour from depositing on the sides of the bowl.
Preheat oven to 375°F. Divide into 16 pieces and form into balls. Place balls on a greased baking sheet and cover with plastic wrap. Let rise for approximately 30 minutes or until the dough has roughly doubled in volume.
Brush with egg and water mixture and bake at 375° F for 15 minutes. Rolls should sound hollow when tapped. Allow to cool, split horizontally and top with your favorite burger!
Nutrition Information:
Yield:
16
Serving Size:
1
Amount Per Serving: Calories: 232Total Fat: 4gSaturated Fat: 2gTrans Fat: 0gUnsaturated Fat: 2gCholesterol: 22mgSodium: 336mgCarbohydrates: 41gFiber: 2gSugar: 3gProtein: 7g


What I would have done differently had I thought of it at the time:
This recipe makes some pretty fantastic hamburger buns. They're yeasty with just a hint of sweetness, and the texture is perfect for a nice juicy patty.
In the future I'll most likely adapt these buns to the meal I plan to cook. It's a no-brainer to add a sprinkling of sesame seeds over the egg wash for sesame seed buns, but there's also onion, garlic, cheese and a slew of other things that could be added depending on the type of burgers you plan to serve. Be creative and have fun with it!