Let's face it. Meat is getting more expensive. That being the case, it's not enough to grab a "cheap" (bring on the air quotes!) cut of meat and make a good meal. You have to do something amazing with it. That's where this beer and onion braised pork roast comes in.
I mean seriously. Just 3 years ago, you could get a whole pork loin for $1.98 per pound. The other day I was lucky to find this Boston butt roast for $2.99 per pound.
Gawds I hate inflation.
We've got to turn this gorgeous piece of pork butt into something memorable. Something worthy of its seemingly astronomical price tag. So. It's time to pull out some complicated recipe, right?
Absolutely freaking not.
It's time to get down to the utter basics here, guys. With very few exceptions, you do no justice to a gorgeous cut of meat by covering up the natural flavor. (I'll give my wife's pork tenderloin recipe a pass here because it was something worthy of singing angels. It might take 2 days to make, but it really is the best pork loin recipe ever, in my humble opinion. )
The only thing this beautiful pork roast needs is a trip to the sauna and a drink. And that's what we're going to give it. Don't worry. This is not a complicated pork roast recipe, but the results are brilliant. Let's dive in.
Let's make Beer and Onion Braised Pork Roast!
First things first. (Isn't that usually the way it works? I mean, you wouldn't do the last thing first, would you?) Pop your pork roast out of its packaging and pat it dry with paper towels. Then give it a liberal dusting of salt and freshly ground black pepper.
Next, drizzle on a bit of olive oil and give your roast a good rub all over. You can use vegetable oil if that's what you've got, but I like the flavor the olive oil brings to the party, and I always have olive oil, so that's what I went with.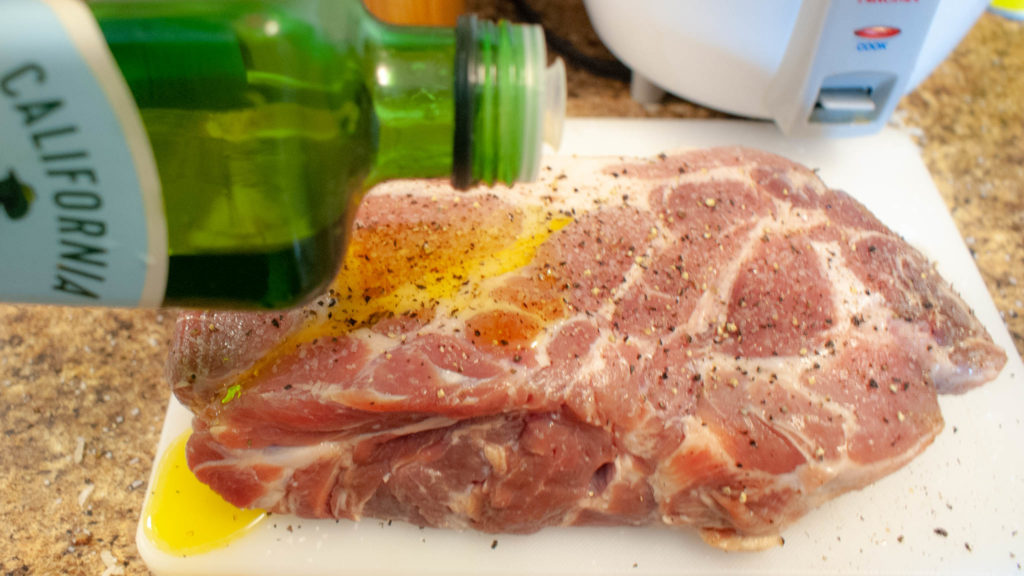 Now, toss your well-seasoned pork roast into a hot, dry pan over medium heat. No need to oil the pan, we oiled the roast, so we'll be just fine here.
While that side of the roast is learning all about the Maillard reaction, we can take the time to slice a couple of onions in half, then cut them into little slivers, like this.
Now that we've taken care of the onions, it's time to take a look at our pork. Either give the pan a gentle shake or lift up on the edge of the roast. If it slides freely or just pops up out of the pan, it's ready. If it sticks, give it another minute or two.
Don't worry, it's not burning, and we want it to be good and seared. That's where 1/3 of the flavor comes from. When it's ready it should look something like this.
Now give it a toss and let the other side do the same thing. Just let it sizzle away until it comes free on its own.
We're doing two things here: adding flavor by searing the meat, and creating a wonderful fond (That's the browned bits) on the bottom of the pan.
What we're NOT doing is sealing in the juices. That's a myth. You can't seal the juices of the meat. This is all about flavor and texture.
Once the pork is seared, pop it onto a plate and set it aside. Then toss your onions into the pan.
If everything has gone to plan so far, you'll be greeted with an instant chorus of sizzling and popping that will seem to be just a little too aggressive. Don't worry about it. Just stir those bad boys around for a second and things will quiet down.
After just a few minutes, your onions should be slightly soft and will have turned a gorgeous golden brown color. At this point, check to see if the bottom of the pan is clean. If so, congrats! We're ready to move on.
Grab the pork roast we set aside a bit ago and place it gingerly in the center of the onions…
I'm kidding. Plop that sucker down in the pan and pour every last drop of juice on the plate back in with it. Then give it a good few wiggles to get it all nestled into that bed of gorgeous onions.
Now. At this point, we could just roast this in the oven and it would be very, very good. But we're not after good, are we guys? Besides, that would just be roast pork. (There's nothing wrong with that. Makes great sandwiches!)
But hey, this wouldn't be beer and onion braised pork roast without the beer, and it's time to add that now.
Grab 2 bottles of your favorite Porter out of the fridge and open them both. Pour one of them into the pan, cover it, and either turn your burner down to medium-low, or toss the pan in a 300 degree oven.
…What? Oh. The second beer? That's for the cook. Enjoy!
Now comes the hard part. Waiting the hour and a half to two hours it's going to take this thing to cook. We want to let this gorgeous pork roast cook completely. As in until it's ready to fall apart on its own.
Your house is going to smell amazing in just a little while, but resist the urge to pull this guy out too early. Time really is your friend here.
"But Jerry," You say. "Can't I just toss this into my Instant Pot for 30 minutes?"
Maybe. But I haven't tried it, and I'm not sure the flavor would be as deep. Also, I'm always leery of anything alcohol based in a pressurized container. But hey, if you try it and it works, let us know in the comments!
No matter how you end up cooking it, it should end up tender, juicy, and with a pan full of wonderful jus (or thin pan gravy.)
The only thing left for you to decide is what to put on the plate with this amazing beer and onion braised pork roast. We just laid it out over rice and ladled some of the pan juices over the top, but hey; It's your kitchen. Do what makes you happy here!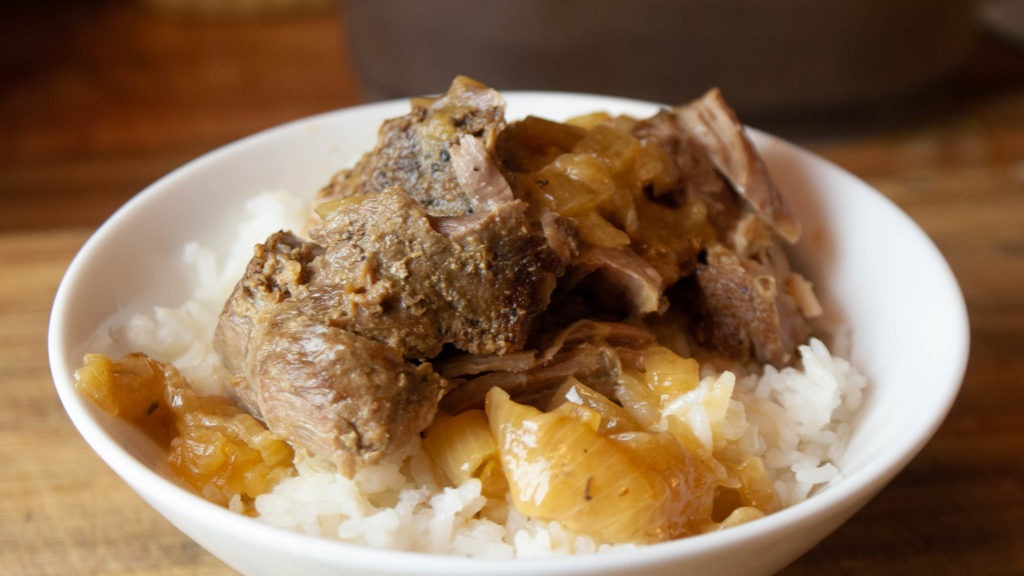 Yield:

8 servings
Beer and Onion Braised Pork Roast
Cook Time:
1 hour
30 minutes
Total Time:
1 hour
40 minutes
Ingredients
3-5 pounds Boston Butt roast, boneless
Salt and pepper, to taste
2 Tbsp Olive oil
2 Medium Onions, Cut in quarters and slivered
1 12 ounce Bottle of beer., Whatever type you like
Instructions
Place a large, oven-proof skillet with a tight-fitting lid over medium-low heat. (Optionally, heat oven to 300 degrees F (150 C, Gas Mark 2)).
Remove pork roast from package and pat dry with paper towels. Season liberally with salt and pepper. Drizzle all sides with olive oil and rub to coat well.
Place roast in hot pan and allow to cook until well-browned and meat comes free easily. (about 8 minutes.)
Meanwhile: peel and quarter 2 medium onions, then cut into small strips. Set aside.
Flip pork roast and cook until the other side is well browned and meat comes away easily from pan. (About 8 minutes.) Remove from pan and set aside.
Pour onions into the hot pan and cook, stirring frequently, until just softened and golden in color. (About 5 minutes.)
Return pork and any accumulated juices to pan. Pour 12 ounces of your favorite beer into the pan. Now choose your favorite method to finish it off.
Stove Top Method:
Bring to a boil, reduce heat to low and simmer until pork is tender. (1 1/2 to 2 hours.)
Oven Method:
Place covered skillet into preheated oven. Cook 1 1/2 to 2 hours, or until pork is tender. (1 1/2 to 2 hours.)
Nutrition Information:
Yield:
8
Serving Size:
8 people
Amount Per Serving:
Calories:

822
Total Fat:

57g
Saturated Fat:

20g
Trans Fat:

0g
Unsaturated Fat:

31g
Cholesterol:

244mg
Sodium:

229mg
Carbohydrates:

4g
Fiber:

0g
Sugar:

1g
Protein:

66g
There you go. Simple, but sublime. You have to try this for yourself. Just look at it!
What I would have done differently:
Nothing. This was possibly the juiciest, most tender, and succulent pork roast I have ever had. But having said that, this is a very minimalist recipe, and there are additions that you could make to add more layers of flavor.
Try adding a bay leaf to the pot while braising. Perhaps a few whole cloves tossed in for good measure? If you're into something with a bit more heat, you could easily add some cayenne pepper, ancho powder, or chipotle to the mix. (That would be great over Mexican rice!)
I'd be more for changing up what you pair this pork with. Don't get me wrong, it's fabulous over rice, but it could just as easily be shredded onto a sandwich, tossed with pasta, or just set off to the side of a nice salad. You really can't go wrong with this recipe.
What are your thoughts?
So what are your opinions, guys? Is this perfect the way it is, or can you think of something you must add to the recipe for your family table?
Either way, we'd love to hear your opinions. So please feel free to leave a comment below. And if you try this recipe, be sure to rate it! The recipe ratings help us decide what we've done right so we know what to make next.
Also, be sure to check us out on all the social sites. Just do a quick search for UncleJerrysKitchen or click on the social media icons at the top of the site. You'll find us there.
Love Y'all, and until next time,
Food is love. Share and Enjoy!