This might just be the ultimate sandwich. It's got succulent pork, bitter greens, crisp bacon and the sweet and tangy combination of vinegar and hot sauce. If there's a more perfect combination of flavors, I'm not sure what it is. This bad boy has all of that. It's like putting all the best of the deep South in your mouth with every bite.
Like all great Southern inspired dishes, this is a simple sandwich at heart. It's nothing more than a combination of Southern classics. Each is a humble and satisfying thing in its own right. But in combining flavors that are usually separate, it somehow becomes a whole different experience. An inspired, spicy, sour, sweet and fulfilling experience.
If you're worried that this might be complicated, don't be. You probably have most of the ingredients you need to make this on hand now. Yes, it takes a while to get everything ready but if you've got a slow cooker, 99% of the work is done for you by the time you get home from your day. If not, you can actually make most of the ingredients in advance and reheat them. Yep, you can prep ahead. It's a lazy kind of sandwich, great for get-togethers, family dinners and great times at a BBQ.
A word of warning though. This is definitely not the kind of sandwich you want to be eating in your best shirt! It's messy, juicy and it likes to fall apart all over you while you're eating it.
But that's the best kind, don't you think?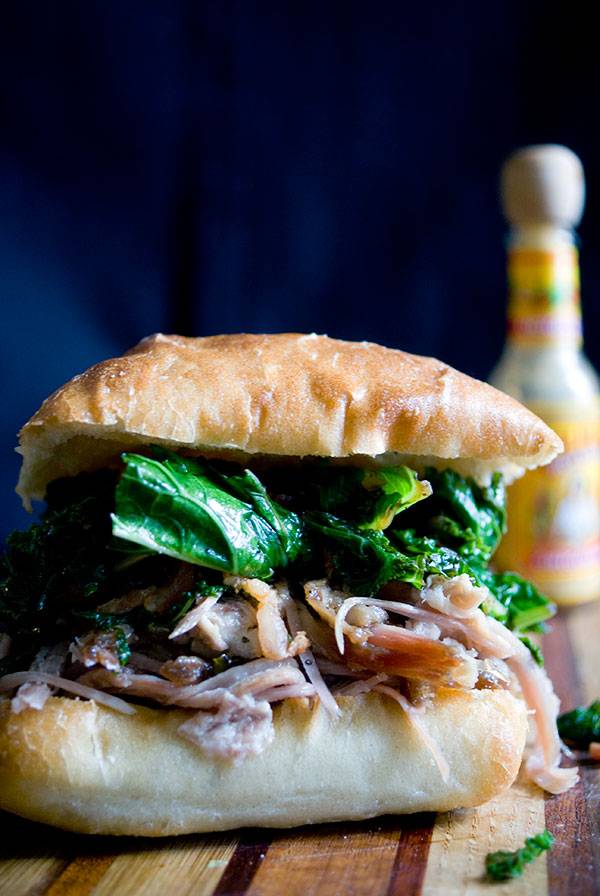 Yield: 10 Sandwiches
Pulled Pork, Greens and Bacon Sandwich
Prep Time: 8 hours

Cook Time: 5 minutes

Total Time: 8 hours 5 minutes
Ingredients
10 ciabatta rolls or other crusty, full-bodied bread rolls
For the pulled pork
1 (5 to 15 pound) pork roast (Any kind will do. Boston, a picnic ham, a blade roast. It doesn't matter as long ass it's got a fat cap somewhere.)
Salt and pepper to taste
Liquid smoke (optional)
For the Greens
2 pounds kale leaves, stems removed and cut into 2-inch pieces
1/2 pound bacon + 4 Tablespoons reserved bacon grease
1 large onion, chopped
2 cloves garlic, minced
1/4 cup chicken stock
Salt and pepper to taste
For the vinegar sauce
3/4 cup apple cider vinegar
3 Tablespoons hot sauce (Use your favorite, I used Cholulas because I didn't have any Tabasco on hand.)
Instructions
For the pulled pork
See Notes
If using a slow cooker
Season pork well with salt and pepper. Place in slow cooker. Drizzle with liquid smoke if desired. Set cooker on low for 8 - 10 hours or on high for 4 - 5 hours.
Remove pork from bones (if any) and shred with forks.
Keep warm.
If using an oven
Season pork well with salt and pepper. Rub with liquid smoke if desired. Wrap tightly in foil and bake at 220 degrees for 7 to 8 hours.
Remove pork from bone (if any) and shred with forks.
keep warm.
For the greens
See notes if using Collard Greens or something other than kale
Cook bacon in a large skillet over medium heat until crisp, turning once. Set bacon aside and pour off bacon grease, reserving 4 Tablespoons grease.
Return reserved grease to pan. Add onions and cook, stirring frequently, until translucent. (About 3 minutes.) Add garlic and cook an additional 2 minutes. Add kale to the skillet by handfuls, turning constantly until all the kale is wilted.
Crumble bacon into the greens and stir until well combined. Add chicken stock and season with salt and pepper.
Keep warm.
Putting it all together!
Split ciabatta rolls in half. Plop a healthy amount of the pork on the roll and drizzle with vinegar mixture. top with greens and drizzle with vinegar mixture again. Cover with top of roll.
Share and enjoy!
Notes
If using Collard Greens:

Collards are thicker and waxier than kale or mustard greens, so if using collards, be sure to blanch them in boiling water for 10 minutes and drain well. Then just follow the recipe above.

Make it ahead!

All of this dish can be made in advance. Just cook the roast, cover in foil and refrigerate. Reheat in the oven before serving. if you're going to store the greens, just store the bacon separately, then reheat in a skillet and add the bacon when hot.
Nutrition Information:
Yield:
10
Serving Size:
1
Amount Per Serving: Calories: 497Total Fat: 20gSaturated Fat: 6gTrans Fat: 0gUnsaturated Fat: 12gCholesterol: 47mgSodium: 1240mgCarbohydrates: 56gFiber: 6gSugar: 11gProtein: 24g


What I would have done differently had I thought of it at the time:
I would have bought more ciabatta. maybe another roast. Definitely more greens. I just want more of these.