The other night I was looking for a recipe idea that just screamed Holidays. We've been going over plans for the move, getting paperwork in order and dealing with a sudden and potentially devastating problem that came just one month too early. I needed something realy holiday flavored to get me back in the spirit of the season before it fizzled out on me and this dish was just the ticket.
When I walked into the kitchen, all I was sure of was that I wanted to pair the pork with a few apples I had left over. What I ended up with is one of those "hooRah!" moments that simply come together perfectly. A blend of savory, sweet and spicy that we just couldn't get enough of. I hope you enjoy this as much as we did. It really is something close to perfection, especially during the holidays.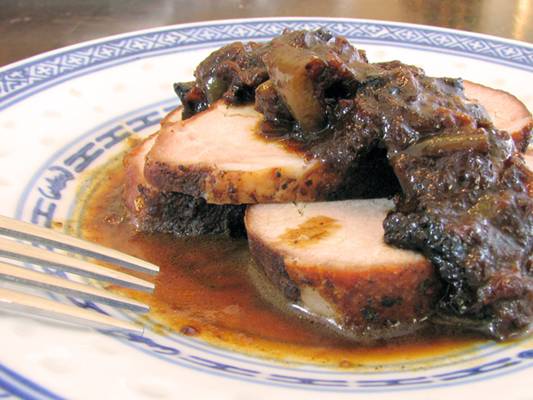 Yield: 10
Apple Bourbon Braised Pork Recipe
Prep Time: 10 minutes

Cook Time: 2 hours

Total Time: 2 hours 10 minutes
Ingredients
3-4 lbs your choice of pork roast, pork stew meat or pork short ribs
2 medium yellow onions, chopped
2 apples, cored and cut in 1/2-inch cubes
2 cloves garlic
1/2 cup brown sugar
1 tbsp. ground cinnamon
1 tbsp. ground allspice
1 tsp. ground cloves
1/2 cup sherry
1/4 cup bourbon whiskey
approximately 1 cup chicken stock
Salt and pepper to taste
2 tbsp. olive oil, for searing.
Additional sherry and bourbon if necessary, for sauce
Instructions
Preheat oven to 350 degrees.
Season pork liberally with salt and pepper. Sear all sides of pork well in a heavy dutch oven or other heavy oven-safe cooking vessel. Remove and set aside.
Add onions to same pan and cook until translucent, approximately 3 minutes. Add garlic and cook another 1 minute. Remove pan from heat and add sherry. Return to heat and stir with a long handled spoon, making sure to scrape off any bits on the bottom of the pan. Add apples and all spices. Stir well to combine.
Remove from heat, stir in bourbon and return pork to pan, nestling the meat down into the veggies and apples. Pour in chicken stock until pork is covered about half way. Cover and bake for approximately 35 minutes or until meat is tender and internal temp is at least 165 degrees.
Remove pork from pan and cover loosely with foil. If necessary, return pan to heat and add a bit more sherry and bourbon to achieve desired consistency for topping meat.
Slice, top with apple mixture and enjoy!
Nutrition Information:
Yield:
10
Serving Size:
1
Amount Per Serving: Calories: 1885Total Fat: 130gSaturated Fat: 47gTrans Fat: 0gUnsaturated Fat: 70gCholesterol: 534mgSodium: 698mgCarbohydrates: 26gFiber: 3gSugar: 17gProtein: 139g


Links to other recipes like this: