There is nothing more fun or more challenging for a seasoned cook or chef than dealing with an overage of product (leftovers for us laymen.) While you could just reheat and serve, it will almost never be as good as the original dish was (unless it's a soup or stew, which are sometimes made a day in advance and allowed to get better overnight.) The idea of turning something that was already wonderful into something completely different, but just as memorable is one that some shy from, but I embrace.
This dish is the result of having made far too much braised pork. I'd used soy in the original marinade and the rest of the ingredients are just pantry staples mixed in a new way. The difference in textures and flavors was amazing and even though the pork braised for hours, the dish still had a light, bright flavor that was perfect for a quick breakfast.
The recipe below is for one person, but makes enough dressing for 3 or 4, so feel free to make several plates with a bit more pork and you'll be fine!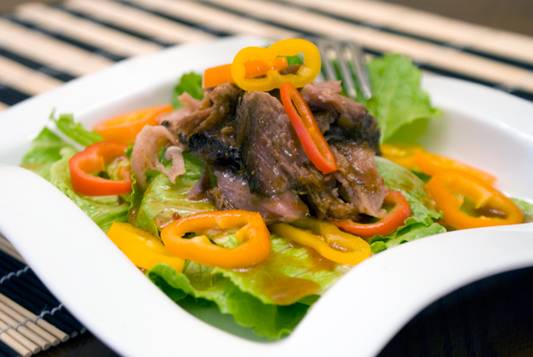 Yield: 1 serving
Pork and Pepper Salad with Asian Plum Vinaigrette
Prep Time: 5 minutes

Cook Time: 10 minutes

Total Time: 15 minutes
Ingredients
3 Ounces leftover pork
Lettuce or greens of your choice
3 Baby sweet peppers, sliced
1 Tbsp plum sauce
1 Tbsp soy sauce
1 tsp seasoned rice vinegar
1 tsp toasted sesame oil
Salt and pepper to taste
Instructions
Reheat pork in a low (250 degree) oven or in a small saucepan with 1 Tbsp of the pan drippings.
Whisk together plum sauce, soy sauce, rice vinegar, salt pepper and sesame oil in a small bowl. Arrange lettuce on serving plate. Add pork and peppers, drizzle with dressing.
Serve immediately.
Share and enjoy!
Nutrition Information:
Yield:
1
Serving Size:
1
Amount Per Serving: Calories: 462Total Fat: 19gSaturated Fat: 5gTrans Fat: 0gUnsaturated Fat: 11gCholesterol: 75mgSodium: 1368mgCarbohydrates: 46gFiber: 14gSugar: 17gProtein: 33g


What I would have done differently had I thought of it at the time:
Some toasted sesame seeds would have been a nice texture addition, but weren't really "missing". They just would have been nice.
Links to other recipes like this: