I was raised in a very Southern American household. As such, I have the common Southern love for all fried foods. I love fried chicken, fried mushrooms, fried shrimp, and of course chicken fried steak with a healthy serving of Southern Gravy. All of these things make me happy.
Japanese breaded pork cutlets, or tonkatsu, makes me happier.
Why? Because in the case of what makes a perfect fried dish. They got everything right.
Tonkatsu is everything that's wonderful about a deep-fried dish. Juicy, tender pork wrapped in a layer of Panko breadcrumbs that is both light and airy, yet incredibly crisp and crunchy.
Top all that off with a good bit of tonkatsu sauce, serve with some shredded cabbage and suddenly all is right with the world again.
Seriously. Go make this now, then tell me it isn't one of the best things you've ever eaten in your entire freaking life. (And don't skip the shredded cabbage. Just don't. Trust me.)
Let's get to it, shall we?
First, get yourself some pork chops (Or cutlets. Same difference, really.) that are about 1/2-inch thick, and preferably have a bit of fat around the edge. Center cut pork loin chops are perfect for this.
Cut little slits all around the fat along the edge. This is important. It will keep your tonkatsu from curling in the oil. Presentation, people!
Whack those beautiful chops a couple of times with a meat mallet and season them with salt and pepper. Then gently squeeze them back into their original shape. (I'm not sure why this step is important, but it's mentioned in absolutely every tonkatsu recipe I've researched.)
Get a pan of oil (or a deep fryer, if you have one.) going and get that oil up to 350 degrees. I use about 1/2-inch of oil in the bottom of a Dutch oven to keep mess on the stove-top to a minimum.
Now it's time to get going for real.
Coat your chops in flour and shake off any excess.
Then dip in some seasoned beaten egg.
Next, cover all of it in Panko bread crumbs. Really push the breadcrumbs on so you've got a good coating.
Now, into the oil! Cook these bad boys for about 5 minutes on the first side.
Once you've got everything all beautifully golden brown, give your chops a flip and cook for another 5 minutes.
Move your golden brown beauties to a rack or a paper towel to drain any excess oil. At this point your tonkatsu is done and perfect for a sandwich, but we're going to take this all the way to deep-fried perfection. Let them rest about 5 minutes.
Slice your pork cutlets into bite-sized strips. Tonkatsu is meant to be eaten with chopsticks, so this is a pretty important step.
To finish everything off, we're going to add the most important part. Tonkatsu sauce!
If you've never heard of tonkatsu sauce before, it's a sort of mix between ketchup and Worcestershire sauce. It's full of crazy bold flavors that take your deep-fried pork cutlet from good to absolutely brilliant. If you can't find this amazing sauce locally, I've included a link to it from Amazon just above the recipe.
Arrange your tonkatsu on a plate with some finely shredded cabbage and give it a good drizzle of tonkatsu sauce. All there is left is to grab your chopsticks (or a fork, or your fingers. Hell it doesn't matter, just eat this!)
Now for the printable Tonkatsu recipe!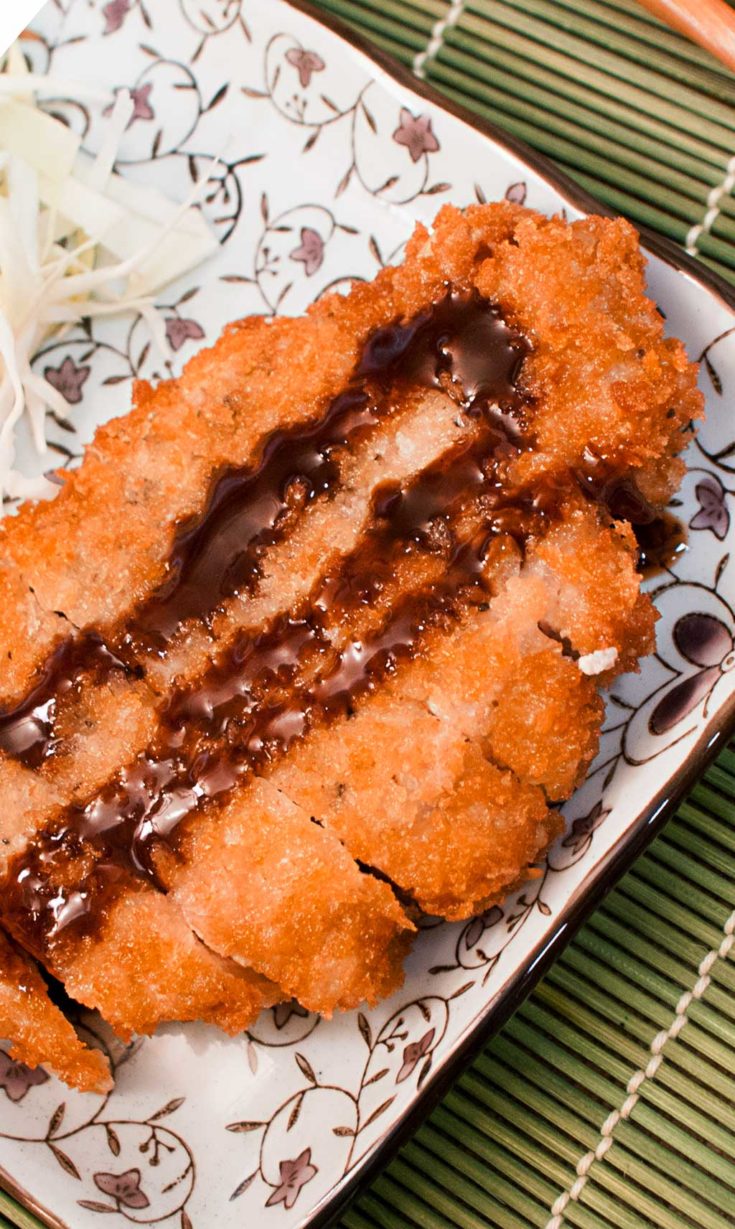 Yield:

4 servings
Tonkatsu - Japanese Fried Pork Cutlets
Tonkatsu is a Japanese favorite. Breaded pork cutlets battered in Panko bread crumbs and fried until it's crisp, golden brown, and utterly delicious.
Ingredients
4 pork cutlets or pork loin chops (about 1/2-inch thick)
1 egg
1/2 teaspoon Aji Mirin or sweet white wine (optional)
1/2 teaspoon soy sauce
1 Tablespoons cold water
Salt and pepper to taste
Flour, for dusting
Panko bread crumbs, for coating
oil, for frying
Instructions
In a large bowl or pie tin, whisk together eggs, Aji Mirin, soy sauce, water, salt and pepper. Set aside.
Pour flour and Panko bread crumbs into two separate medium sized bowls.
Heat 1/2-inch vegetable or peanut oil in a large, heavy bottomed skillet or dutch oven over medium to medium high heat.
With a sharp knife, cut slits in the fat that runs around the edges of the pork. Lightly pound the cutlets with a mallet, season with salt and pepper, then gently push them back into their original shape.
Once oil is hot (about 350 degrees.) Dust cutlets with flour, making sure all surfaces are covered. Shake off excess flour. Dip in egg mixture, then coat completely in Panko bread crumbs, Pressing the cutlets into the Panko well so that you have an even coat.
Carefully place the pork cutlets into the oil, making sure not to crowd the pan. Cook five minutes, or until golden brown. Turn and cook another 5 minutes, remove from pan and drain on a rack or on paper towels.
Cut into bite sized strips and serve with Tonkatsu sauce and shredded cabbage.
Share and Enjoy!
Nutrition Information:
Yield:
4
Serving Size:
1
Amount Per Serving:
Calories:

764
Total Fat:

37g
Saturated Fat:

9g
Trans Fat:

0g
Unsaturated Fat:

25g
Cholesterol:

149mg
Sodium:

463mg
Carbohydrates:

52g
Fiber:

2g
Sugar:

2g
Protein:

46g
What I would Have done Differently
Just as a side note, You don't have to season your egg mixture with soy sauce and mirin. I've seen many tonkatsu recipes that use a standard egg wash of just beaten egg and water. I've seen others that use a lot more flavoring. I like to use the wash as a way to introduce a subtle layer of flavor to the finished cutlets, and my family seems to agree, since I can't make these things fast enough lately.
Links to more Japanese Recipes like Tonkatsu
Show a little love, people!
As always, I love you guys. You're the reason I've been fortunate enough to do this for over 10 years. I don't know where I'd be without you. Really. I love sharing new recipes and tips with you and I hope you found this useful, or funny, or both.
If you did, please take a second to share this recipe on your various social media platforms. Maybe grab one of the items we highlight above the recipes. If you do, we make a few pennies here and there, and we appreciate it.
Maybe drop a comment and leave a rating on the recipe. We love to hear from you.
Remember, this is a conversation. We'll never know what you want to see if you don't tell us, right?
Until Next time,
Food is love. Share and enjoy.