Using salt to preserve foods is a practice that spans centuries, and the world as a whole. The Japanese have turned this process into a cultural phenomenon called tsukemono. Trust me on this one, guys. It's a good thing. A very good thing. Japanese quick pickles are an amazing treat and one you'll want to have in your go-to quick meals.
There are a ton of different kinds of tsukemono, but the simplest is Shiozuke, ( 塩漬け ) or salt pickles. These can be made overnight and make wonderful side-dishes to the umami-rich foods of Japanese cooking. And believe it or not, they make a great addition to sandwiches. Best yet, this preserving method doesn't require any special tools or equipment. (There are some things you might want to have around, but we'll discuss those in a minute.)
At its most basic, shiozuke is simply a water rich vegetable covered in salt and then pressed to remove the water. What this does is collapse the cell walls of the vegetable, releasing the moisture and concentrating the flavor. These types of tsukemono can be made with cabbage, eggplant, zucchini, summer squash, or, as in this case, cucumber. And while I add kombu, chili pepper and sesame seeds to my tsukemono, the flavor options are really pretty limitless.
Before we move on, I need you to understand something. Even though these look like pretty normal pickles, they are not. These little gems pack way more flavor and a whole lot more in the way of vitamins and nutrients. The flavor is concentrated cucumber with a bullwhip backlash of salt and a little heat from the red pepper. This makes tsukemono perfect as a palate cleanser, a snack with drinks, or just a refreshing nibble on a hot summer day. (And they're also pretty freaking awesome on a burger.)
Since no vinegar is used and the cucumbers aren't fermented, you're not going to get the tang of a traditional European dill or sour pickle. Tsukemono has sort of a very fresh and refreshingly salty flavor you'll be in love with on a hot afternoon alongside a platter of zaru somen or just about any grilled food. It looks amazing on a plate as well, don't you think?
A few things to consider:
Remember when I said that making tsukimono didn't require any special tools? It doesn't. But if you find out you love these little pickles as much as we do, there are a few things you might want to check out. The first is a tsukemono-ki (漬物器) or Japanese style pickle press. This container is designed to make pickles like these and it makes for very easy cleanup. We picked one up from our local Asian mart.
Since a few of these items are specialized, I've included search and purchase links to help you find what you need if you choose to make these yourself on a regular basis. The great thing is, they aren't expensive at all. You can get the same press we use (pictured below) from Amazon for about 7 bucks. There are larger and more complex presses available, but if you're just starting out or don't have a ton of CSA cucumbers you need to preserve, you won't need anything fancy.
We also prefer our tsukemono sliced very thinly, though I've seen recipes that call for half-inch cuts. For this you're going to want a seriously sharp knife or a mandolin slicer. And while I do own a mandolin (This one, in fact), I actually prefer to use a Japanese vegetable knife (or nakiri) knife for this. They're insanely sharp, and the hammered blade is especially nice since it prevents vegetables from sticking to it as you slice them. You can grab one here for less than $11 (with free shipping if you're an Amazon Prime member!).
Let's make tsukemono!
First, slice your cucumbers (Or Napa cabbage, or eggplant or zucchini. Whatever you like. They all work) Get some coarse salt, a few dried chili peppers for some bite if you want, a teaspoon full of sesame seeds and a bit of kombu (dried seaweed).
You can find kombu in almost any Asian grocer, or you can get kombu on Amazon. The dried peppers are available pretty much everywhere, but if you can't find them for some reason, chili flakes or red pepper flakes work just fine. This is a very forgiving recipe. Keep in mind that the longer a pepper sits in this dish, the more heat it will have, so make sure you don't overseason it to start with.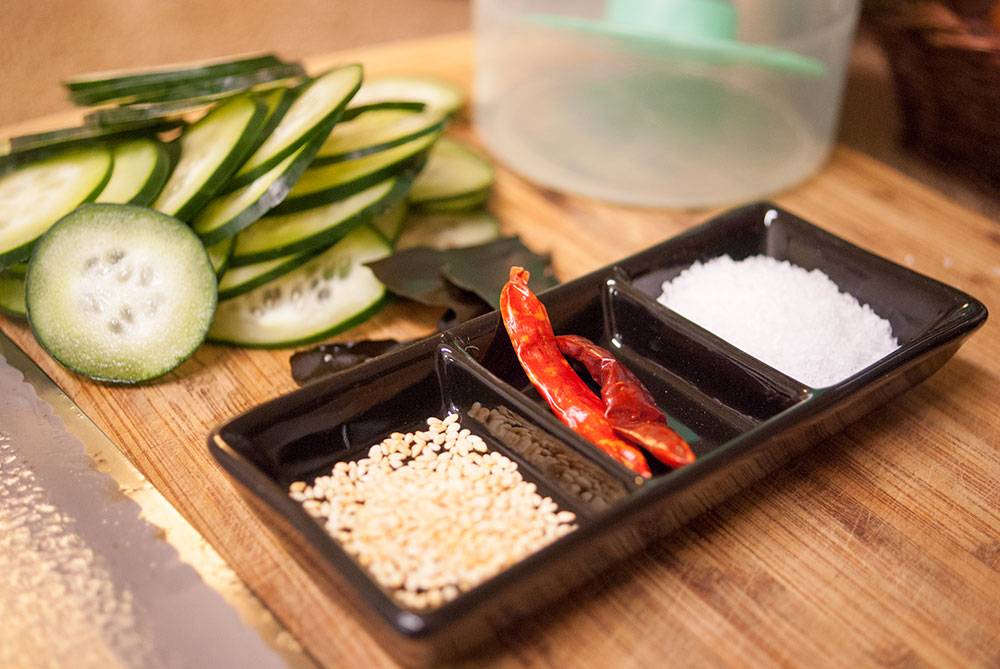 Toss those cucumber slices into a tsukemono press or into a bowl. Sprinkle on some salt.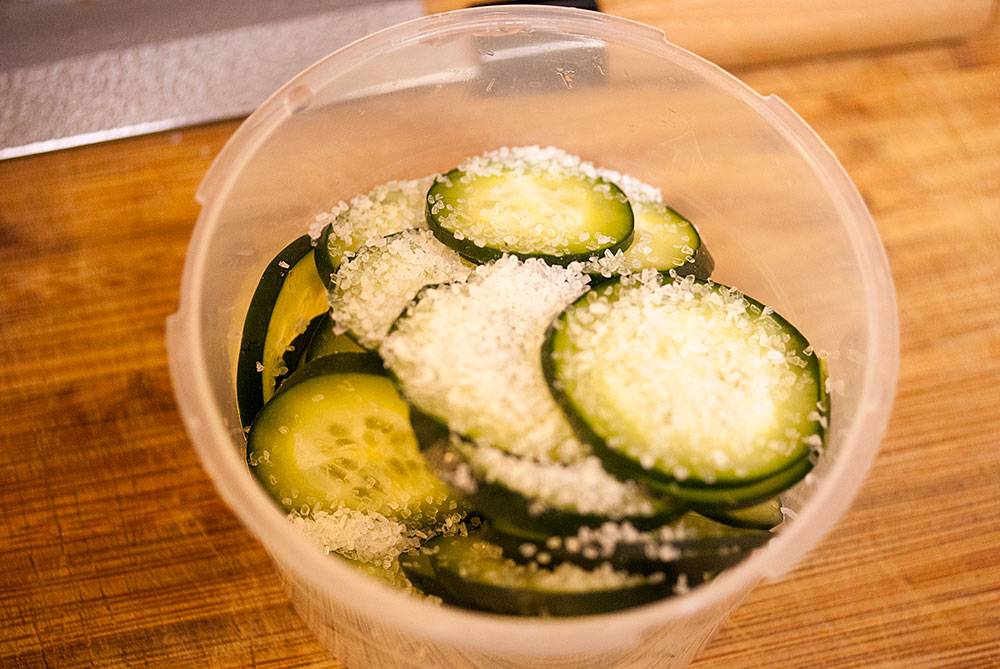 Toss the cucumbers in the salt and gently rub the salt into the surface.
Mix in the sesame seeds, then arrange the cucumbers so that they lay mostly flat, then toss in the peppers and kombu.
Pop on the lid, and this is what you'll have. Note that in just the time it took me to snap a few pictures, the salt has already started to draw the water out of the cucumbers.
If you aren't using a press, just lay a clean saucer over the cucumbers in a bowl and weigh it down with a can of tomatoes or something. The heavier the better. It will work just as well. The key here is to add some pressure to the veggies and help the salt do its work.
Pop your container in the fridge and try not to bother it for about 8 hours. When they're done, you'll have something that looks like this.
See? All the water from the cucumbers has extracted into a lovely brine.
Pull out the red pepper and kombu. (Don't throw them away! save them for furikake.)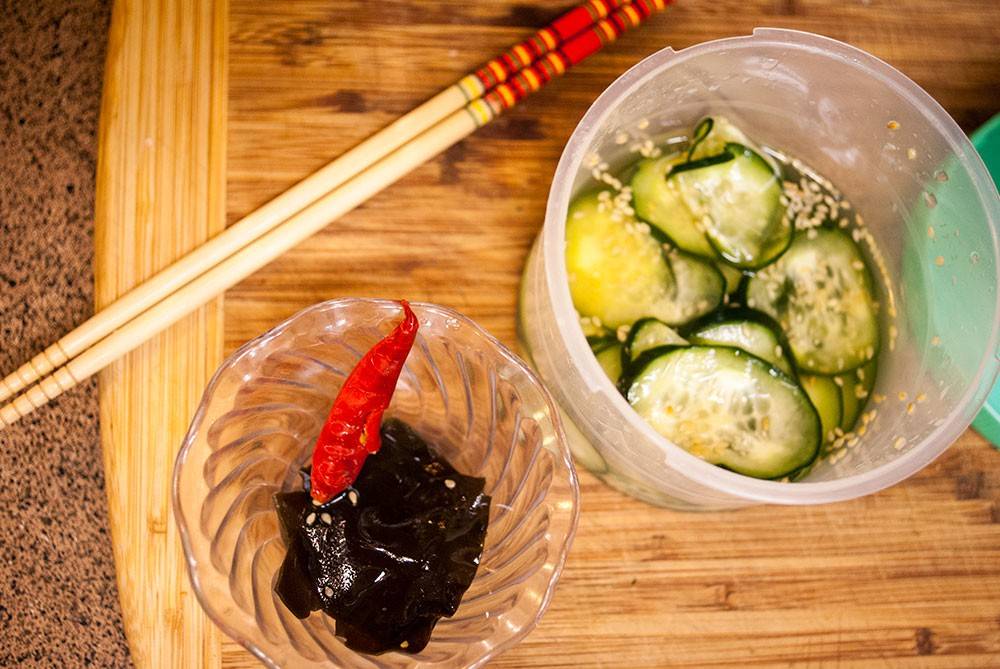 Enjoy! You're in for a serious treat, trust me.
Yield: 4 servings
Tsukemono - Japanese Quick Pickled Cucumbers (Shiozuke Tsukemono)
Prep Time: 10 minutes

Cook Time: 8 hours

Total Time: 8 hours 10 minutes

These Japanese overnight quick pickles, (tsukemono) add a perfect crunch to snack time, or serve as the perfect replacement for a normal dill pickle on burgers or sandwiches.
Ingredients
1 large cucumber (or 2 small seedless cucumbers)
1 Tablespoon coarse salt
1 teaspoon toasted sesame seeds
1 or 2 dried chili peppers, left whole (Or 1 pepper chopped finely)
2-inch piece kombu, rinsed
Instructions
Slice cucumbers into thin rounds. Place in a bowl or tsukemono press and sprinkle with salt. Gently toss cucumbers and salt together, massaging salt into the surface until well coated. Add sesame seeds and toss again until combined.
Arrange cucumbers so they are mostly flat. Place kombu and peppers over the top.
If using a pickle press, place the lit on and tighten until the cucumbers are gently pressed tot the bottom.
If using a bowl, place a clean saucer over the cucumbers and weigh it down with a can of vegetables or other suitable weight.
Place in the refrigerator for at least 4 hours, or better, overnight.
Can be stored in the refrigerator for up to 3 days
Notes
If you find that your pickles are too salty, just pour off half the liquid and replace it with fresh water. Let them sit for another two hours and sample them again. Repeat this step as necessary until you're happy with the result.
Nutrition Information:
Yield:
4
Serving Size:
1
Amount Per Serving: Calories: 16Total Fat: 0gSaturated Fat: 0gTrans Fat: 0gUnsaturated Fat: 0gCholesterol: 0mgSodium: 1594mgCarbohydrates: 3gFiber: 1gSugar: 1gProtein: 1g
What I would have done differently:
I'm going to be honest here. It can be difficult to gauge the amount of salt needed to get this right. So far we've made this tsukemono recipe 5 times. The last was the best in terms of flavor, but for some reason the cucumber we used wasn't as sweet and the salt was more aggressive than it had been on the previous tries. So you'll have to adjust this for your tastes. (See the recipe notes for suggestions if your tsukemono comes out too salty.) Other than that, we absolutely love these things, and I've used them pretty much everywhere I would a regular pickle since we started making them. My wife loves them on turkey sandwiches and chicken wraps. They are completely addictive!