The weather here in far Northern California is finally edging to warm and sunny, soon to be followed by blazing hot. Along with the rise in temperature comes a steady decrease in the desire for long cooked, slow braised or even warm foods.
To put it simply, we're entering the salad, ice cream and smoothie months of the year around here. Milkshakes have replaced cakes, cookies and brownies as the dessert of choice and the kids clamber after the ice cream truck in the afternoons. Summer is coming to the North State and there is just no better afternoon pick-me-up than a frosty glass of silken fruity goodness.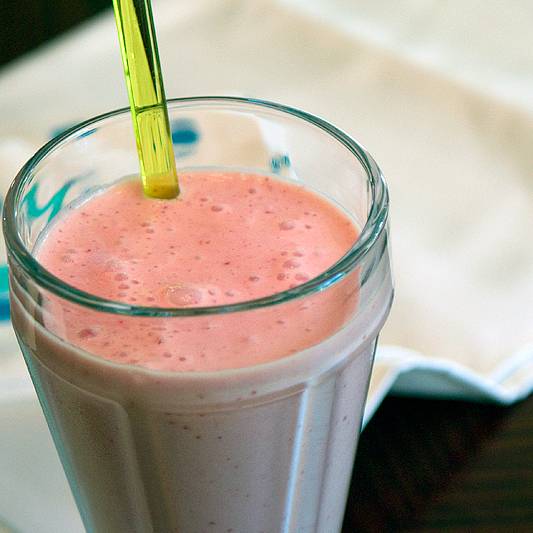 Smoothies are a good way to get more fruit into my kids' diets as well, since only my youngest will readily choose a banana, apple or any other fruit in favor of something else they probably shouldn't have been going after. (Dad needs to stop buying that stuff… I need to talk to him about that.)
Most smoothie recipes call for banana, but my kids despise them in their smoothies. This recipe is all about the berries, but without the sweetness of the banana a little sugar may be needed to get the smoothy sweet enough to be drinkable. Fortunately that usually translates to less than they would get in a soda, though this particular batch of berries was pretty tart and required more than usual.
Do you have a favorite smoothie recipe? A favorite flavor combination? Is there something that you add that you don't let your kids know about? We'd love to know, so drop a comment and let us in on your little tips for healthier snacks.

Yield: 2 servings
Strawberry Smoothies
Prep Time: 5 minutes

Total Time: 5 minutes
Ingredients
1 cup plain low fat yogurt
3/4 cup 2% milk
3 Tbsp honey
1-10 ounce package frozen strawberries
2-4 Tbsp sugar (depending on the tartness of the berries in question)
1/2 tsp salt
Instructions
Put the yogurt, milk and honey into your blender. Give it a quick buzz to combine. Add 1/2 of the berries and blend until mostly smooth. Add remaining berries and blend until desired consistency. Taste and add sugar if necessary. Mix well, serve cold.
Makes about 4 smoothies.
Share and Enjoy.
Nutrition Information:
Yield:
2
Serving Size:
1
Amount Per Serving: Calories: 498Total Fat: 3gSaturated Fat: 2gTrans Fat: 0gUnsaturated Fat: 1gCholesterol: 13mgSodium: 689mgCarbohydrates: 115gFiber: 3gSugar: 108gProtein: 8g


What I would have done differently had I thought of it at the time:
I don't really think these need much, Perhaps a little more honey so I could have used less sugar. I may also sneak a little silken tofu into the mix in place of some of the yogurt on the next round for a bit of added protein. (What the kids don't know won't hurt them, right?)
Links to other recipes like this: