(Formerly 10 Juices and Smoothies to Boost Your Energy)
There are times when you just need to boost your energy. You're worn out, tired, jet lagged or maybe like too many of us, you just didn't get enough sleep last night. For whatever reason, you need a jolt to the system, but you'd prefer that it didn't come from a can or a shot-glass sized bottle. You're in luck. I asked my fellow food bloggers for a list of their favorite healthy smoothie recipes, and they delivered.
In spades.
I expected perhaps 10 smoothie recipes, but I ended up with more than I could have hoped for. To have people that are, in many cases, far more talented than I am dishing up their recipes sort of made it feel like my birthday. On Birthdays, you throw parties. So Welcome to the smoothie party!
Some of these will indeed boost your energy, perhaps increase your health or clear your mind. Others will energize your spirit. They are all healthy, delicious choices for a meal on the run. Just because I like things organized, i'll start with the super food and green smoothies, and work my way down to chocolate decadence. (Yes. I said chocolate. And yes, they're healthy.)
Vegetable Smoothies.
Hints of Hawaii sweeten this healthy green smoothie that goes down easy for breakfast. The ingredients couldn't be healthier or more natural. Mango, coconut water and pineapple juice will have you dreaming of the islands. And it's vegan, gluten free and dairy free, for those with dietary restrictions. Be sure to add a Tropical Green Smoothie to your breakfast choices.
Since we're already in the tropics, we'll go for another variation on the Tropical Green Smoothie. This time with mango instead of the coconut.
If you're looking for something sweet and tasty with tangy undertones, try this Cucumber and Ginger Smoothie. Thanks to Tiffany at Living Sweet Moments for sharing.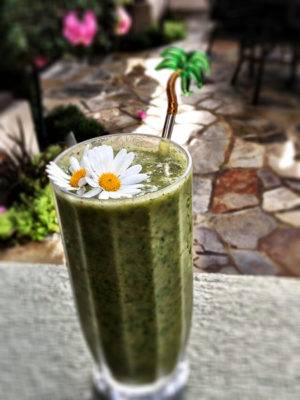 The Monster Green Power Smoothie is all about super foods. Get more than your daily dose of Kale, apple banana, tangerine, chia seeds, and goji berries all in one shot.
Get a little zing in your morning with a Beet, Cranberry and Ginger Smoothie. A zesty, tangy, and earthy smoothie that's sure to please the whole family. Brought to the table from all the way in the UK by Kate of Veggie Desserts.
To close out the green smoothie fun, please allow me to direct your attention to Cookbook author Kathy Patalsky and her Salute to Green Smoothies, where you can find a slew of vegan green smoothie recipes.
Fruit and Nut Smoothies.
For a crazy good pick-me-up that doesn't skimp on flavor, protein or nutrition, turn to this Blueberry Almond Smoothie from Chef Bec at It's Yummi. With a solid list of healthy ingredients and no added sugar, it's sure to perk you up with no guilt whatsoever.
Four wholesome and healthy ingredients and a lot of love went into the making of this smoothie, which was created for an adorable little girl with food allergies. It's sure to lift your metabolism, lower your stress and keep you moving through your day. Thanks and good wishes to Courtney at Courtney's Sweets for sharing this one.
Not only gorgeous, but packed with protein, but without protein powders! The trick here is to used pasteurized eggs. Brilliant. It's a fruit assault with hidden protein, and makes great popsicles, too. Thanks to Laura from Family Spice for sharing!
I think the author says it best here:
THIS BANANA CHOCOLATE SMOOTHIE RECIPE IS VEGAN, DAIRY-FREE, GLUTEN-FREE AND HAS NO ADDED SUGAR, BUT TRUST ME WHEN I SAY THAT YOU WILL FEEL LIKE YOU'RE COMMITTING A SIN WHILE DRINKING IT.
Yeah, it looks like it. Thanks to Maura, from The Other Side of the Tortilla for sharing.
Greek Yogurt, almond butter and banana. It's healthy. It's macrobiotic. It's wonderful and tasty. Everything in this recipe is sure to keep you moving throughout the morning, Thanks to Lyuba for sharing.
Just 3 all-natural ingredients and a few minutes is all it takes to create this refreshing, beautifully colored drink that will keep you moving all day. Thanks again to Courtney for her Melon Berry Splash Juice.
We can all use a little extra protein and the Strawberry Banana Shake delivers with a healthy dose of protein powder. If you need a boost before you hit the gym, this will get you there.
More Berry Goodness. Samantha from Soufle Bombay walks us through How to Make a Smoothie in Under 5 Minutes.
Want both fruit and veggies in your smoothie. Not a problem. Anna has you covered with her Strawberry Mango Coconut Water Smoothie over oat Anna Dishes.
Jeanette brings her Strawberry Macha Green Tea Smoothie to the party. It's loaded with flavor, Omega 3, and antioxidants, as well as a ton of strawberry goodness.
Power up your morning with this Acai Banana Kale Smoothie, packed with antioxidants. Thanks to Jeanette for sharing.
These Strawberry Banana Oatmeal Smoothies are the ultimate breakfast to go. And they're Gluten Free, to boot.
If you're looking for something crisp and refreshing, then whip yourself up a Watermelon Strawberry mint Freeze. It's sure to lift your spirits and add a spring to your step.
Get your morning off to a quick start with a Make Ahead Breakfast Energy Smoothie that's loaded with watermelon, pineapple, blueberries, spinach and bananas.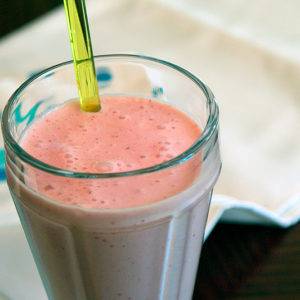 I couldn't exactly throw a smoothie party and not bring something of my own to the table, so I tossed in a favorite of my kids'. The venerable Strawberry Smoothie.
If you're after something a little fun, but dazzlingly delicious, why not grab a Nutty Monkey Smoothy. It's full of good stuff like Greek yogurt, peanut butter and bananas, with just a splash of milk. It sounds as fun as it tastes!
Nutella Smoothies. Because, well, it's Nutella, and That's the only reason you need.
The Nutella Lactation Smoothie, from Miranda at Lemons and Laughs is not only good, It aids lactation with the addition of flax-seed. Well, as she says, it's as healthy as a smoothie with Nutella can be!
Olga from Mango Tomato decided to hide her dislike of bananas behind a wall of luscious Nutella. Apparently it worked, because these Banana and Almond Butter Smoothies with Dates and Nutella look incredible, (partly because of the cute paper straws).
If you crave the tart notes lime, the Key Lime Pie Smoothie from Bakeaholic Mama is what you've been waiting for. Really. For your entire life.
Chocolaty Goodness… Oh, and It's Healthy Chocolaty Goodness
If you're in need of a serous chocolate fix, The Sanppy Gourmet has you covered. Her Healthy Chocolate Mockshake is gluten free, can be made dairy free, and.. And… It only has 5 ingredients. Yeah. and all of them are good for you. I was going to say more, but I think I'm just going to go make one of these instead.
This gem takes the concept of a green smoothie, using either spinach or avocado, to the next level. The addition of chocolate and peppermint not only add a layer of antioxidant goodness, but they also bring the flavors of the holidays to the table. Thanks to Lauren at Healthy. Delicious, for bringing a great start to the day and the Holidays together.
The chocolate and peppermint comes out again in this one, but this time packed with an insane amount of vitamin and iron rich additions. This is a training athlete's dream of a morning smoothie, boasting more protein and antioxidants for a serving than many full plate meals. Thanks to MommyPotamus for sharing.
The Chocolate Almond Skinny Smoothie. This smoothie claims to be skinny and chocolaty, and uses almond milk as its base, rather than cows' milk. Thanks to the Happier Homemaker for her contribution to this list.
Need a lift? The Pick Me Up Chocolate Shake is loaded with protein and antioxidants. Not to mention chocolate. Lots of chocolate. It's the perfect boost for your day.
If you're still craving a little caffeine after all the healthy food you've been eating, you're in luck! Barbara pulls out the stops on her Coffee Almond Mocha Smoothie. (Hint. There's still fruit in here, folks.)
And finally, if you didn't see everything you needed in the form of a smoothie here, check out the following list on Leah's Life:
Leah has a list of Smoothies and Down to Earth Drinks sorted by season. But of course you can make any of them at any time of year if you have the ingredients on hand.