If you're talking about Southern food and the discussion doesn't move to biscuits, you've missed the point somewhere. Sure, we love our greens and our grits, but biscuits are an all-day-every-day food in the South. Biscuits are for breakfast, lunch and dinner. They're great with a smear of jam, a little butter and honey and, of course, slathered in rich, creamy Southern gravy.
Biscuits are truly Southern comfort food. They're made from scratch in nearly every home, and everyone thinks that their family has the best biscuits on the block, if not in the town. Unfortunately, that's the thing that makes finding a great biscuit recipe so difficult. There are hundreds, if not thousands of different biscuit recipes out there, and all of them claim they're the best.
I kid you not when I say that arguments can arise over how to make biscuits. people disagree over whether to use shortening (we call all shortening "Crisco" By the way), lard, or butter. They'll argue what kind of milk or flour to use. Everyone has an opinion, and the biggest issue is, every one of them is probably right, just not necessarily in the true Southern style biscuit sense of the word.
Defining Biscuits
First, let's look at what we use biscuits for at a regular Southern table. We spread 'em with stuff, sure, but they're also perfect for sopping up drippings from any number of things. They're a great replacement for bread if you're craving a sandwich and they're the perfect complement to both a great stew and a cup of ice-cold milk. In short, they have to soak stuff up without falling apart.
This is getting complicated
If you replace the shortening (or lard, if that's what you've got), with butter, you end up with a lighter, flakier biscuit. Around here we call that a butter biscuit. They're great for jams, jellies and sandwiches, but because of the way that butter reacts, they're just not as dense as a biscuit made with shortening, meaning, they fall apart too easily. So. butter biscuits are off the table for our purposes.
As for the flour. It's gotta be all-purpose. Yes, you can make biscuits with bread or cake flour, but again, the textural differences and differing amounts of gluten make for biscuits that either won't soak anything up, or fall apart when they get moist… Not ideal. Put the fancy flour back in the cupboard for later.
As for the milk… Whole milk or 2% is the best way to go. You could use 1% milk or even water, but the biscuits just wouldn't be quite right. Buttermilk is fine, but the distinct flavor isn't suited for general use and, the ratios are different.
…Meaning it's a completely different animal. So no go.
As for those who use heavy cream… Sorry folks. That ain't a biscuit, that's a scone. Again, different animal.
Glad we cleared that up
Good ol' down home Southern style biscuits are humble. Nothing more than flour, milk, sugar, salt, baking powder and shortening (or lard). That's it. There's no need for fancy equipment or crazy culinary feats of prowess. They're simple, but soul-satisfying, and the smell of home wrapped up in Sunday brunch with a rowdy bunch of kids playing in the background on a sunny afternoon.
Yes, I really do believe that. And all of this satisfaction takes only a few minutes to make. Let us walk you through it.
Building a Better Biscuit
First, add your flour, sugar, salt and baking powder together in a bowl and whisk them together. (There's no need to sift them, that's just too fancy for biscuits.)
Next, we have to cut in the shortening. I like to use a pastry cutter
like this one, but you can just as easily use the back of a fork:
Mix it together until it gets to the mysterious "coarse meal" stage, which as far as I can tell, looks like this:
Add your milk:
Then grab the nearest wooden spoon and stir it all together until it's combined:
Flour a work surface, turn the dough out of the bowl and, with well floured hands, knead it a few times, then roll it to about 1/2 to 3/4 inches thick:
You're going to need to cut the biscuits. My wife gave me this great set of round cutters
a few years ago for Christmas, but you can use any biscuit cutter you have handy, or just a straight-sided water-glass. Just flour whatever it is before cutting your biscuits:
You should get about 13 biscuits from this recipe with a 2-1/2 inch cutter. Place them on an ungreased cookie sheet:
Toss 'em in the oven at 425 degrees for about 15 minutes, pull 'em out and you're good to go with your very own Southern style biscuits:
All you have to do now is figure out what to top 'em with. I suggest a little butter and some honey:
Of course you can always go with some good ol' Southern gravy:
Either way, you're golden. Let's get that recipe in a more useable format: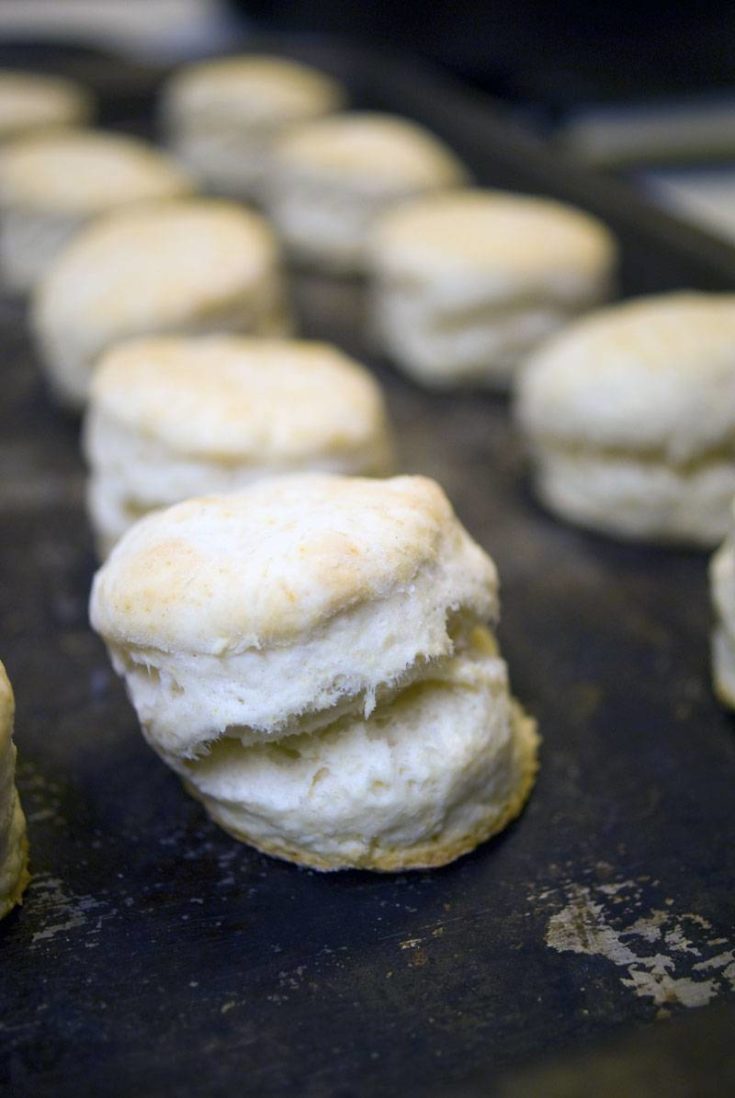 Yield: 12-14 biscuits
Southern Style Biscuits - Down Home Comfort Food
Prep Time: 10 minutes

Cook Time: 15 minutes

Total Time: 25 minutes

The ultimate in comfort. Light, fluffy southern style biscuits just waiting to be topped, spread or covered in gravy. Your Choice.
Ingredients
2 cups all-purpose flour
1 Tablespoon baking powder
1 teaspoon salt
1 Tablespoon granulated sugar
1/3 cup vegetable shortening (or lard)
1 cup milk
Instructions
Heat oven to 425 degrees F. (220C)
Whisk flour, baking powder, sugar and salt together in a large bowl. Cut in the shortening with a pastry cutter or the back of a fork until the mixture looks like coarse meal. Add milk and stir until just combined.
Turn your dough out onto a floured surface. knead 4 or 5 times, then roll to about 3/4-inch thick. Cut biscuits with a round cutter or drinking glass dipped in flour. Keep cutting biscuits until dough is used. (Scraps can be kneaded together and rolled back out to get more biscuits.)
Place biscuits on an ungreased baking sheet and bake for 13 to 15 minutes, or until edges begin to brown.
Serve hot or at room temperature. Top with whatever makes you happy!
Share and enjoy!
Nutrition Information:
Yield:
12
Serving Size:
1
Amount Per Serving: Calories: 142Total Fat: 6gSaturated Fat: 3gTrans Fat: 0gUnsaturated Fat: 3gCholesterol: 5mgSodium: 309mgCarbohydrates: 18gFiber: 1gSugar: 1gProtein: 3g


What I would have done differently had i thought of it at the time:
I would have made a double batch. They were gone far too soon, LOL.
I hope these biscuits make it to your family table. They really are some of the best I've had and I'm happy to share them with you.
What's your favorite biscuit topping? Do you eat them with jam, butter or honey? Are you a biscuits and gravy fan? Let us know in the comments.