Sausage dressing is a staple at Southern tables, and not just around the holidays. I've used this recipe (or variations of it) to stuff Turkey, chicken, cornish hens, pork chops, and bell peppers.
It goes with almost anything. It's simple to make, and can even use all store-bought ingredients if you're in a hurry. It's not a fussy recipe, either. You can adjust, adapt, or change it up at will with awesome results. But more on that later. Let's just get into how simple this can be to make, shall we?
Let's make some Sausage Dressing!
First off kids, this isn't a hard thing to make. Just chop some onions and celery. Make sure you've got yourself some butter (Real butter, not margarine), and have a pound of sausage and some stock handy.
Next, melt that butter in a skillet and cook the sausage and veggies up until they're ready.
It should look something like this.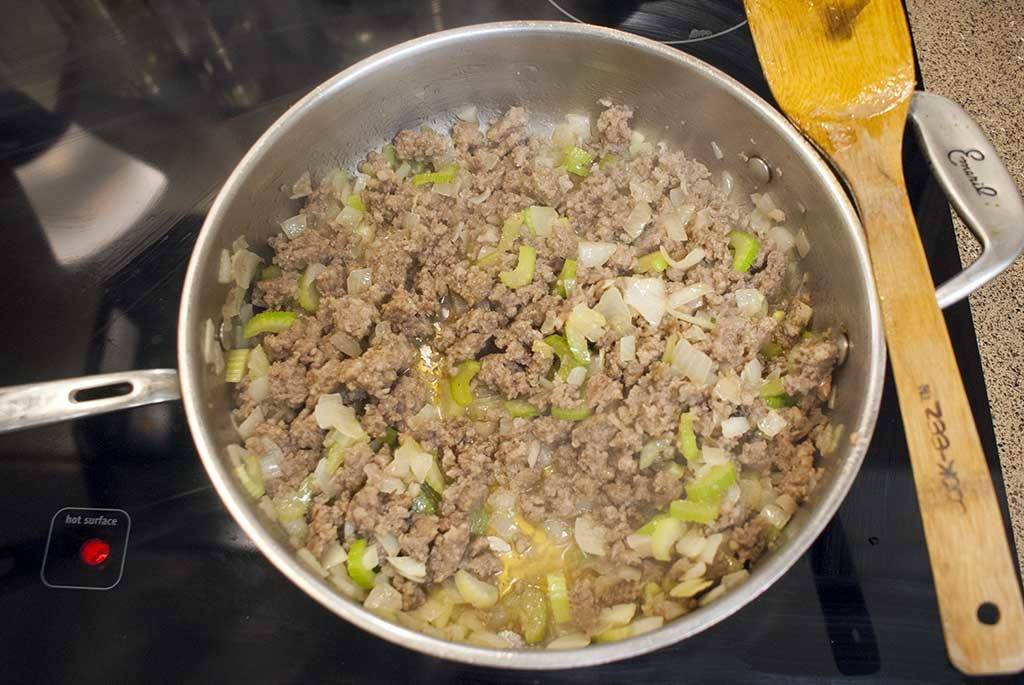 Next we'll consider the breadcrumbs. I opt for a mix of cubed white bread and homemade cornbread, but you can use either, or your own ratio of both, if you're so inclined.
Stir that all up in the skillet, too. Then mix in your stock and whatever seasonings make you happy.
Pop your sausage dressing in a casserole and bake until done, or use it to stuff your favorite… Well, your favorite ANYTHING. It'll probably taste amazing with this dressing.
That's really all there is to it.
Notes on additions
This recipe is not set in stone. There are a slew of things that can be done to change it up and make it a better pairing with your meal.
Try changing out the regular breakfast sausage for spicy sausage or sage sausage.
Use turkey sausage instead of pork sausage.
switch up the spices to suit your mood or to more closely match the flavors of your main dish.
Use beef stock, vegetable stock, or pork stock instead of chicken stock. This really changes the overall flavor.
Add a chopped bell pepper to the dressing to give it a little Low-Country "Trinity" (Works great with spicy sausage and a bit of Cajun seasoning.
Play with it! Sausage dressing doesn't need to be stressed over. (Unless it's Thanksgiving and you're making your mother's family recipe. OK, then there's stress!)
Otherwise, just tweak it to suit your tastes and have fun with it.
Now for the printable sausage dressing recipe!
Yield: 12-14 servings
Southern Sausage Dressing
Prep Time: 10 minutes

Cook Time: 50 minutes

Total Time: 1 hour

Nothing screams Southern cooking like sausage dressing made with cornbread. (Or sausage stuffing, if you like.) It's the perfect side for turkey, pork, chicken, or just on it's own. Add some gravy and you're golden!
Ingredients
6 cups cornbread, cubed or crumbled
1 loaf store bought French bread, cut into small cubes
1 pound pork breakfast sausage
1 onion, chopped
Approximately 4 celery stalks, roughly chopped
1 stick of butter (1/2 cup or 1/4 pound)
2 – 3 Tablespoons dried rubbed sage
1 Tablespoon poultry season (optional)
4 cups chicken stock (approximate.)
Butter for browning the crust. (Optional)
Salt and pepper to taste
Instructions
Heat a cast iron or other heavy bottomed pan over low heat. Add entire stick of butter and melt until the butter just begins to foam.
Cook sausage, onions, and celery in butter with salt and pepper over low heat until vegetables are nearly translucent and sausage is no longer pink, approximately 10 minutes.
Add bread crumbs and cornbread crumbs in thirds, slowly folding to combine. Season with sage and poultry seasoning and continue cooking over low heat, folding constantly.
Add about 1/4 cup chicken stock every few minutes or when stuffing looks dry on the bottom. (The idea here is to moisten the dressing mix without getting it too wet, while toasting the cornbread crumbs slightly throughout the process. Cornbread stuffing should be relatively dry if being used to stuff a bird or peppers, and just wet enough to steam heavily if you plan to cook it on the side.)
Place stuffing in oven safe casserole. Bake 350°F for approximately 40 minutes.
Share and Enjoy!
Nutrition Information:
Yield:
14
Serving Size:
1
Amount Per Serving: Calories: 551Total Fat: 25gSaturated Fat: 9gTrans Fat: 0gUnsaturated Fat: 13gCholesterol: 88mgSodium: 1293mgCarbohydrates: 64gFiber: 1gSugar: 4gProtein: 18g



Dressing or Stuffing?
Do you call this Sausage Dressing or Sausage Stuffing? I know different families call it different things and I'd love to hear your opinion. Let us know in the comments, or on social media.
Remember Y'all. Food is love. Share and Enjoy.