This post for Cornish Hens with Sausage Stuffing is written by me on behalf of Tyson Foods, Inc. All opinions are entirely my own. This shop has been compensated by Collective Bias, Inc. and its advertiser. #LoveThisHolidayTwist #CollectiveBias
The Holidays are here, and inevitably you'll be faced with the challenge of having friends or family over for dinner. The problem with most Holiday meals, whether it's Christmas or New Year, is that you get stuck in the kitchen while everyone else is out enjoying the festivities.
Not this year!
We've put together a simple yet elegant Holiday meal using Tyson® Cornish Hens, Jimmy Dean® Roll Sausage, Wright® Brand Bacon Hickory Smoked, Gallo® Salami, and Sara Lee® Apple Pie. The best part is that you can grab everything at your local Walmart, so there won't be any complicated store-searching or trying to find a list of complicated ingredients. So let's run to the store!
Grabbing your Goodies!
We want to keep this meal as simple and organized as possible. So let's run the store in order. First, the frozen meats section to find the Tyson® Cornish Hens.
While you're here, check out the deli section for some Gallo® Salami. Then it's over to the refrigerated meats section. We'll need some Wright® Brand Bacon Hickory Smoked and some Jimmy Dean® Roll Sausage. Luckily, these are close together.
Next, whip over to the freezer section and grab yourself a Sarah Lee® Apple Pie or two.
Got all that? Great. Just a few more things to grab.
We're going to need some caramel sauce, some rum or bourbon extract, salad greens, cornbread stuffing mix of your choice, a baguette, some mozzarella slices, and a half-gallon of ice cream. And grab some salad dressing if you need it!
We've got everything together, so let's get home and plan out a perfect Holiday dinner.
Make Ahead to Make it Simple!
The key to a stress-free Holiday dinner is planning. Around Uncle Jerry's Kitchen our mantra is "Make ahead whenever possible." And that's what we're going to do here, guys. We're going to break this meal up and cook everything over the course of two days. That way you get to spend your time with friends and family, and not tied to your stove.
Just ask yourself what you can do early. Trust me, this will save you a ton of hassle on the day of your party.
Let's take a look at what we've got.
Day 1: Pie and Stuffing. (Or Dressing, if you prefer.)
While everybody loves a good slice of warm apple pie, there's no reason it has to come out of the oven right before you serve it. A few seconds in the microwave is all it needs.
Grab your Sara Lee® Apple Pie and pop it out of the package. Break up the streusel topping.
Then pop it in the oven and cook according to the package directions.
Set your dessert off in a corner somewhere and cover when cooled.
Now, grab your Jimmy Dean® Roll Sausage, four tablespoons of butter, a few stalks of celery, some chicken stock, and your stuffing mix.
Get the butter in a skillet and melt it down.
Crumble in that Jimmy Dean© Sausage roll and toss in the celery and onions.
Cook until the sausage is no longer pink in the middle and the veggies are tender.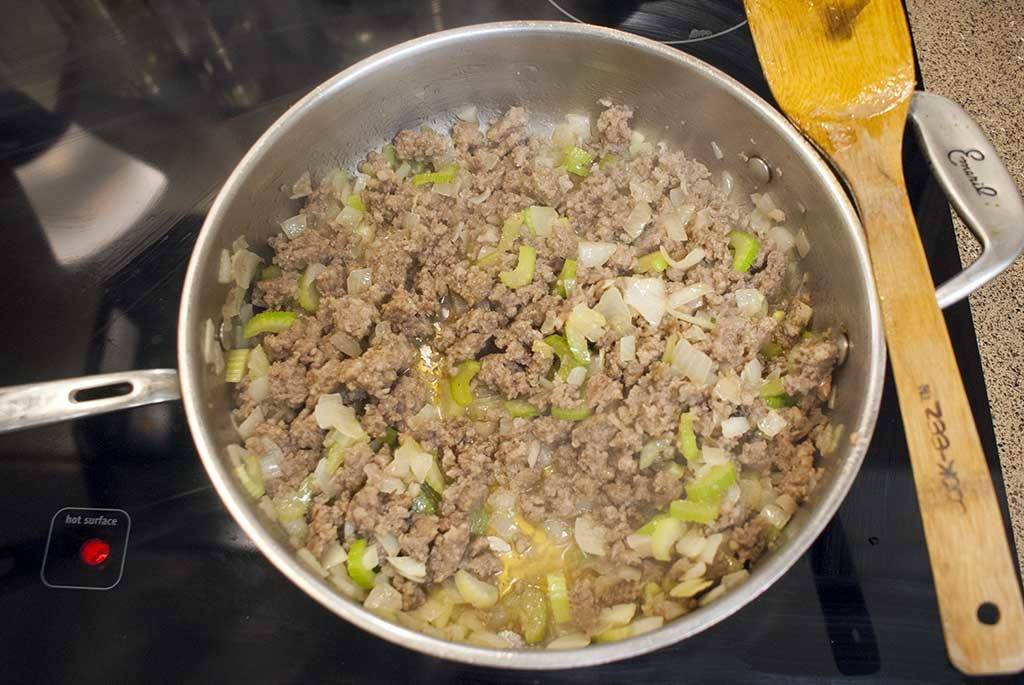 Add in your cornbread stuffing mix and about a cup of chicken stock.
Pull that off the heat, toss it in a large baking dish and refrigerate.
Now go have a glass of whatever you prefer, because we're done for the day. The best part is that you've already done the hard work. Tomorrow will be a breeze.
The Day of the Party: Cornish Hens, and putting it together.
Your guests are about to arrive. So now it's time to get going for real.
First, we need something for them to nosh on while they're hanging out in the kitchen or watching the game.
All you need here is some Gallo® Salami, some bread, a little cheese, maybe just a few onions, and some imagination. Of course you can feel free to mix this up if you'd like, but this is a favorite at our table, especially with just a dab of spicy brown mustard, so I thought I'd share.
Next, on to the main course. Grab your stuffing out of the fridge. open up your thawed Tyson® Cornish Hens and grab a few slices of beautiful, thick cut Wright® Brand Bacon Hickory Smoked. (seriously guys, I'm in love with this bacon!)
Season the Cornish hens with salt, arrange your birds on top of the stuffing or on a cooling rack over the stuffing. Cut bacon slices in half and drape them over the breast meat. Then pop the whole thing in a 350-degree oven until the internal temperature of the largest bird hits 160-degrees.
Don't skimp here. A probe thermometer can save your bacon. (Literally in this case.) Because the Cornish hens are covered in bacon, they won't dry out easily, but you have to be sure they're heated all the way. They aren't large birds, so they won't continue to cook for very long once removed from the oven.
The drippings will flavor the stuffing as it cooks, which adds a serious dose of flavor. It also adds a lot of salt, which is why we didn't season the dressing yesterday.
All we have left to do at this point is put everything together.
Game. Set. Match.
We're going for simple yet elegant, so serve the salad first. Then plate up those lovely Tyson® Cornish Hens on top of a mound of savory cornbread and sausage stuffing. Get them to the table, because you're golden.
(I assume that Y'all already have a favorite salad recipe, so I'm not going to include one here. Just make your favorite and enjoy!)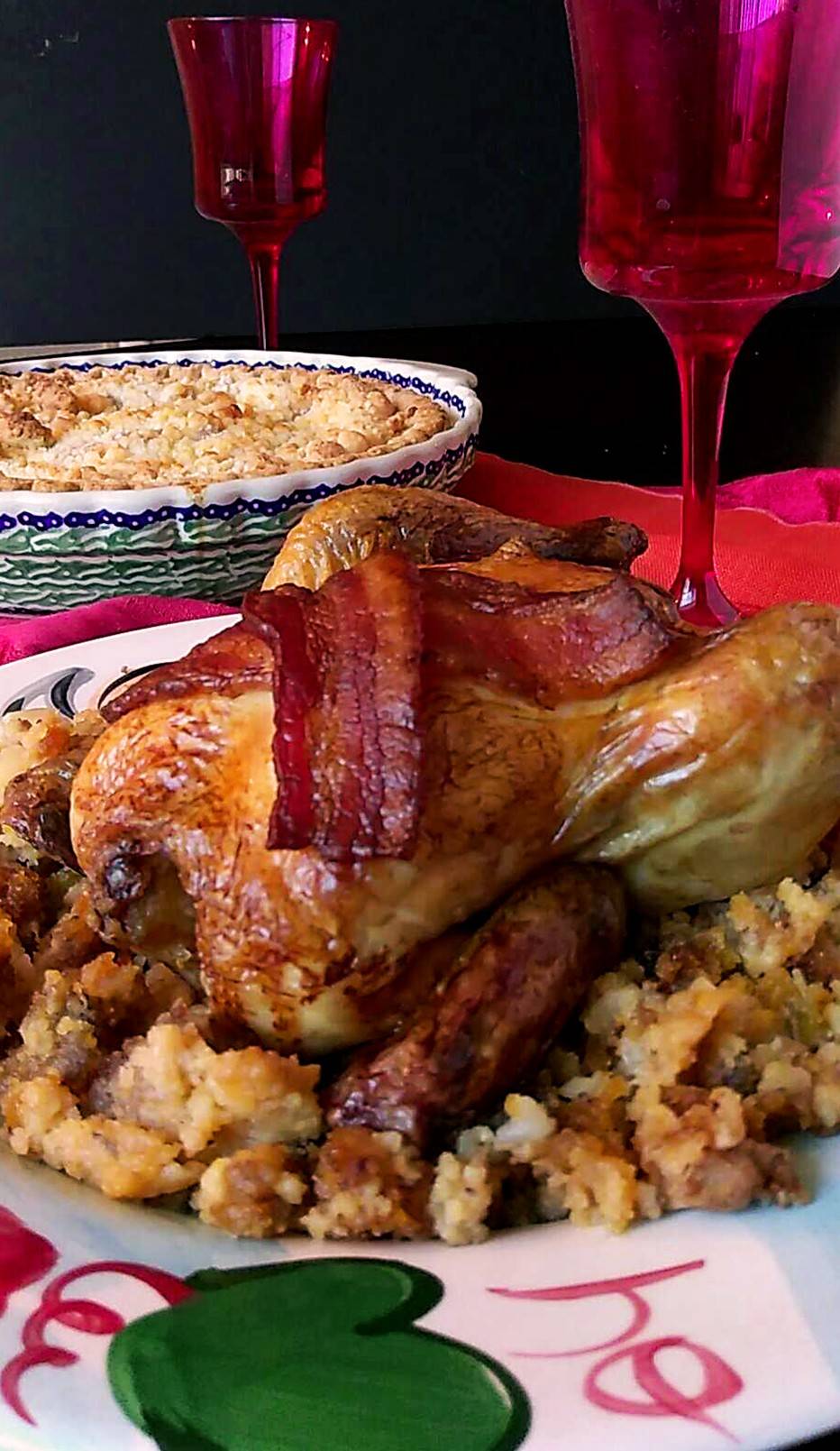 And Now the Printable Recipe.
Yield:

4 to 8 servings
Cornish Hens with Sausage Stuffing - A Holiday dinner meal plan #LoveThisHolidayTwist
Total Time:
1 hour
10 minutes
Cornish hens draped in succulent bacon. Served with traditional cornbread & sausage dressing. What could be better?
Ingredients
4 Tablespoons butter
1 pound Jimmy Dean® Roll Sausage
1 onion, chopped
2 stalks celery, chopped
1 bag cornbread stuffing mix
2 cups chicken stock
Tyson® All Natural Premium Cornish Hens - 1 per person
Wright® Brand Bacon Hickory Smoked - 1 slice per Cornish hen
Salt, for seasoning
Instructions
Heat oven to 350-degrees F.
Melt butter in a large skillet over medium heat. Add sausage, onion and celery. Cook until sausage is no longer pink and vegetables are translucent.
Add stuffing mix and stir to combine.
Transfer to a 9 by 13-inch cake pan or casserole dish. Pour chicken stock evenly over the top of the mixture.
Season Cornish hens with salt. Arrange hens on top of dressing. Cut bacon slices in half and drape over breasts.
Bake at 350 degrees F until internal temperature reaches 160-degrees F. (About 45 minutes.)
Remove from heat and let rest , covered loosely, for 5 minutes.
Serve Cornish hens with dressing.
Nutrition Information:
Yield:
4
Serving Size:
1
Amount Per Serving:
Calories:

939
Total Fat:

54g
Saturated Fat:

19g
Trans Fat:

1g
Unsaturated Fat:

30g
Cholesterol:

221mg
Sodium:

1615mg
Carbohydrates:

65g
Fiber:

6g
Sugar:

5g
Protein:

48g
Need More Awesome Entertaining Ideas for Christmas and New Year?
I've given you a start to finish meal plan for a great Holiday dinner, and I hope it helps you plan your next party. But hey, you might be looking for more ideas than the one's I've given you. Maybe you want more options. I completely understand. Be sure to check out the Tyson Social Hub for more great ideas on Holiday entertaining and recipes you can use year-round.