*NOTE: This is not the classic or original version of S.O.S. This is a reimagined version. If you are looking for the original recipe for creamed chipped beef on toast (Also known as S.O.S., Shit on a shingle, stuff on toast, or by any of its other very colorful names, please follow this link to The Classic Version of Creamed Chipped Beef on Toast. Thanks!)
It's time to begin the comfort food makeovers! I mentioned that I would be doing so this year, and I'm not about to let Y'all down.
I know I can't be the only one who grew up eating S.O.S., also known as Creamed Beef on Toast, or Shit on a Shingle. As a kid it was one of my favorite dishes, since it was only made occasionally. (I don't think my mother really enjoyed it all that much, but my father did.)
I'm not sure if my liking for this dish stemmed more from the fact that I could usually manage to slip in one curse word without getting in too much trouble, or the fact that anything that included beef and cream is something I find strangely wondrous.
My mother's version of SOS was always made using cream of celery soup (Yep, condensed, from a can.) Two pounds of hamburger, and maybe an onion or two tossed in for good measure. Most of the recipes I've seen that use canned soup call for cream of mushroom, but my mother had issues digesting them, so they were never a staple in my childhood home.
The original recipe calls for neither celery or mushrooms, so I may have drifted completely off course with this update/remake, but I don't think so.
I toyed with the idea of naming this dish "Chier sur un bardeau", but why rename Shit on a shingle to the same thing in a different language? It is what it is, a food staple that caught on in the U.S. (And England as well, I believe.) during the first and second world wars and the great depression.
Inexpensive, filling and at least somewhat tasty. It provided a lot of sustenance for very little money, and gave the family something hot and satisfying to share around their table. In that respect, Shit on a shingle (Or just S.O.S., if you aren't comfortable tossing four-letter words around your dinner table) is comfort food at its very best.
For me, it's a reminder of a different era, time spent with my mother and sister in the kitchen, and the good and bad times that followed. In short, even though this is an updated version of the original, it takes me home. It's also quite messy, which makes for giggles at my current table, where my wife and I try not to get too much of the sauce on our faces!
Enjoy everyone!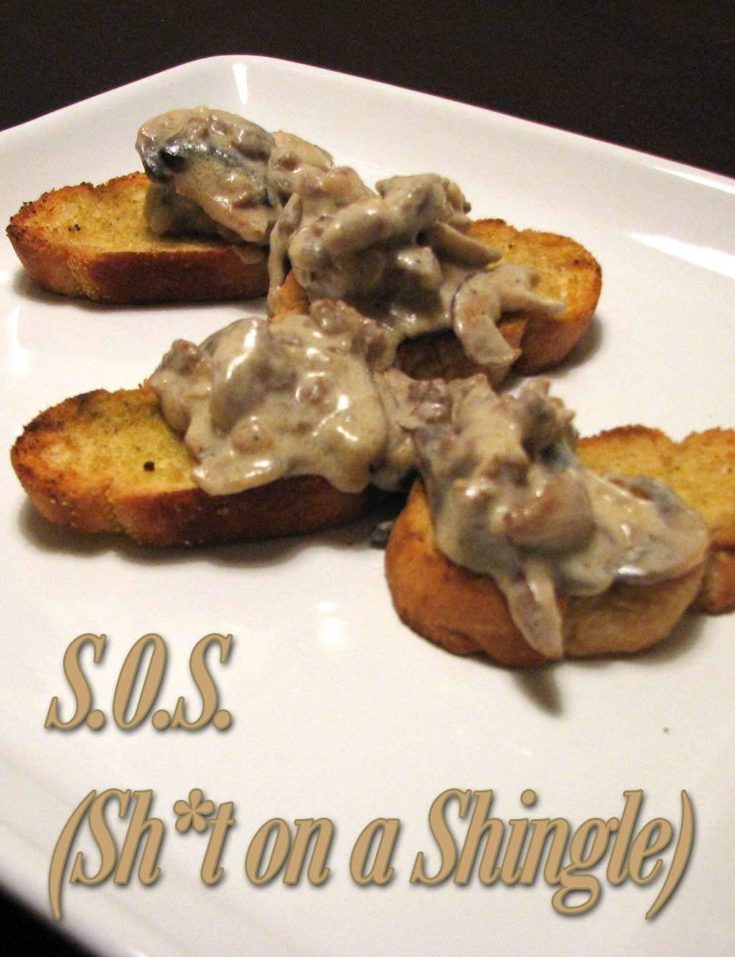 Yield: 8 servings
S.O.S. (Shit on a Shingle) - A Comfort Food Makeover
Prep Time: 10 minutes

Cook Time: 20 minutes

Total Time: 30 minutes

A new twist on the classic recipe for S.O.S. (Also known as Shit on a Shingle)
Ingredients
Toast:
1 small loaf french bread, cut in 1/2-inch slices.
1/4 cup extra virgin olive oil
garlic powder
onion powder
Sauce:
1/2 pound ground beef
1/2 pound ground pork
1 Tablespoon Worcestershire sauce
4 ounces button or crimini mushrooms, sliced
3.5 ounces shiitake mushrooms, sliced
3 cloves garlic, minced
1 tbsp. all purpose flour
2 tbsp. sour cream
1/2 – 3/4 cup milk
Salt and pepper to taste.
Instructions
Toast:
Preheat oven to 375°
Arrange bread slices on a half-sheet pan or large cookie sheet. Brush with olive oil and sprinkle generous amounts of onion and garlic powder over the top. Bake at 375° until top is golden, flip and brush other side of bread with olive oil. Return to oven until the bread is golden brown and crisp. (About 7 minutes total.) Remove from heat and set aside. May be served hot or cold, works perfectly as a crouton for salads or soups, or as base for a crostini.
Sauce:
Brown ground beef and ground pork in a large skillet over medium to medium high heat. Once all meat is well browned, transfer to colander to drain. (Do this over a large bowl to catch any drippings. You don't want them in your drains.)
Wipe skillet clean with a paper towel, add 2 Tablespoons olive oil and reheat. Add onions and cook until soft and just translucent (About 4 minutes).
Add garlic and cook 1 minute, stirring frequently to avoid burning. Add shiitake mushrooms, cook for 1 minute, then add button mushrooms. Continue cooking vegetable mixture until mushrooms are golden.
Season vegetable mixture with salt and pepper. (Doing this before cooking the mushrooms would significantly lengthen browning time.) Return ground meat to pan and stir to distribute all ingredients. Sprinkle flour over mixture and stir well to distribute and coat pieces evenly. (about 1 minute or until the flour smells nutty.)
Add milk and sour cream, and Worcestershire sauce, stirring constantly until liquids are just below a boil. (Do not let the milk boil. If you do, it will separate and curdle. Definitely not a good thing.) Remove from heat, test for seasoning.
Serve approximately one tbsp of mixture per slice of toast.
Nutrition Information:
Yield:
8
Serving Size:
1
Amount Per Serving: Calories: 285Total Fat: 19gSaturated Fat: 6gTrans Fat: 0gUnsaturated Fat: 12gCholesterol: 57mgSodium: 176mgCarbohydrates: 10gFiber: 1gSugar: 1gProtein: 18g
What I would have done differently
I think a little Pecorino Romano sprinkled over the top would be a nice addition, as would a bit of fresh parsley mixed in the sauce at the last minute for freshness.
Other S.O.S. Recipes, because you can never have enough Shit on a Shingle