When you think of comfort food, what comes to mind? If you're Japanese, it might just be succulent, tangy chicken fried rice wrapped in a blanket of airy scrambled eggs and topped with ketchup. It's an omelet. It's fried rice. It's omurice!
Omurice (pronounced "Omu-Raisu") is a staple in Japanese homes and there are even restaurants that serve nothing but different variations of this amazing dish. it's been popular in Japan since the turn of the 20th century and shows no signs of waning in popularity there. There's a reason for that. It's good. Very good.
There's a funny bit of information behind this post. We didn't try omurice for any grand culinary adventure, or because we're curious about foods from other cultures. (OK, that's part of the reason, but it's not the main reason.) The real story behind this recipe is simple.
We're geeks. Anime geeks.
Both me and my wife love Japanese Animation. We watch more than enough of it to single-handedly support several animation studios a fair bit of it, and throughout the various shows we watch, this dish kept showing up. After the fifteenth or sixteenth time, my wife looked at me and said we needed to try it. I said I'd find out what it was and I'd make it.
I did. It was good. We're fans. Now, let me show you how we made it.
Cook some diced chicken in a bit of butter. (Traditional versions call for diced onion here, but we used green onions later. Your call)
Cook chicken until just done , add some cooked rice and stir.
Add ketchup.
Stir the ketchup through and add veggies.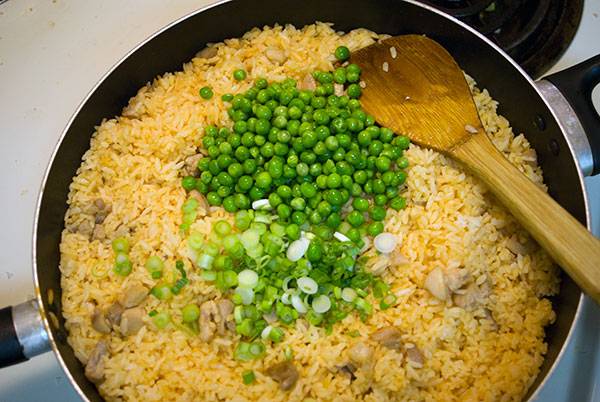 Wrap in egg and serve with a drizzle of ketchup.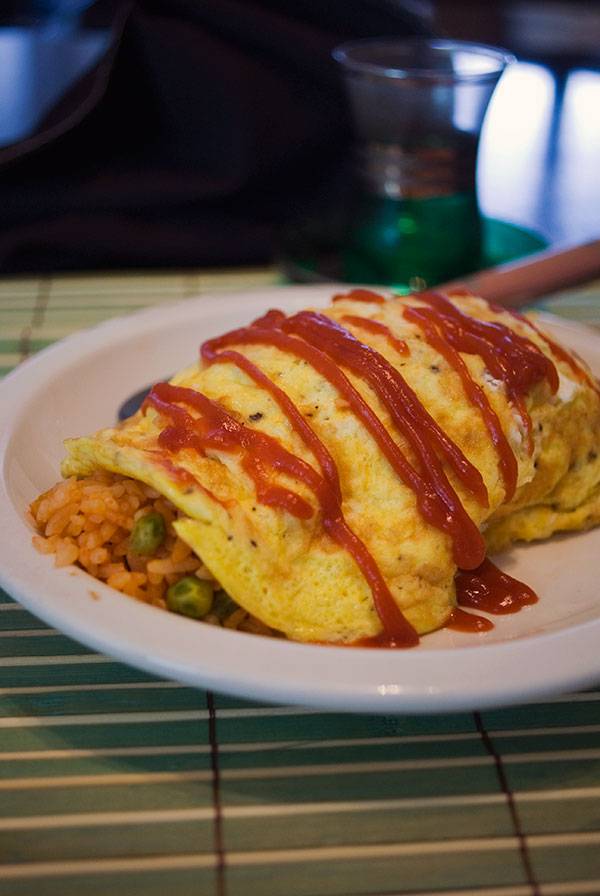 Or you can write a cute message on top :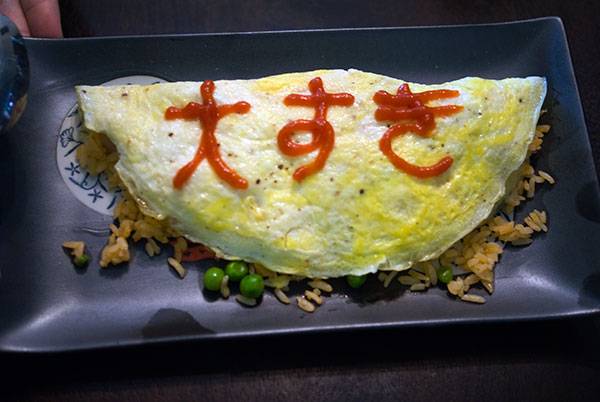 That's it. Simple. Beautiful and so good that I want one again today.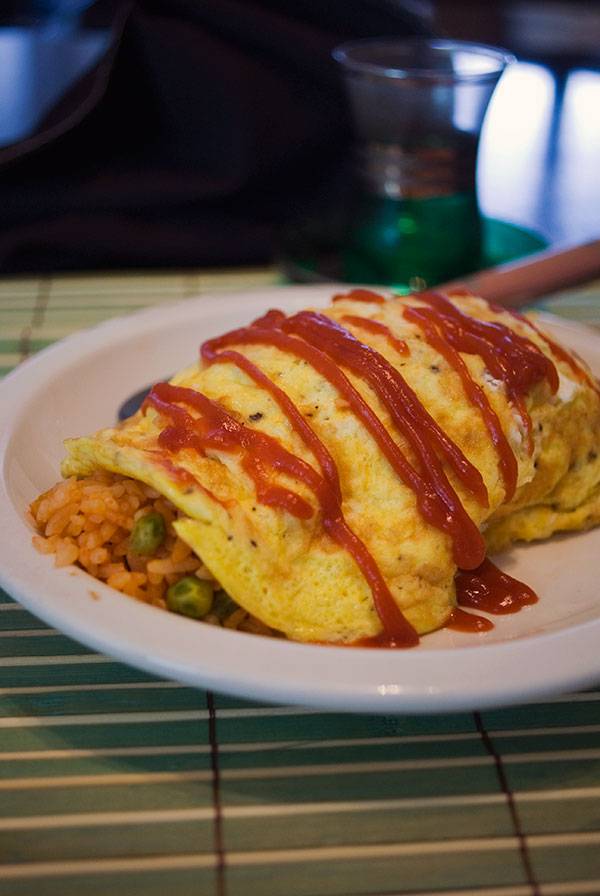 Yield: 2 omelettes
Omurice (オムライス) - Simple, Elegant Japanese Comfort Food
Prep Time: 5 minutes

Cook Time: 20 minutes

Total Time: 25 minutes
Ingredients
2 Tablespoons butter
2 boneless-skinless chicken thighs, cut in small cubes
4 cups cooked rice. (Japanese style preferred, but long grain white rice will work)
1/4 cup ketchup
2 scallions, chopped
1 cup peas (fresh or frozen)
8 eggs, beaten
Salt and pepper to taste
Instructions
Melt butter in a large skillet on medium high heat. Add chicken and cook, stirring constantly, until just cooked through. (About 5 minutes.) Add rice and stir to combine. Cook until rice is heated through (about 3 minutes.)
Clear a space in the skillet and pour the ketchup directly on the hot pan. Allow the ketchup to cook a bit, then fold it into the rice until every grain is coated. Add vegetables and fold through. Remove rice from heat and set aside. Keep warm.
Spray a separate skillet or omelet pan with nonstick cooking spray. Beat 2 eggs and pour into the pan, swirling the eggs to spread them out as thinly as possible. Cook over medium low heat until the edges of the eggs are just set.
Place about 1 cup of rice in the center of the egg and fold the egg over the rice. Slide from pan onto a serving plate, decorate with ketchup and serve.
Repeat process with remaining eggs and rice. (There will be leftover rice.)
Nutrition Information:
Yield:
4
Serving Size:
1
Amount Per Serving: Calories: 504Total Fat: 18gSaturated Fat: 8gTrans Fat: 0gUnsaturated Fat: 9gCholesterol: 427mgSodium: 459mgCarbohydrates: 56gFiber: 3gSugar: 6gProtein: 27g
What I would have done differently had I thought of it at the time:
Next time I'm going to try the diced onions. It'll make a difference in both flavor and texture. We'll let you know how that goes.
More awesome Japanese comfort food recipes like omurice: