This is a sponsored post written by me on behalf of Sargento® Cheese. All opinions are 100% mine.
Who doesn't love a good, old-fashioned grilled cheese sandwich? They're one of my happiest childhood memories. But sometimes that just isn't enough. Sometimes I need that sandwich to be a whole meal that can be enjoyed either at the table with my family, or on the run if I've got somewhere to be. That's where the roast beef melt sandwich comes into play.
This sandwich is easy to make. It's got three ingredients and cooks quickly, which makes it perfect for throwing together a quick weeknight meal. You can make this with leftover roast beef, as I did here, or use deli-style roast beef. The results will be delicious either way.
This, guys, is a beefy, cheesy explosion of flavor that you'll definitely want to make again and again. so let's get started, shall we?
Forst, get yourself some beef ready.I had some brisket leftover from dinner the other day, so that's what I went with. You can use whatever you have lying around, or just grab some thick sliced beef from the deli counter at the supermarket.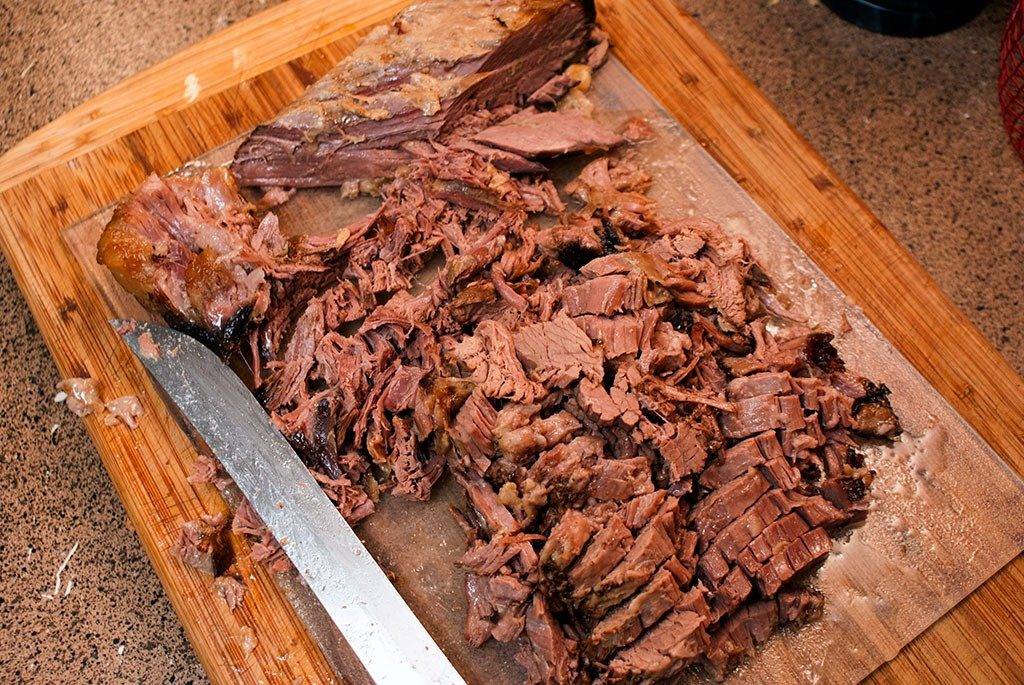 Toss your beef in a pan and heat it through. Give it a good sprinkling of salt and pepper to up the flavors a little.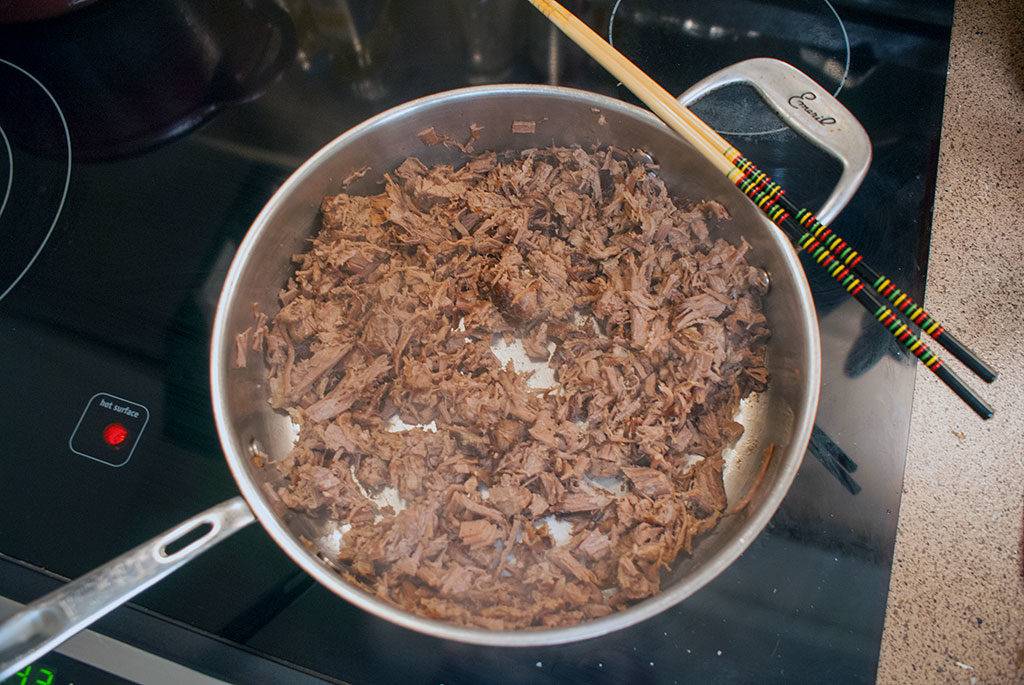 Next, we have to consider our cheese options. The good folks at Sargento® sent over a selection of different flavors for us to try out, but in this case, we figured the sharp Cheddar would fit the bill the best. (I was leaning towards swiss for a minute, but it didn't seem to fit with the bread I was using.)
Sure, the little single serve slices of Pasteurized Process Cheese Food (PPCF), sometimes known as American singles,were the go-to cheese of my childhood sandwiches (Who can forget that oozy cheesy goodness?), it definitely isn't my first choice for most things today.
I love the fact that Sargento® is 100% real, natural cheese. It's just real, never processed, authentic cheese. And to be honest, we always have Sargento® in the house. Because it's good.
Don't get me wrong. I'm not against Pasteurized Process Cheese Food. It has its uses, and I wouldn't dream of making queso dip without it. But the fact that it's only required to have 51% real cheese means that it melts too quickly, and just doesn't have the punch of flavor that a sandwich like this needs.
You can find out more about 100% Real, Natural Cheese and Pasteurized Process Cheese Food (PPCF) at Sargento® Sliced Cheese. It's a good read.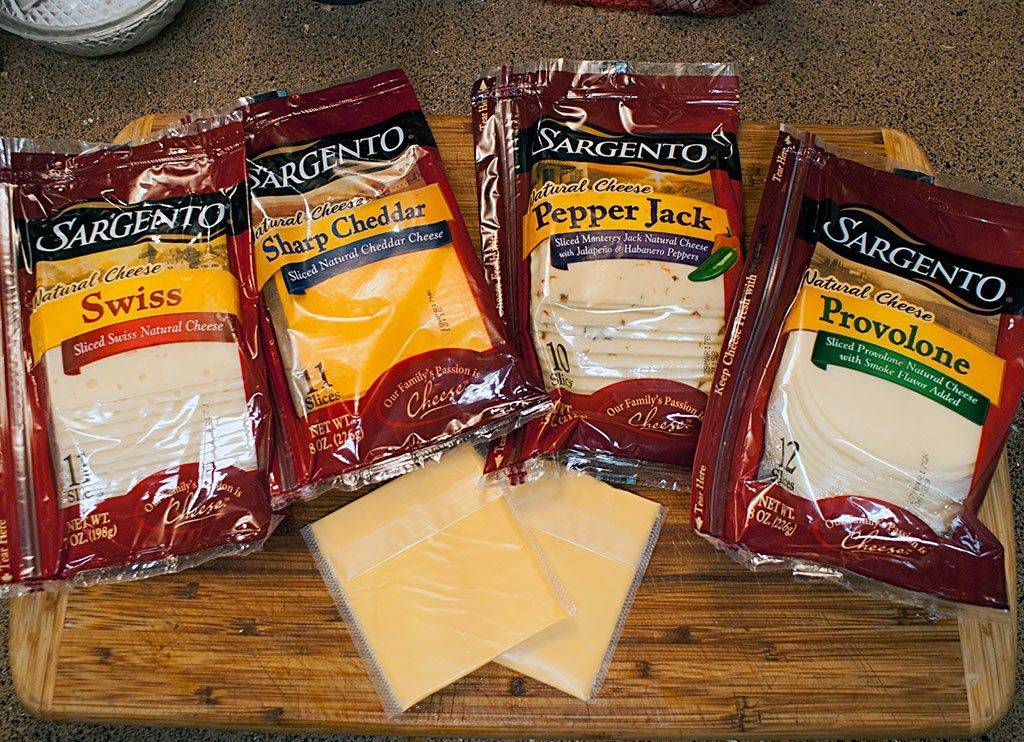 So, with our cheese selection out of the way, it's time to get busy assembling our wonderfully beefy, cheesy sandwich.
Top some bread with a slice of 100% real, natural cheese. I was using sliced French bread, so I had to finagle it a little. It's fine if it isn't pretty, we're going to melt it anyway.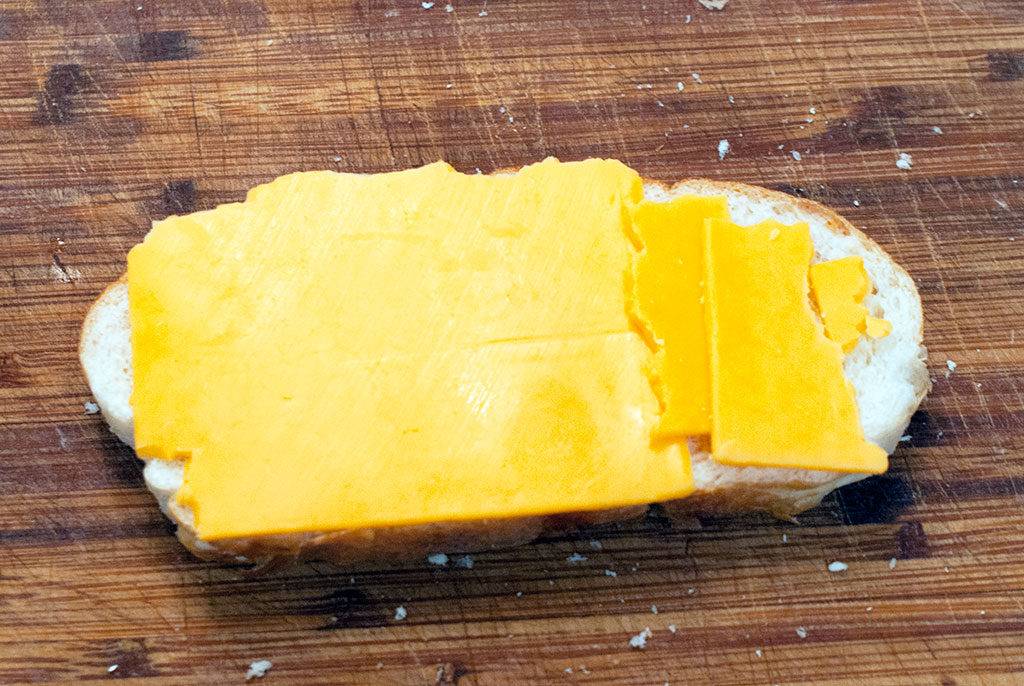 Top your bread and cheese with 1/4 of the roast beef. For a normal patty melt, I would have used sauteed onions too, but in this case, we need the cheese to hold the sandwich together, so I skipped them.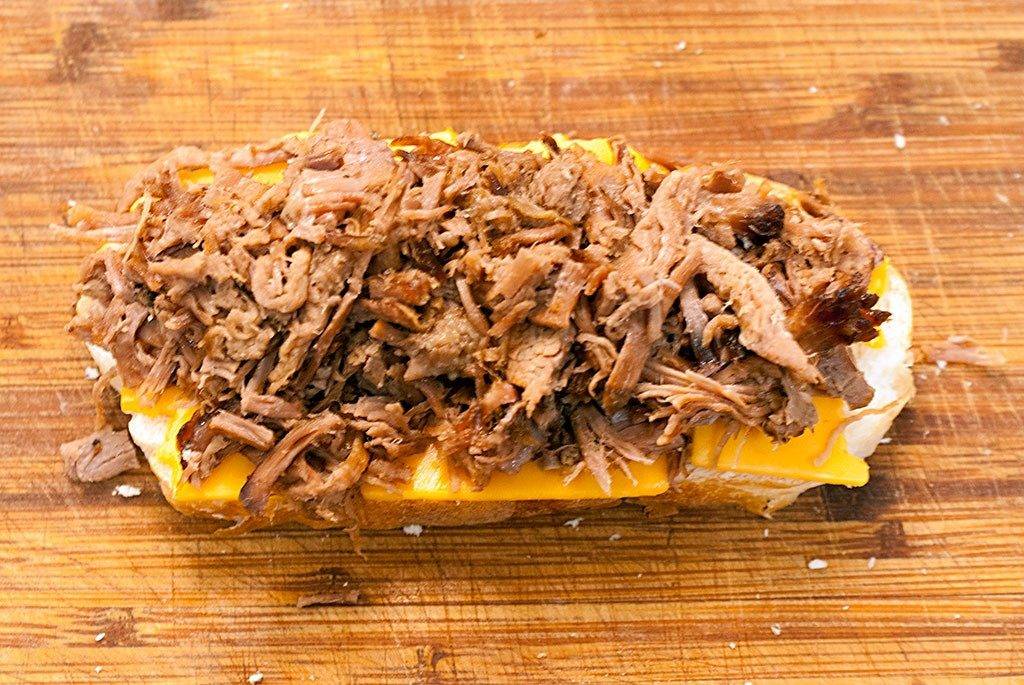 Now, More cheese! You can use the same kind as the first layer, or mix up the flavors with a different kind of cheese if you want. It's OK. Different cheeses play well together.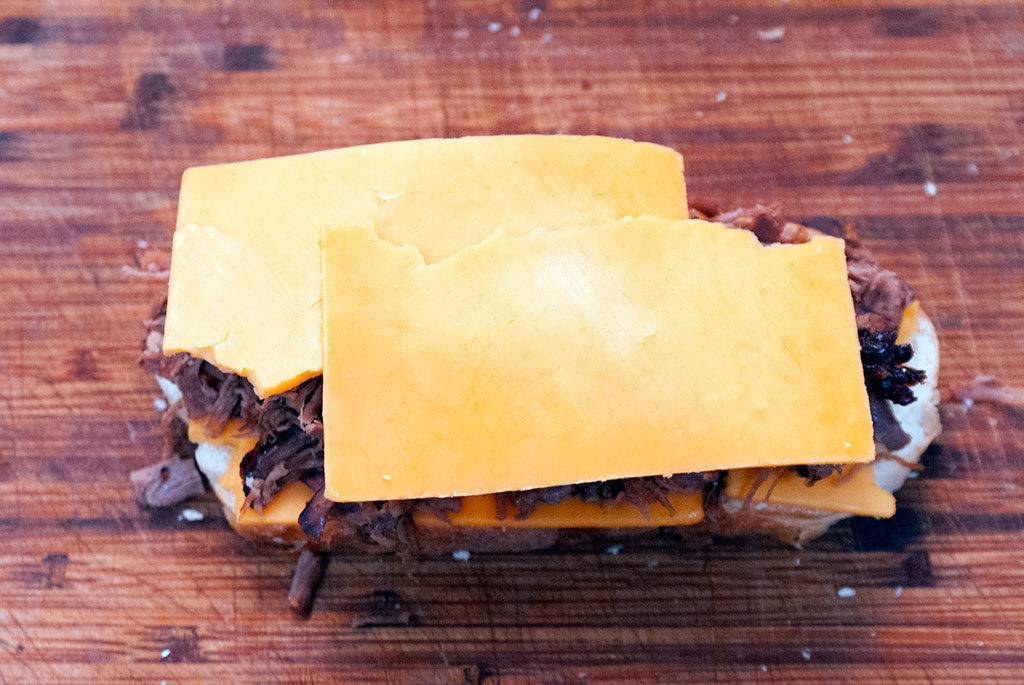 Now butter up a skillet and get these guys turning all golden brown and delicious. Keep the heat slightly low, you need to have the pan hot enough to brown the bread and melt the cheese, but not so hot that it burns the butter. Remember that 100% real, natural cheeses like cheddar take a bit longer to melt than softer varieties, so be a bit patient. It will pay off in the end.
It took me about 3 minutes per side in my cast iron skillet.
And we're done! Get that gorgeous sandwich out of that pan and on a plate. It's ready to go.
Gorgeous, isn't it?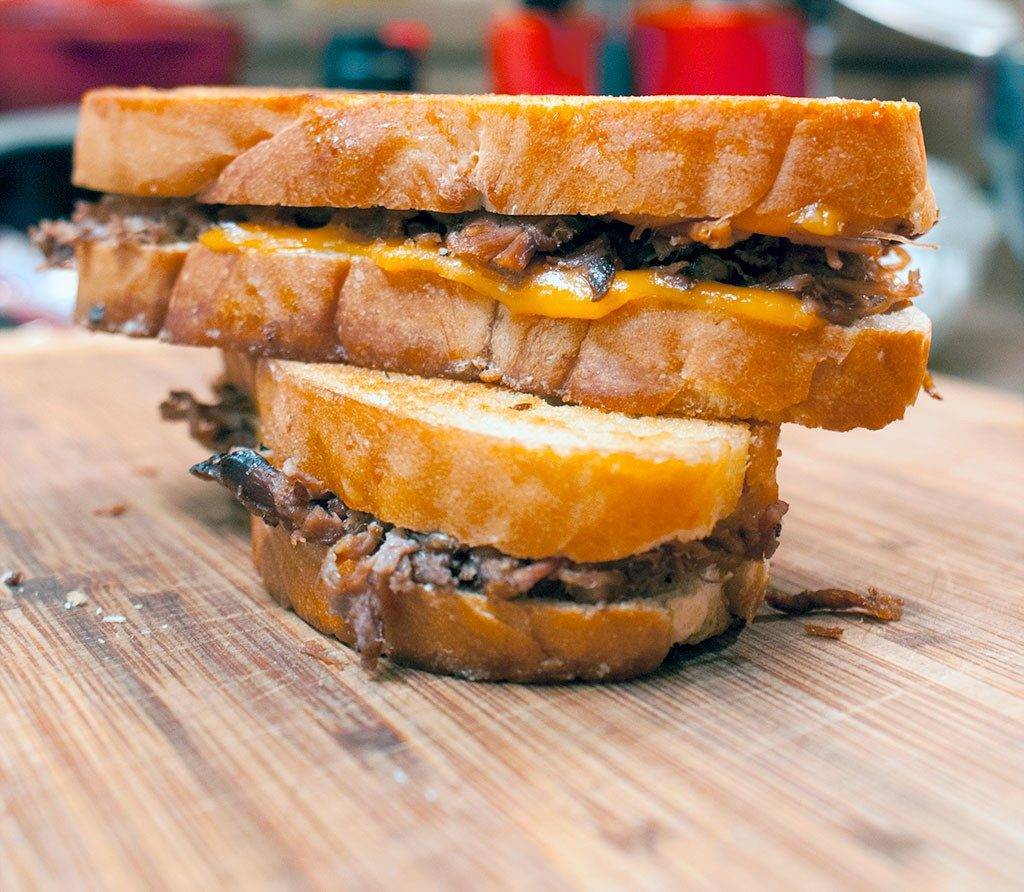 And now for the printable Roast Beef Melt Sandwich recipe!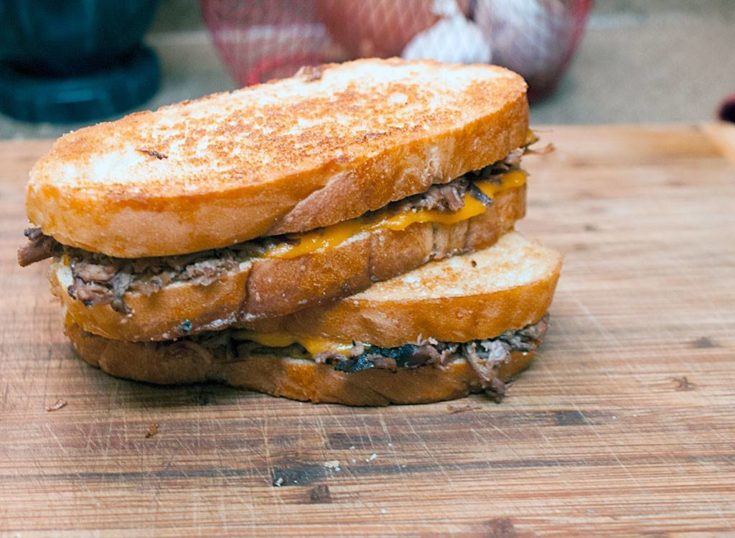 Yield:

4 - quarter pound sandwiches
Roast Beef Melt Sandwich - A Beefy, Cheesy, Flavor Explosion
Roast Beef Melt Sandwich - A Beefy, Cheesy, Flavor Explosion. As simple as making a grilled cheese, but so much better.
Ingredients
1 pound sliced or shredded roast beef
8 slices bread
16 slices 100% real, natural cheese (We used Sharp Cheddar, but choose your own favorite!)
Butter, for cooking
Salt and pepper to taste
Instructions
Heat a large skillet and add beef. Season with salt and pepper to taste. Cook until heated through. Set aside.
Lay out 4 slices of bread. Top each piece with one slice of 100% real, natural cheese. layer equal portions of beef on each piece. Top with another slice of 100% real, natural cheese. Cover with remaining bread slices.
Put another large skillet or griddle over medium heat. When hot butter the pan well. Add sandwiches to the pan and cook until golden. (About 3 minutes.)
Flip sandwiches and cook until tops are golden and cheese is melted. (about 3 minutes.)
Remove from pan and serve.
Share and Enjoy!
Nutrition Information:
Yield:
4
Serving Size:
1
Amount Per Serving:
Calories:

350
Total Fat:

11g
Saturated Fat:

5g
Trans Fat:

0g
Unsaturated Fat:

5g
Cholesterol:

72mg
Sodium:

1414mg
Carbohydrates:

32g
Fiber:

2g
Sugar:

4g
Protein:

28g
Show a little love, people!
As always, I love you guys. You're the reason I've been fortunate enough to do this for over 10 years. I don't know where I'd be without you. Really. I love sharing new recipes and tips with you and I hope you found this useful, or funny, or both.
If you did, please take a second to share this recipe on your various social media platforms. Maybe drop a comment and leave a rating on the recipe. We love to hear from you.
Remember, this is a conversation. We'll never know what you want to see if you don't tell us, right?
While you're at it, be sure to follow Sargento on Facebook and Instagram for some awesome recipe ideas, cheese and wine pairings, and more!
That's it for today, guys.
Until Next time,
Food is love. Share and enjoy.