Sometimes things just don't go as planned, the other night was no exception. The plan was simple and I had high aspirations. I was going to introduce my wife to the epitome of cooking with wine, the extravaganza of culinary wonderment and simplicity that is beef bourguignon (beef burgundy). Not only would it be a wonderful dinner for a cold, rainy Texas night, but it was the perfect excuse to pull out my new casserole/dutch oven.
Unfortunately for me, that's not the way things turned out. I don't know if the cards were stacked against me, or if Elvis, Jimmy Hoffa, and Robert Goulet got together and decided to play a prank on me. In any case, the dinner I planned was apparently not meant to be.
I was sure I had everything I needed. I'd been planning to make beef burgundy for weeks and had stocked the ingredients well in advance. Here's how it played out.
I bounced excitedly into the kitchen to slice the beef… Not gonna happen, it was still frozen in the middle.
I went to pull out the mushrooms… Ugh! Those were white mushrooms when I bought them, weren't they?
Fine, I can live without the mushrooms, I suppose. I'll just grab the egg noodles… That I used last week for a pasta salad.
After sputtering expletives and downing one or two glasses of the Gallo Twin Valley Hearty Burgundy that I'd picked up especially for this meal, I gathered myself together and hit the internet for some ideas I could use with the ingredients that were in my pantry.
After a bit of searching, I stumbled across this recipe. While not at all what I had in mind when I started, it did mention serving over rice, which we always have in plenty, so I printed it out and prepared to bastardize it.
As I mentioned, the roast I'd pulled out to defrost had not cooperated, so cubing it wasn't really an option. My decision was pretty simple, I'd just braise it whole and let it thaw the rest of the way in the pan. while you need to be sure to go well past the rare stage, It really wouldn't matter on something that would braise for several hours.
Here's what I finally came up with. While not the classic beef bourguignon that I was longing for when I started, this is a remarkably tasty alternative.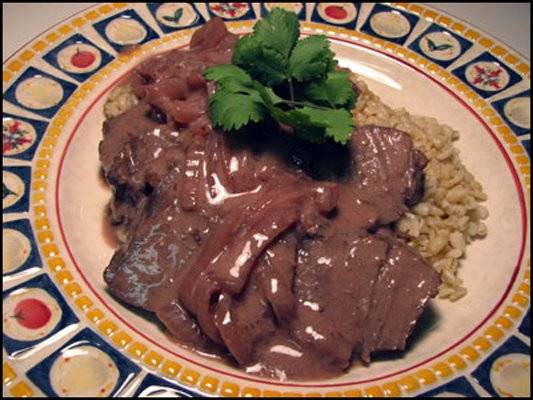 Yield: 8 Servings
Burgundy Beef Roast Recipe
Prep Time: 10 minutes

Cook Time: 2 hours 30 minutes

Total Time: 2 hours 40 minutes
Ingredients
2 lb chuck roast
1¾ cup burgundy Wine
1 onion, halved and sliced
4 cloves garlic, minced
1 – 10 oz can cream of mushroom soup
3 tbsp extra virgin olive oil
Salt and pepper to taste
Instructions
Season beef liberally with salt and pepper. Brown roast in olive oil over medium heat in heavy dutch oven or casserole and remove from pan.
In same pan, add onions and cook until just translucent . Add burgundy, and mushroom soup, stir well to combine. Return beef to pan. Cook 1½ – 2½ hours at 300°F, or until roast is fork tender.
Allow to rest for 10 minutes, slice and serve over rice, noodles or brown rice and barley with a generous portion of the sauce dribbled over the top.
Nutrition Information:
Yield:
8
Serving Size:
1
Amount Per Serving: Calories: 391Total Fat: 24gSaturated Fat: 8gTrans Fat: 1gUnsaturated Fat: 15gCholesterol: 94mgSodium: 369mgCarbohydrates: 5gFiber: 0gSugar: 1gProtein: 29g


What I would have done differently had I thought of it at the time:
I would've checked the pantry before I got my hopes up.
I'll be returning to this theme very soon since my craving for beef burgundy has yet to be fully sated and I really do want my wife to give the real article a try. I'm sure she'll enjoy the classic, as she went back for thirds of this!
I hope everyone else had a better day in the kitchen than I did.