From the lost recipe files: I found the pics for this hanging out in a folder from JUNE! Luckily, I still remember how I made the dish.
As Italian chefs the world over will tell you, the key behind a great pasta dish is that no one ingredient ever overloads any of the others, and that the pasta is truly supposed to be the star of the show. This is one dish that follows those guidelines, even with the strong flavors of bacon and greens tossed into the mix.
The secret with this or any other pasta dish is to make sure that you add just enough sauce to coat the pasta, not drown it. This may go against the American tradition of dumping a full three cups of sauce over the top of a quarter pound of noodles, then topping it with some form of meatball, but believe me, it's worth the restraint.
Let's revisit summer, shall we?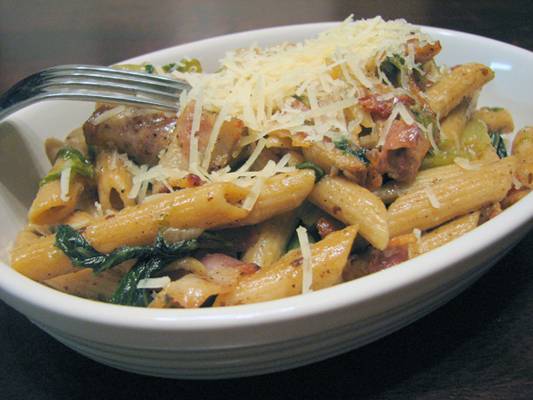 Yield: 8
Penne with Bacon and Mustard Greens Recipe
Prep Time: 10 minutes

Cook Time: 20 minutes

Total Time: 30 minutes
Ingredients
1 lb. penne or penne rigate pasta
1/2 lb. bacon, cut in 1/2-inch pieces
10 oz. (1 package) frozen mustard greens, thawed and drained.
2 tbsp. tomato paste.
1 onion, chopped fine.
3 cloves garlic, minced.
1/4 cup chicken stock
1 good pinch Italian Seasoning
1/4 tsp. crushed red pepper flakes
2 tbsp extra virgin olive oil
Freshly grated Parmesan cheese to taste
Salt and pepper to taste.
Instructions
Cook Penne according to package directions. Drain well but do not rinse.
Cook bacon in a large skillet over medium low heat until it is cooked through, but not crispy. Remove from grease and place on paper towels to drain. Reserve 1 tbsp. bacon fat. Discard or store the rest.
Add olive oil to skillet and stir to combine with bacon fat. Add onion and garlic, stirring until onion is translucent and garlic is fragrant. Add tomato paste and stir through. Return bacon to pan and toss well. Add greens and stir until heated through. Add Italian seasoning, red pepper flakes, chicken stock, salt and pepper. Taste for seasoning (will be a bit oily, that's O.K.!)
Add pasta and toss to coat well. Grate approximately 1/4 cup Parmesan cheese over pasta, toss well.
Serve hot with additional Parmesan on top if desired.
Enjoy!
Nutrition Information:
Yield:
8
Serving Size:
1
Amount Per Serving: Calories: 311Total Fat: 15gSaturated Fat: 4gTrans Fat: 0gUnsaturated Fat: 10gCholesterol: 29mgSodium: 554mgCarbohydrates: 29gFiber: 4gSugar: 3gProtein: 17g


Links to other recipes like this: