First of all, let me apologize for the lack of photos of preparation. Unfortunately I was alone at home when I made this, so there was no one to hold the camera, and anyone who's ever cooked any variety of stir-fry knows well that once you've started, there is no "pause" or "stop", both of which immediately equal "burned".
Fried rice is one of those foods that most people get when they eat out, but I don't know too many people who make this dish at home. That's a crying shame, in my opinion, since true fried rice is something that can be prepared by any home cook and tailored to his or her family's tastes in seconds. Why go out and pay $4.00 for a side of fried rice when you can make it for less than $2.00 at home with perfect results each and every time?
Simply put, if you can make rice (and with the availability of rice cookers nowadays, there is no reason anyone can't make perfect rice), you can make fried rice. Turning plain white rice into amazing fried rice takes only a few minutes and I guarantee that anyone in your family that enjoys takeout will adore this recipe.
A note. I'm going to give the basic recipe for fried rice, then I'll give my take. It really is best to start making this the traditional Asian/American/Canadian way first, then put your own twist on the subject.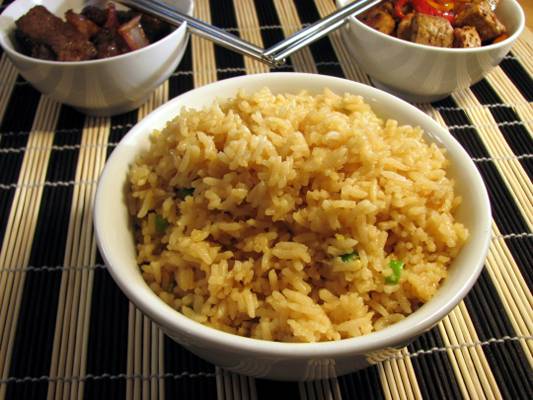 Yield: 4 servings
Basic Fried Rice
Prep Time: 5 minutes

Cook Time: 10 minutes

Total Time: 15 minutes

Fried Rice is a simple dish, but it's satisfying and wholesome.
Ingredients
1 – 2 green onions, as desired
2 large eggs
1 teaspoon salt
Pepper to taste
4 tablespoons oil for stir-frying, or as needed
4 cups cold cooked rice
1 – 2 tablespoons soy sauce or oyster sauce, as desired
Instructions
Wash and finely chop the green onion. Lightly beat the eggs with the salt and pepper.
Heat a wok or frying pan and add 2 tablespoons oil. When the oil is hot, add the eggs. Cook, stirring, until they are lightly scrambled but not too dry. Remove the eggs and clean out the pan.
Add 2 tablespoons oil. Add the rice. Stir-fry for a few minutes, using chopsticks or a wooden spoon to break it apart. Stir in the soy sauce or oyster sauce as desired.
When the rice is heated through, add the scrambled egg back into the pan. Mix thoroughly. Stir in the green onion. Serve hot.
My take on fried Rice:
While the above method (taken directly from about.com) does make some good rice, I've worked out my own way of doing it. My method is based on experimentation and an iron Chef episode, so it may or may not be right for you, but I sure as heck enjoy it, and my wife will be wanting me to make it as soon as she reads this.
I cook my rice in chicken stock or vegetable stock, then allow it to cool. This adds flavor directly to the rice.
I tend to double the amount of eggs and onions, just because I like it that way.
I cook the rice first, then add the eggs and onion while I toss it. I prefer the texture when the eggs coat some of the rice grains.
Add the soy at the table!
Nutrition Information:
Yield:
4
Serving Size:
1
Amount Per Serving: Calories: 375Total Fat: 17gSaturated Fat: 2gTrans Fat: 0gUnsaturated Fat: 14gCholesterol: 93mgSodium: 1128mgCarbohydrates: 46gFiber: 1gSugar: 0gProtein: 8g


What I would have done differently had I thought of it at the time:
Absolutely nothing. Fried rice is one of my go-to recipes, and once you have the technique down, I'm sure it will be one of yours as well.
We'll cover more advanced fried rice recipes at a later date.
Links to other recipes like this: