There are certain recipes you know you just have to try the very first time you hear of them. You know the ones, don't you? It's that certain something that sticks in your memory once you've seen or heard of it. It won't leave you alone until you can recreate it or find somewhere that sells it so that you can see what all the hype was about. You do have those days, don't you? Don't You?
For me, Spam Musubi was one of those recipes. Ever since I saw it on some TV show I was watching, I've longed to try it for myself, but have put it off. Then I saw Anthony Bourdain sing it's praises on an episode of No Reservations and I wanted it even more, but I resisted. It was my next-door neighbor's Hawaiian best friend that finally talked me into tying it, and I've never been more glad that I set out to make something in my life.
Most American's regard Spam with the same sort of distaste that is reserved for things such as offal, but the Hawaiians not only love the stuff, they've elevated it to a new level. Spam Musubi has all the subtle flavor combinations you would expect from an Asian dish, but uses the most humble ingredients. In one bite you've go sweet, sour, savory, salty and starchy, all in different intensities with each bite.
You gotta try this!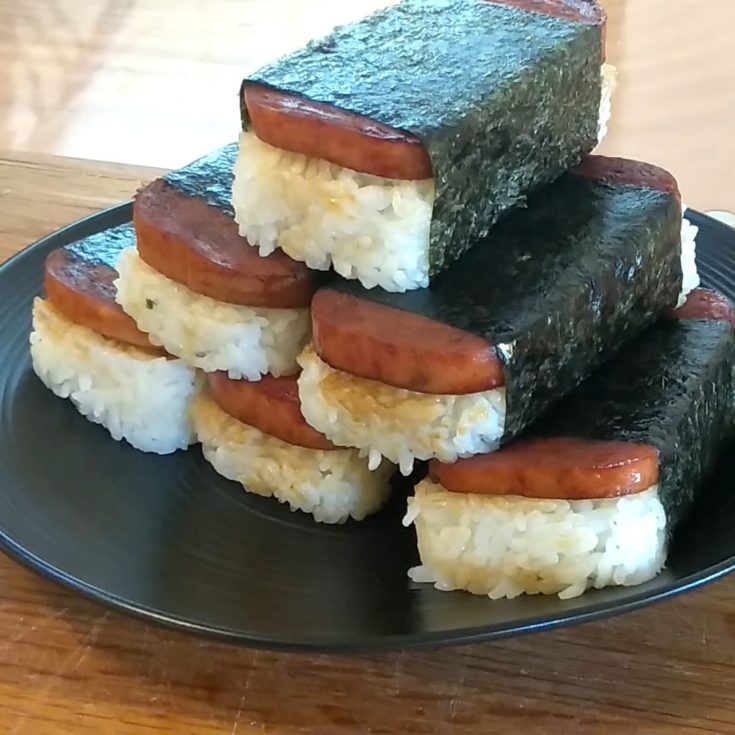 Yield: 6 - 8 Musubi Rolls
Spam Musubi Recipe
Prep Time: 10 minutes

Cook Time: 5 minutes

Total Time: 15 minutes
Ingredients
1 can Spam (Not light, smoked, turkey or any other "healthy variety. Just good ol' canned Spam)
Musubi Nori
2 cups cooked white rice (Can be long grain or short grain. Short probably works better, but long grain worked fine, as you can see.)
Soy sauce
Sugar
Instructions
(Note, you can get a Musubi mold Here, or carefully cut the bottom out of a can of Spam and use a piece of cardboard cut to fit the can and wrapped in foil or plastic wrap as a press.)
Cook rice as directed in a rice cooker or on the stove top. Allow to cool for at least 20 minutes.
Cut Spam into 1/2-inch thick slices lengthwise. Heat a large skillet over medium heat. Drizzle Spam with soy sauce and sprinkle with a little sugar. Fry soy-covered side down for approximately 2 minutes, or until soy and sugar have caramelized. Drizzle a bit more soy and sugar on the uncooked side and flip, cooking until the second side is caramelized as well. Remove to a dish lined with paper towels and continue with the rest of the Spam.
Cut Nori into strips as wide as the spam. Place a single sheet of cut Nori on a work surface and place Misubi mold over the center of the nori strip. Place spam in press and carefully fill press with about 3/4 cup rice. Place top on press and apply firm pressure to mold rice into the proper shape. Remove body of press, then remove top carefully. Wrap Nori over the sides and around the back of the Misubi.
Serve immediately or refrigerate until serving.
Nutrition Information:
Yield:
8
Serving Size:
1
Amount Per Serving: Calories: 78Total Fat: 1gSaturated Fat: 1gTrans Fat: 0gUnsaturated Fat: 1gCholesterol: 3mgSodium: 192mgCarbohydrates: 14gFiber: 0gSugar: 1gProtein: 2g



What I would have done Differently had I thought of it at the time:
There are a hundred variations on this recipe, but the next one I'm going to try is Tofu misubi. We'll see how that turns out…

Links to other recipes like this: