Nothing makes a meal feel more complete than gravy. It's the perfect finishing touch to mashed potatoes, a glorious addition to beef, and an absolute must on most holiday tables. Gravy by itself can elevate a meal from boring to amazing, yet a lot of people avoid making it.
Most people seem to think that their Grandmother's brown gravy recipe is something steeped in mystery. A family secret that has been passed down in whispers through generations. I mean, it always seemed to take her hours upon hours to make it, and it was always served with great fanfare. It had to be difficult to make, right?
Not hardly. In fact, she had you fooled. It was probably one of the simplest things she made that day.
But it was still that final, glorious, perfect finishing touch. A boat full of deep flavors that made mom and dad smile, could make Aunt Vicky's roast taste good, and would make the pickiest kid at the table happy to eat.
That is the mystical power of a brown gravy recipe. And I'm going to show you how it's done. The right way.
What is brown gravy, exactly?
Every brown gravy recipe is, at its heart, an elevated version of a simple pan gravy. The main difference between the two and the part that elevates brown gravy to an art form is that the gravy is not cooked in the original pan. All the components are moved to a fresh, clean pot for finishing.
This one simple step makes for a smoother, more refined gravy that only includes the best of your ingredients and allows complete control over flavors. Yes, you'll dirty up an additional pan, but it's worth it. so let's get to making brown gravy, shall we?
Do I need meat juices to make this brown gravy recipe?
The answer here is… Yes, and no. You can make a brown gravy with just some form of fat and a good quality beef stock. But it won't be as good as a brown gravy made with beef fat and drippings from the pan. It just won't be. So for this recipe, we're going to go with a very classic version of the brown gravy recipe and use pan drippings and fat from freshly cooked beef.
And that's where we start.
Cook up some beef. It can be a roast, some steaks, stew meat, whatever you have, as long as it's got a fair amount of marbling. (Read: fat.)
Once you've finished cooking and set the meat aside to rest, it's time to make the gravy.
Pour all the drippings and fat into a measuring cup or bowl. Be sure to scrape as many browned bits left in the pan as possible with the mix.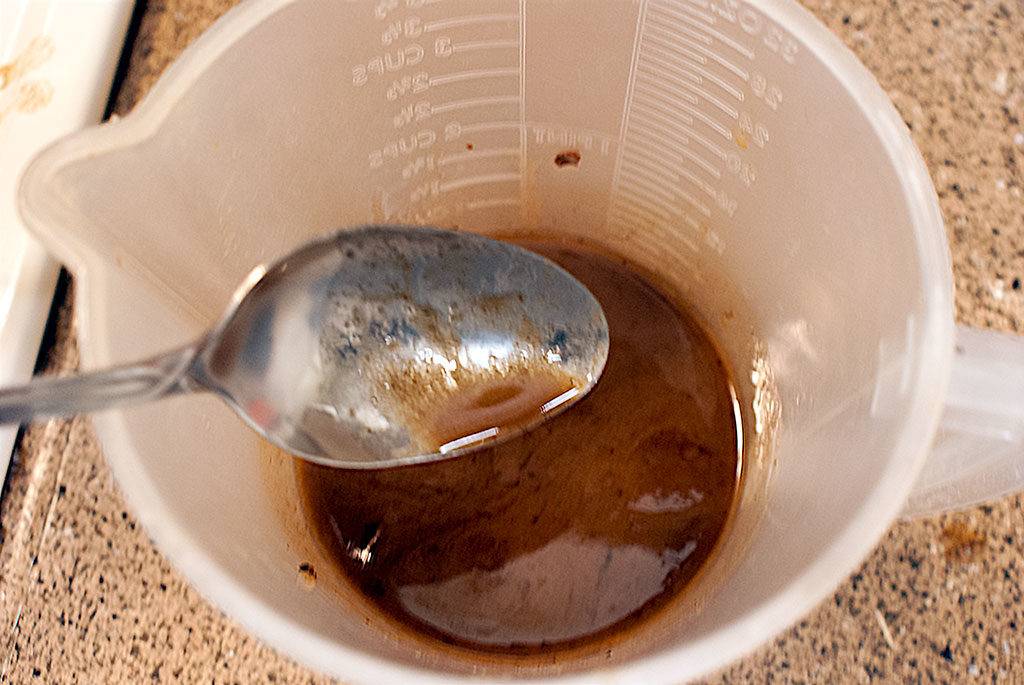 We're looking for 4 Tablespoons of fat and 2 cups of juices here, but don't worry if you don't have that much. In my case, I got about 1 Tablespoon fat and 1/8 cup of concentrated beefy goodness out of the pan. This was more than enough to get some massive flavor out of the gravy.
Measure out 4 Tablespoons of beef fat. If you don't have that much, add enough vegetable oil or canola oil to make 4 tablespoons. Pour that into a small saucepan over medium heat and cook until it shimmers. (It may pop a little, that's normal.)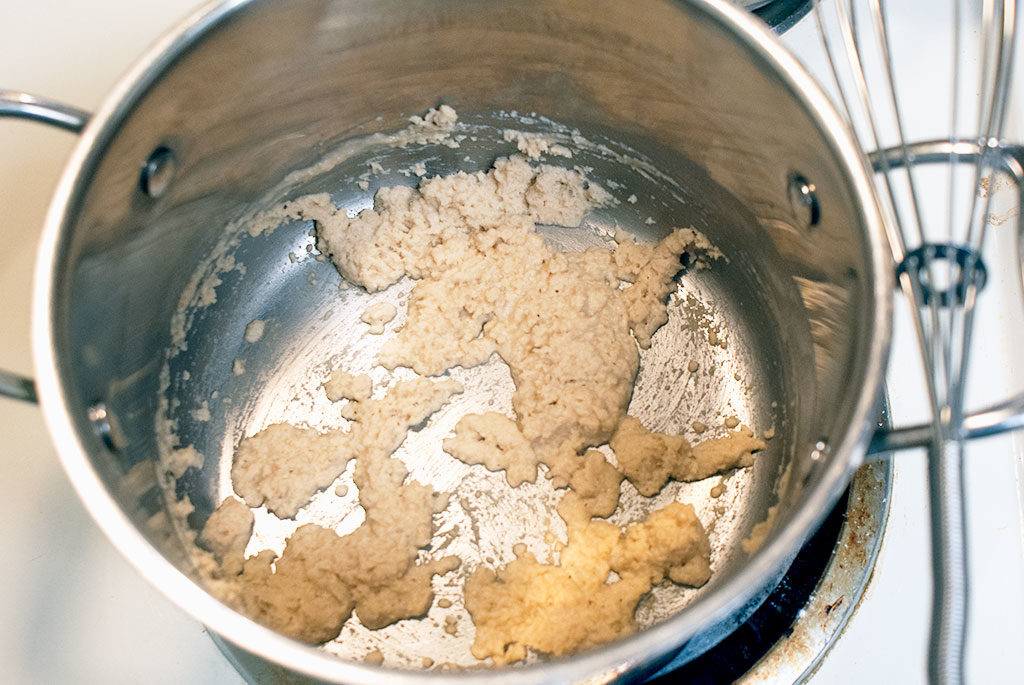 Add four Tablespoons of flour and stir. The flour will soak up the oil quickly and turn into a paste. This is a good thing.
Keep stirring until the flour smells nutty and has turned a nice rich brown color.
Now comes the good part. Grab a whisk and start stirring. Pour in about 1/2 cup of the reserved juices and whisk until smooth. Then pour in the rest and stir to combine.
Bring your gravy to a boil, then reduce the heat and simmer for about 2 minutes. Taste for seasoning and add salt and pepper in small amounts until it's seasoned enough for you.
As a final and optional touch, add a Tablespoon of butter just before serving. This gives the gravy an additional sheen and makes it just a little silkier.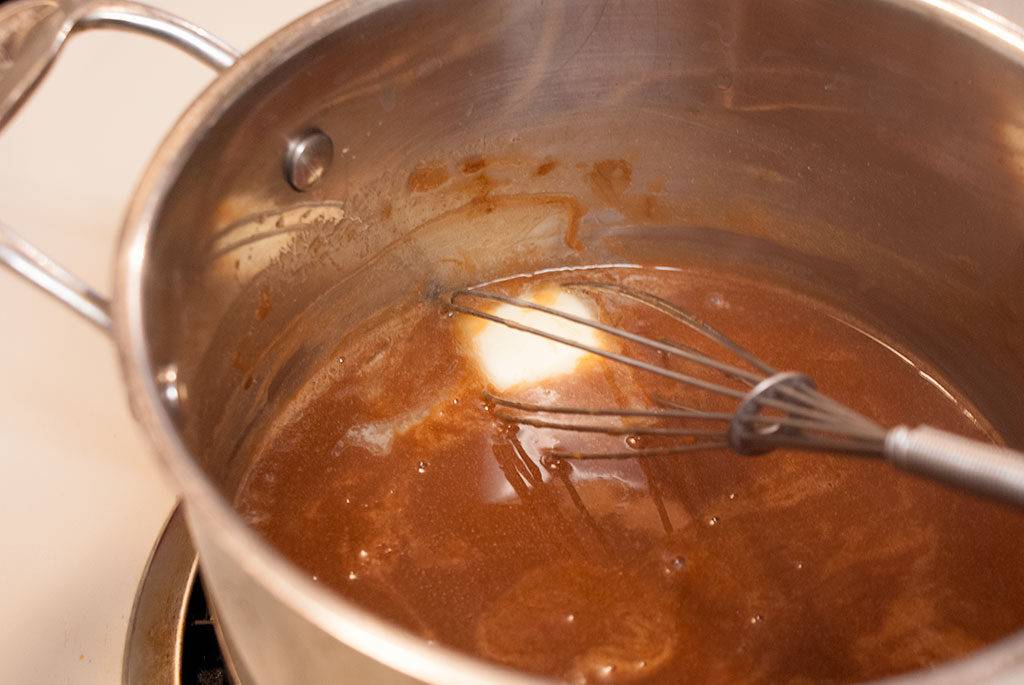 And there you have it, folks. A completely classic brown gravy recipe that couldn't be simpler to make.
Just imagine what you can do with this simple recipe!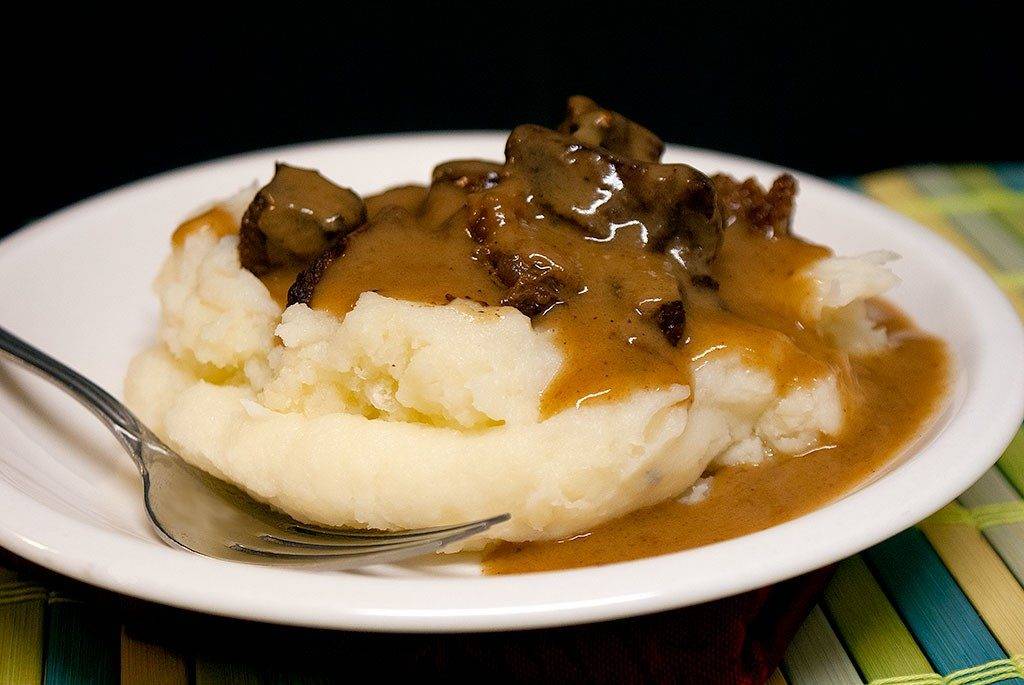 Gorgeous, isn't it?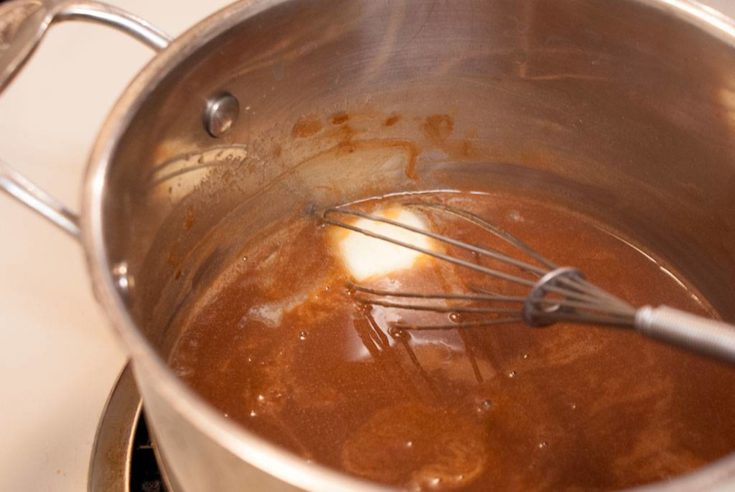 Yield:

8 1/2 cup servings
Brown Gravy Recipe
Ingredients
4 Tablespoons beef fat, or reserved beef fat plus enough oil to equal 4 Tablespoons
4 Tablespoons all-purpose flour
2 cups reserved meat juices, or reserved juices with enough beef stock to equal 2 cups
Salt and pepper to taste
1 Tablespoon unsalted butter, Optional
Instructions
Heat beef fat and oil over medium high heat in a small saucepan. Add flour and stir occasionally until mixture is golden brown and smells nutty.
Pour in 1/2 cup liquid and stir until smooth. Add remaining liquid and stir until combined.
Bring to a boil, stirring constantly. Reduce heat and simmer 2 minutes.
Season to taste with salt and pepper.
Stir in 1 Tablespoon of butter if desired for a silky sheen.
Serve immediately.
Nutrition Information:
Yield:
8
Serving Size:
1/2 cup
Amount Per Serving:
Calories:

229
Total Fat:

15g
Saturated Fat:

6g
Trans Fat:

0g
Unsaturated Fat:

8g
Cholesterol:

43mg
Sodium:

156mg
Carbohydrates:

12g
Fiber:

0g
Sugar:

8g
Protein:

10g
What I would have done differently:
If this brown gravy recipe is anything, it's versatile. Add mushrooms if you're using it over beef. Add onions and peppercorns for a richer finish. Add more stock for a thinner, more saucy gravy that would be perfect on a more elegant meal. The options are endless.
Consider this an American mother sauce and feel free to experiment!
More like this great brown gravy recipe from around the web:
Let us know what you think!
https://www.facebook.com/unclejerryskitchen/We'd love to get your opinion on this recipe and if it worked as well for you as it did for us. let us know in the comments or drop by and like Uncle Jerry's Kitchen on Facebook. You're the reason we keep posting recipes, so let us know if there's anything you' like us to tackle.