This Curry Rice shop has been compensated by Collective Bias, Inc. and its advertiser. All opinions are mine alone. #ReadySetServe #CollectiveBias
I'm a busy guy. I work a lot. Too much, probably, considering my age. (Which might be more advanced than one would think.) But there are a few days of the week when I have the opportunity to cook for my family, usually before heading out to the dreaded day job.
On those rare occasions, I do my best to make something memorable, but it has to be fast, nourishing, and most importantly, delicious.
For my son, that means making something he can associate with. He's just been introduced to an Anime called Engaged to the Unidentified, and the heroine of the show, Kobeni, often makes curry rice, a Japanese variant on British curry.
If it makes him happy, it makes me happy. And luckily, it's a very simple thing to make. Minute® Rice Ready to serve cups makes this dish easier than pie.
For those of you who have read this blog, you'll know I have a rice cooker. (Actually, I have several.) But on those nights when I want to get something out the door fast, it's a pain to cook the meal while also worrying about measuring, rinsing and sorting rice.
Yes, we take our rice seriously.
So I make sure to grab some Ready to Serve Rice while I'm at the store. It's quick, it's portable, so I can take some to work with me if I want a hot meal, and I can make anything with this that I would otherwise. It's just that I can do it in 60 seconds, rather than 20 minutes.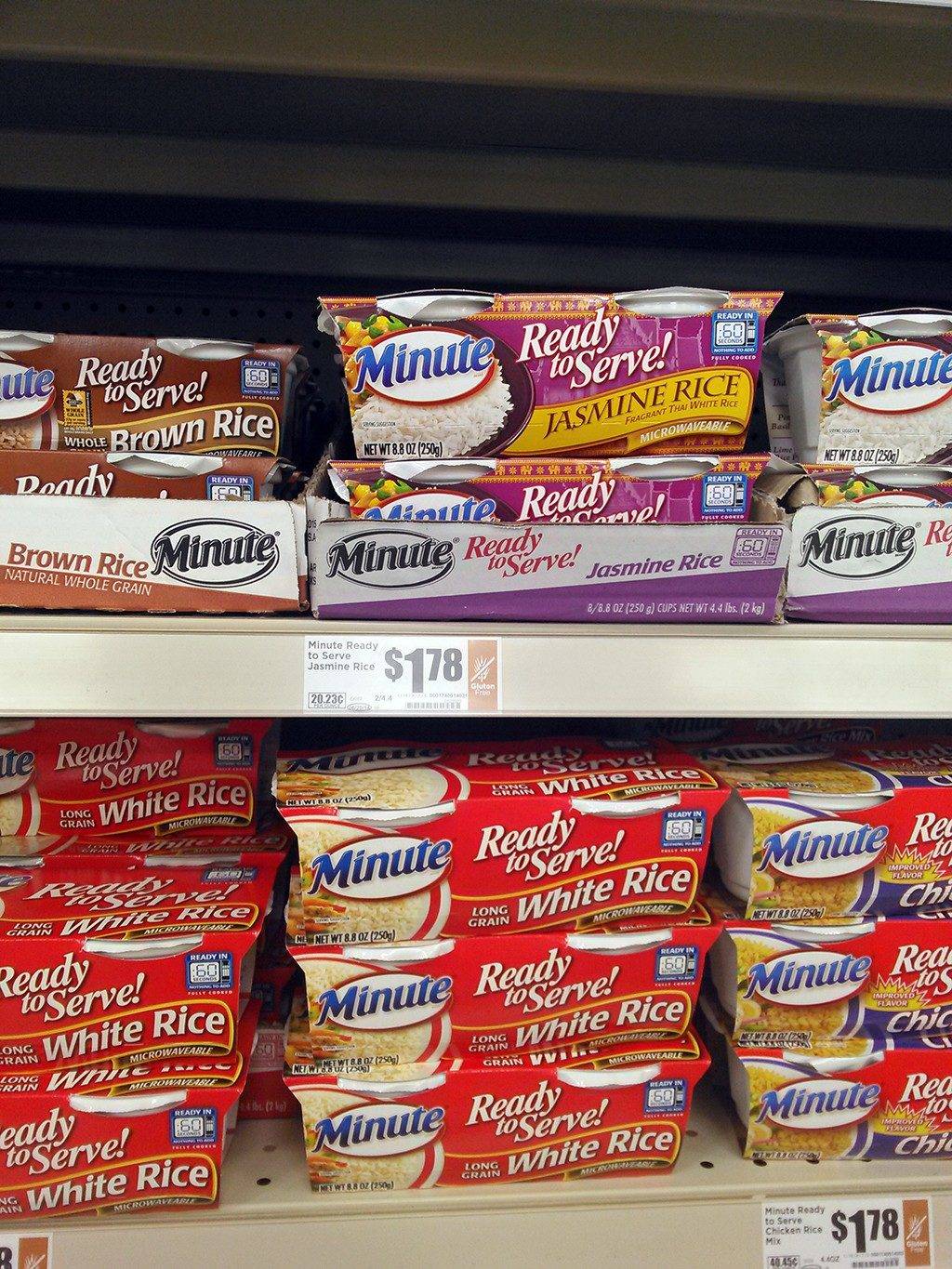 There are a ton of varieties, but we sort of stick to white rice and Jasmine rice. Our cooking preferences work that way. If I want to flavor my rice, I do it myself. But then, as I've said, we're pretty serious about our our rice around here.
Now, to the star of the show, curry rice.
Like any homemade comfort food recipe, curry rice has a million variations depending on the cook. For us, it's just chicken, carrots, potato and curry roux from the supermarket. Yes, I could make my own curry roux, but that would take days, not minutes, and to be honest, the store bought stuff isn't just good, it's incredible. I might work years to find the right combination of spices and seasonings.
So we get the ingredients together: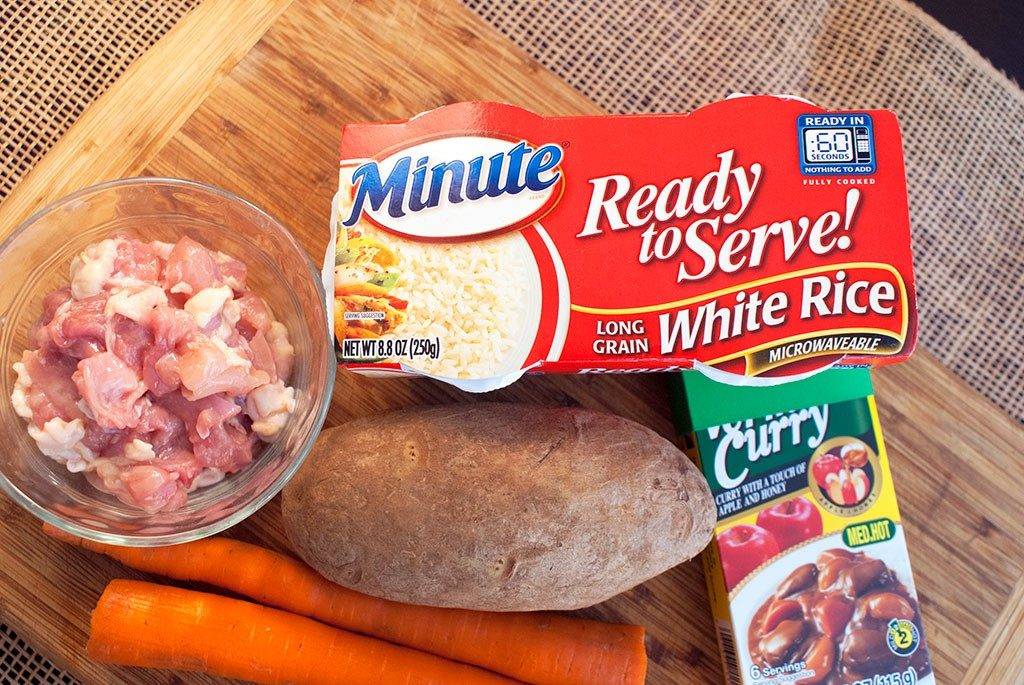 Just chop the carrots and potato, and take a minute to caramelize the onions, and you're golden.
Once those are simmering away and just about ready, we toss the Minute® Ready to Serve Rice in the microwave. The amounts and time for cooking will depend on the number of people you're serving.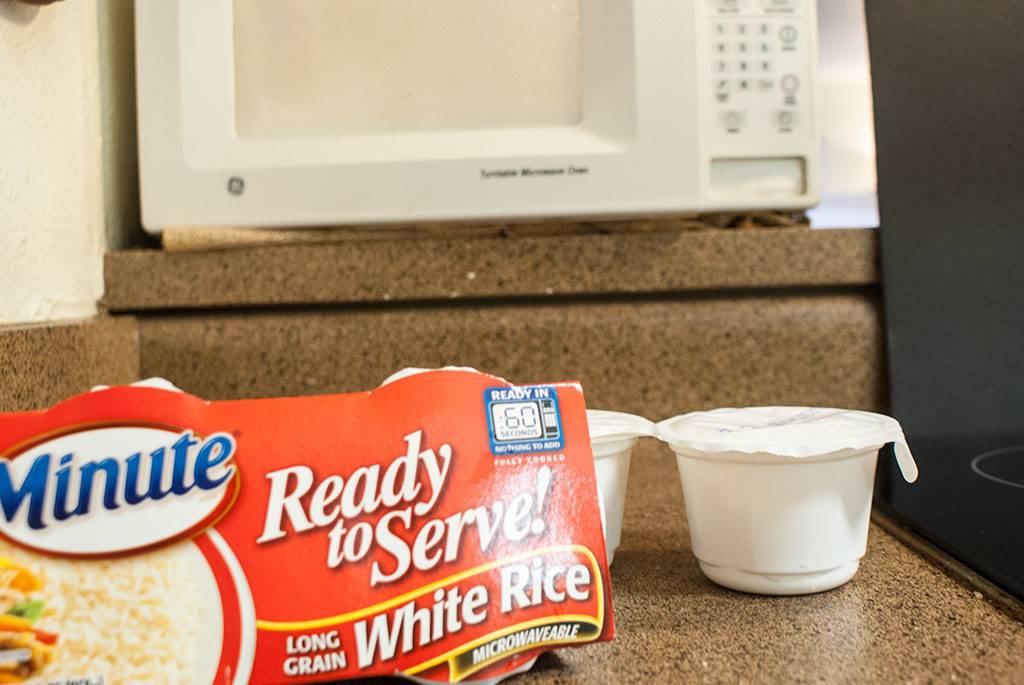 I'm not lying when I say that Japanese curry rice is a thing of beauty. And no, I don't care if it comes from packets and contains MSG. It's good.
No. It's amazing. Life changing, even. You have to try this.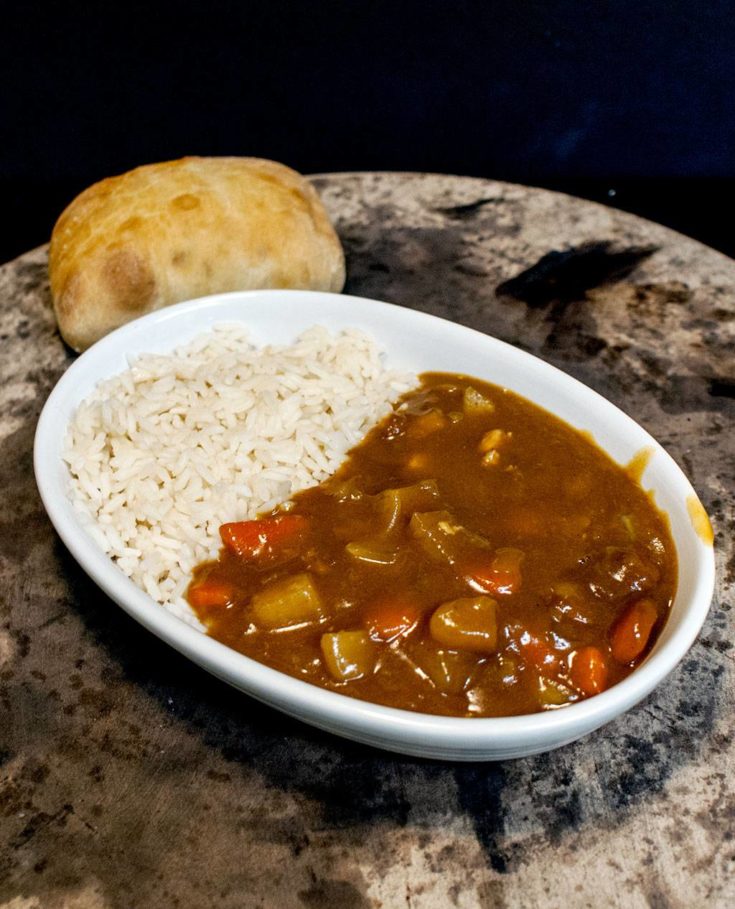 Yield: 6 servings
Curry Rice - Japanese comfort food at its very best
Prep Time: 5 minutes

Cook Time: 20 minutes

Total Time: 25 minutes

Curry Rice might just be the simplest and most satisfying dish you have ever served your family.
Ingredients
2 Tablespoons vegetable oil
1 pound chicken, cut in bite sized pieces
2 carrots, chopped
1 large potato, cut in bite sized pieces
2 onions. chopped - divided
1 package curry rough
3 1/2 cups water
Instructions
Heat oil in a saucepan until shimmering. Add 1/2 of the onions and cook, stirring frequently, until onions are browned and smell sweet.
Add carrots and onions. Stir.
Add chicken and cook until no longer pink.
Add water and bring to a boil. Reduce heat to low and simmer for 15 minutes
Add curry rough and cook for 5 minutes or until rough is as thick as you like.
Serve with hot steamed rice. and bread to sop up the leftovers
Nutrition Information:
Yield:
6
Serving Size:
1
Amount Per Serving: Calories: 312Total Fat: 16gSaturated Fat: 3gTrans Fat: 0gUnsaturated Fat: 12gCholesterol: 83mgSodium: 86mgCarbohydrates: 16gFiber: 2gSugar: 3gProtein: 25g


Look, I'm not usually big on store bought products, but this is good stuff. And I'm saying that as a rice snob.
Check out recipes and what other people think about Minute® Rice on social channels
Instagram – Facebook – Twitter
Let us know what you think in the comments. Your opinion means the world to us.