Since suddenly being thrust into the roll of full-time father of three, there are things that I seem to have trouble getting accomplished as readily as I did before. having three boys in the house tends to make me forgetful. I forget to finish laundry, walk away from dishes, forget where I put my keys and sometimes I even forget to eat.
I know that not eating isn't healthy. I would never let my kids go without a meal, but in the dead heat of the day, I'm finding that remembering to eat before dinner has become a challenge. To try and get myself to eat a more balanced and more creative diet, I've begun telling myself that lunch is the perfect time for foods that the kids probably won't eat.
Doing so has made remembering lunch more fun. I know there won't be an argument over what's served and that I can eat the things I love with abandon. Just feed the littlest, put him down for a nap, then go crazy trying out new flavors. I's an almost guilty pleasure that I'm happy to say has been effective. I haven't forgotten lunch in a few days.
This is a simple dish, but packed with flavor. I opted to skip noodles or rice this time, more for the sake of getting it on a plate than for any other reason. It held up on its own, but without some form of starch, I'd call this a great side rather than an entree or full lunch. In any event, give it a shot, I think you'll like it!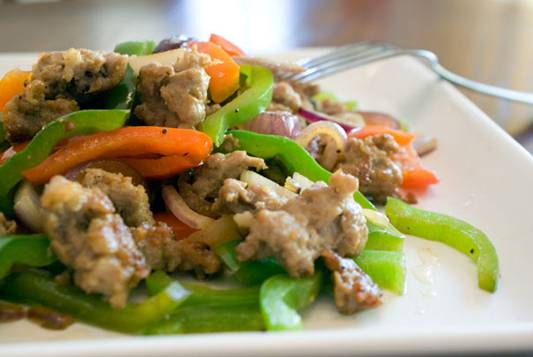 Yield: 4 servings
Italian Sausage and Pepper Stir Fry Recipe
Prep Time: 10 minutes

Cook Time: 10 minutes

Total Time: 20 minutes
Ingredients
1/2 lb Italian Sausage (sweet or hot, your choice)
1 Red Bell pepper, sliced
1 green bell pepper, sliced
1/2 of 1 large red onion cut in 1/2-inch slices
2 cloves garlic, minced
Vegetable oil, for stir frying
Salt and pepper to taste
Instructions
Heat approximately 1 tbsp vegetable oil in a large skillet or stir-fry pan over medium-high heat. When oil shimmers, crumble sausage into pan, shaking to distribute. Cook until sausage moves freely when pan is shaken. Stir and break into bite-sized pieces with a wooden spatula. Continue cooking until sausage is browned on all sides and no longer pink in the center.
Drain sausage and return to pan. Add 1 tbsp. vegetable oil and return to heat. Add garlic and cook, stirring frequently, for 2 minutes. Add remaining ingredients, and cook, stirring constantly, until peppers are just softened, but still crunchy, about 2 minutes.
Season with salt and pepper and serve, either as a side dish or over rice or noodles as an entree.
Share and enjoy!
Nutrition Information:
Yield:
4
Serving Size:
1
Amount Per Serving: Calories: 258Total Fat: 19gSaturated Fat: 6gTrans Fat: 0gUnsaturated Fat: 15gCholesterol: 32mgSodium: 498mgCarbohydrates: 10gFiber: 1gSugar: 5gProtein: 12g


What I would have done Differently had I thought of it at the time:
I think just a splash of balsamic vinegar at the end would have really perked this up. I'm also thinking that adding some zucchini might just make for an even more flavorful dish. In the end, this is a simply amazing combination of flavors and I highly recommend it.
What do you other parents with busy families do for lunch? Do you have any special tricks to remind yourself that your really, really need to eat? Am I the only one who forgets?

Links to other recipes like this: