This shop has been compensated by Collective Bias, Inc. and its advertiser. All opinions are mine alone. #BeyondTheSandwich #CollectiveBias
It can be tough to get the family around the table. Family schedules are all over the place,. Everyone, including the kids, have stuff to do and places to be, and the thought of another grab-and-go meal is definitely sounding tired.
But seriously, having a homemade meal shouldn't be a chore. It should be an experience that both you and your family look forward to, and it doesn't have to be complicated.
Just a little creativity and some quality off the shelf ingredients are all you need to put a smile on everyone's face. And you can make it look like you slaved over it, even though all you had to do was whip it together.
Tonight we're making a full dinner with Castle Wood Reserve® Deli meats, some cheese, and ingredients you probably already have in your pantry and freezer.
First, we've got to find the Castle Wood Reserve® Depending on your Walmart, that can be a bit challenging. In our local store, it's next to the deli.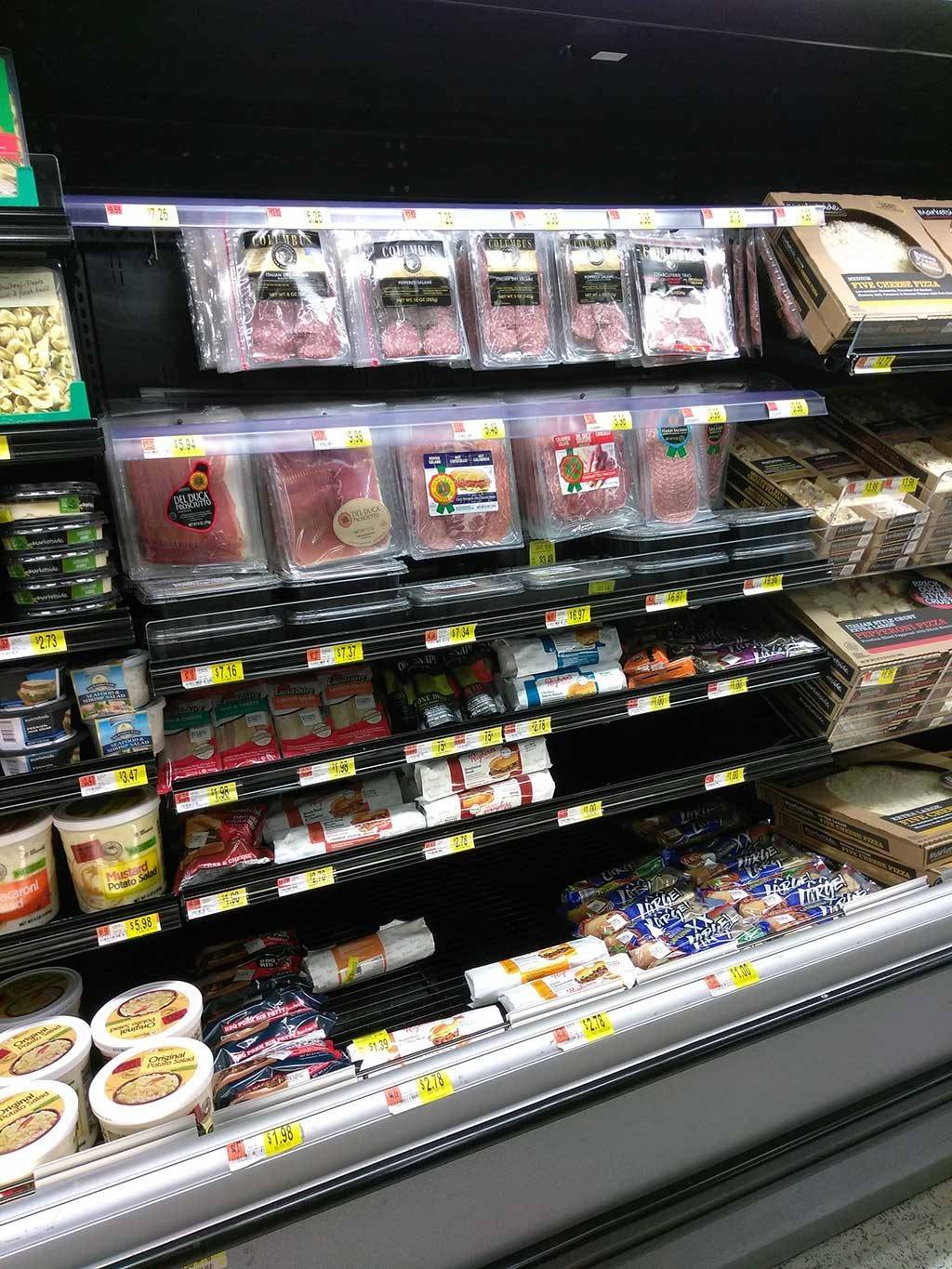 See, there it is!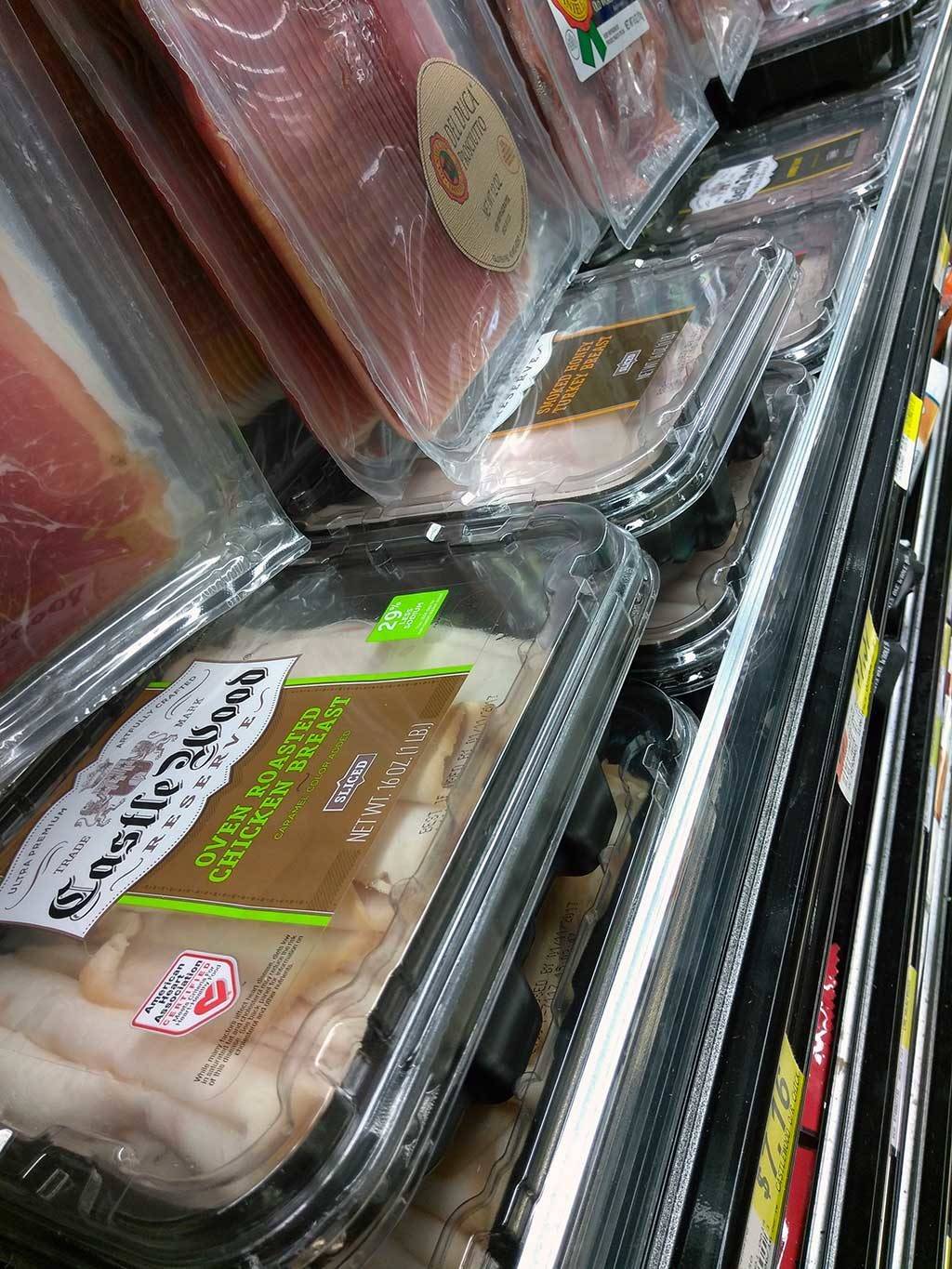 Today I went with Castle Wood Reserve® Honey ham and Oven Roasted Turkey Breast. Why? Because they're just good quality meats. No binders, no fillers, no MSG, and of course gluten free. Pair that with some sharp cheddar, a little swiss cheese, some mashed potatoes and broccoli, and you can feed a family of four with minimum effort.
You can learn more about Castle Wood Reserve® products on the Castle Wood Reserve® home page, and I do encourage you to take a look. It's good stuff.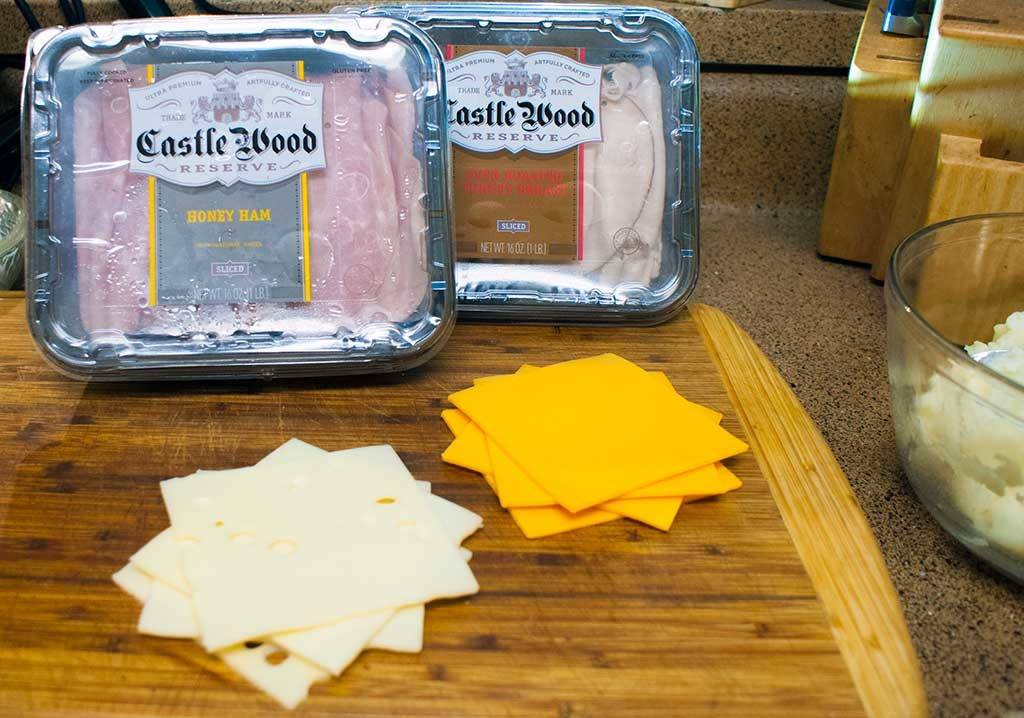 First, whip up four servings of mashed potatoes. You can go instant here if you want. We're not judging, and we know you're in a hurry.
Next, butter up an 8′ casserole or oven safe dish.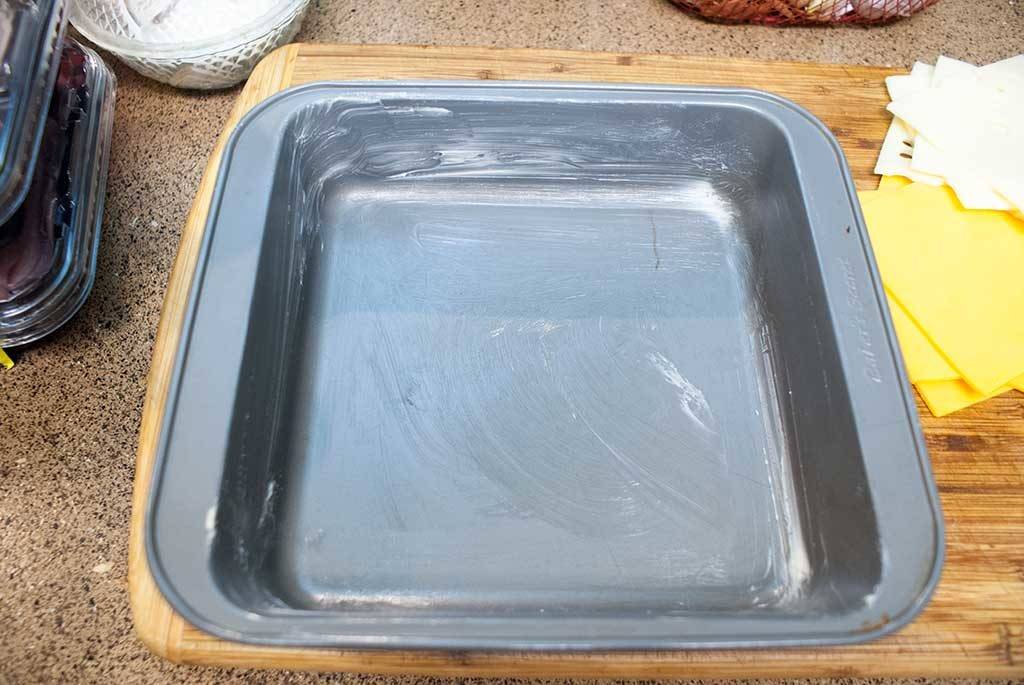 Spread your mashed potatoes in your buttered dish.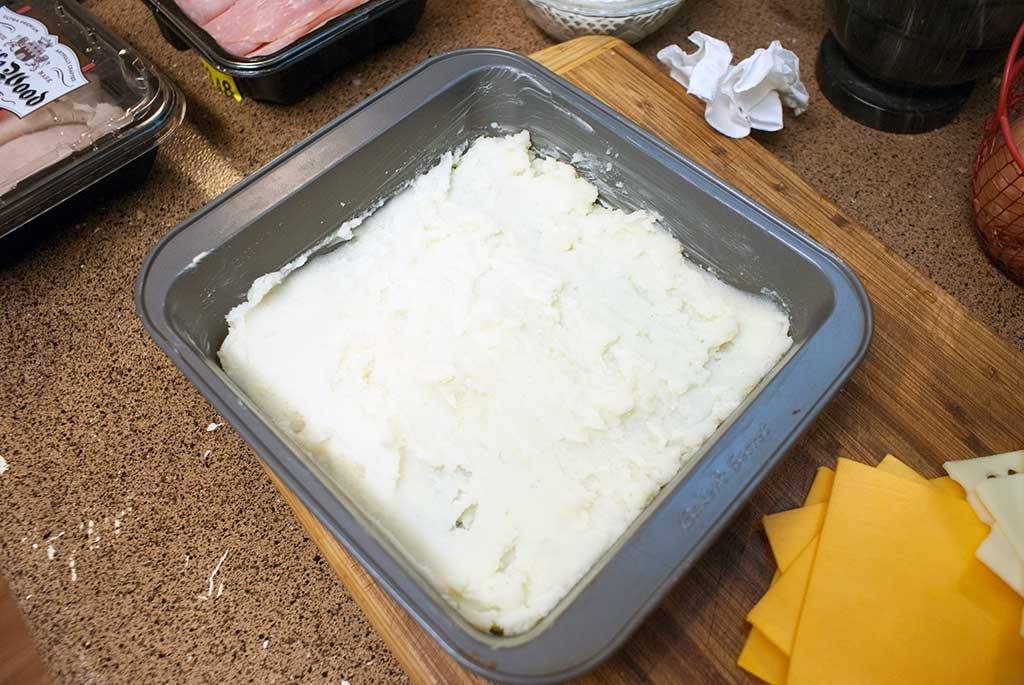 Layer some Castle Wood Reserve® Honey Ham over your potatoes.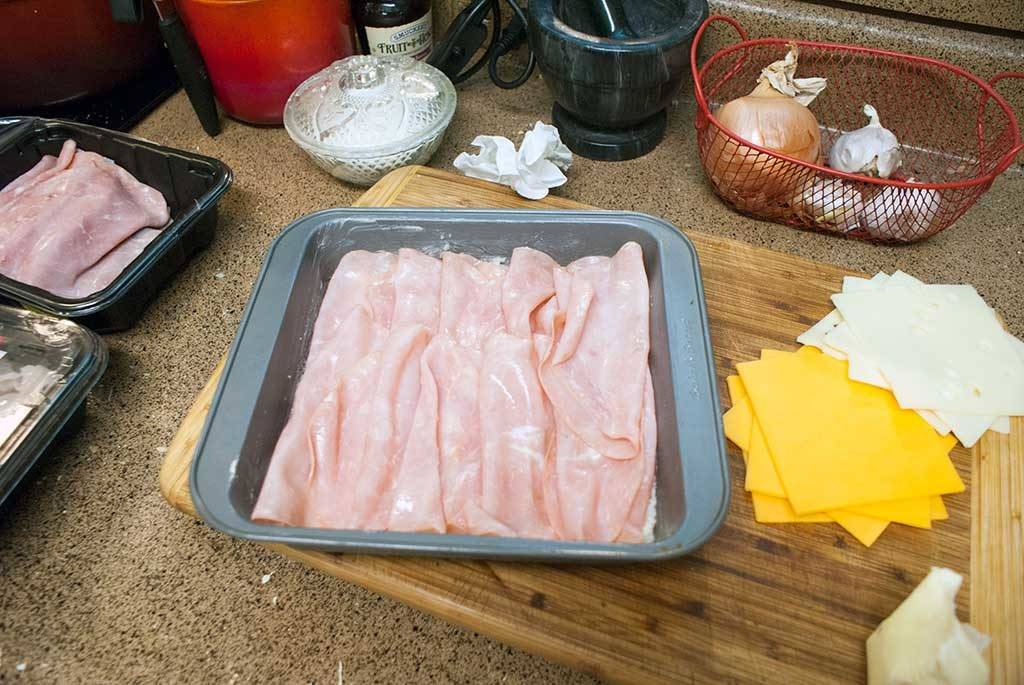 Next comes a nice layer of sharp cheddar cheese. See how well it fits? This is why we're using an 8-inch square dish!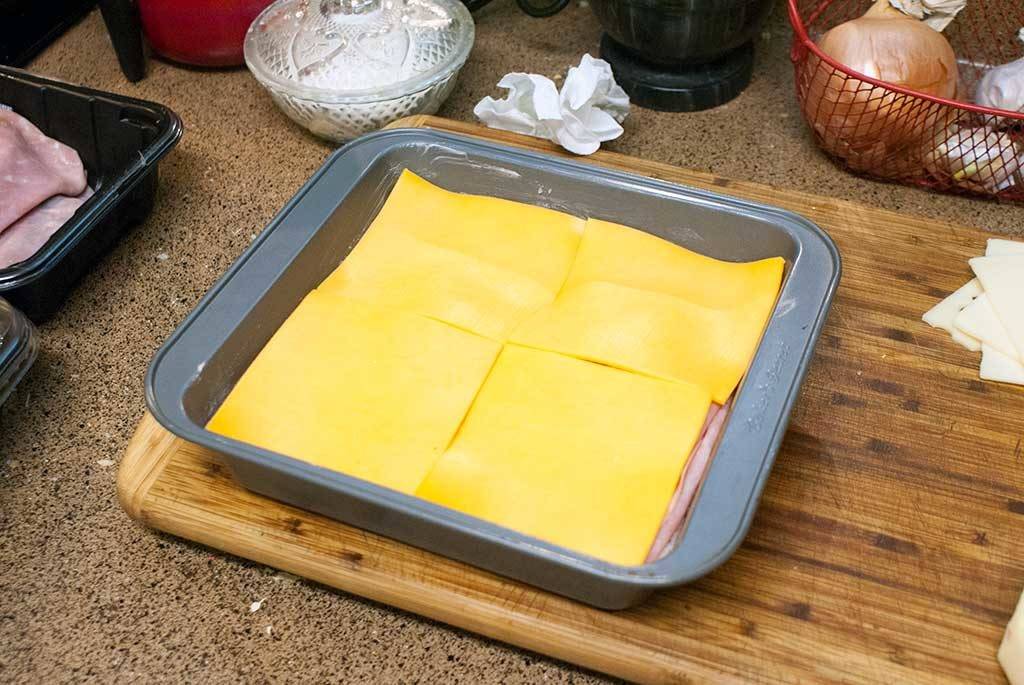 Next, a layer of broccoli florets. These came straight from the freezer, still frozen. It's all good.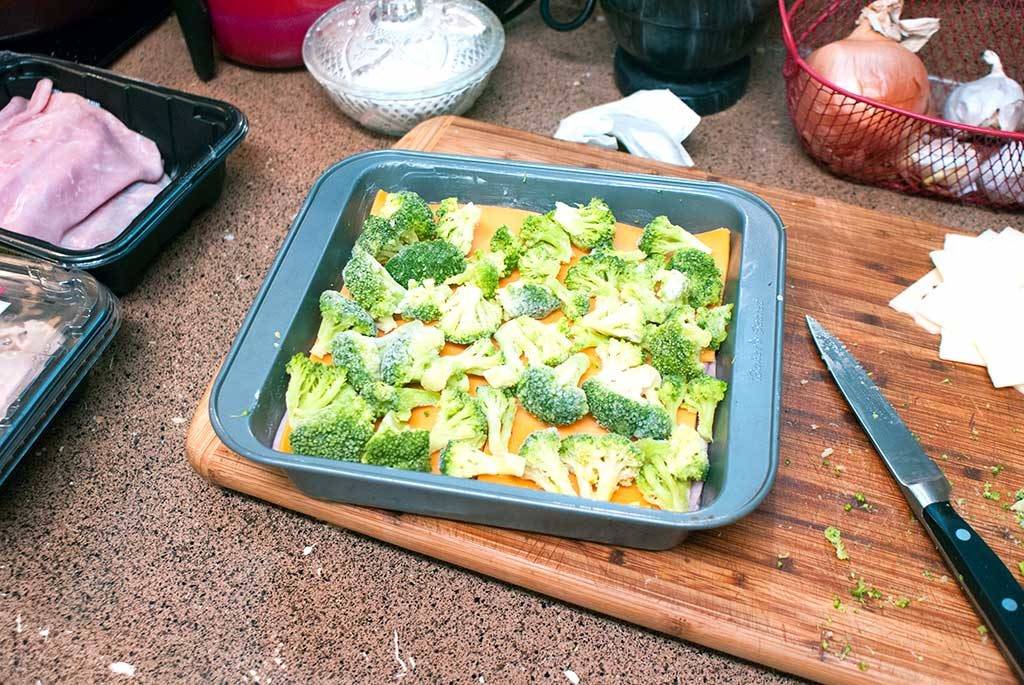 Next, lay down a generous layer of Castle Wood Reserve® Oven Smoked Turkey Breast.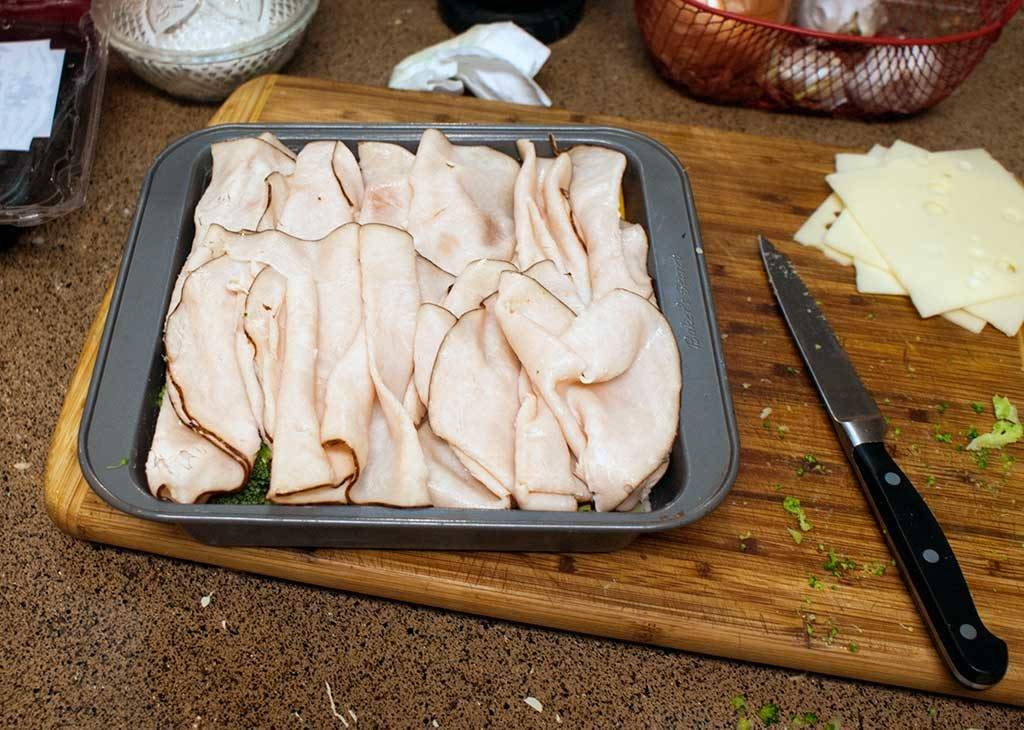 And then a layer of good quality swiss cheese. That's all there is to it. the Deli meat and cheese will season everything just fine.
Pop that bad boy in the oven and bake it at 350 degrees for about 45 minutes. You'll end up with a cheesy, bubbly, beautiful, one-dish meal.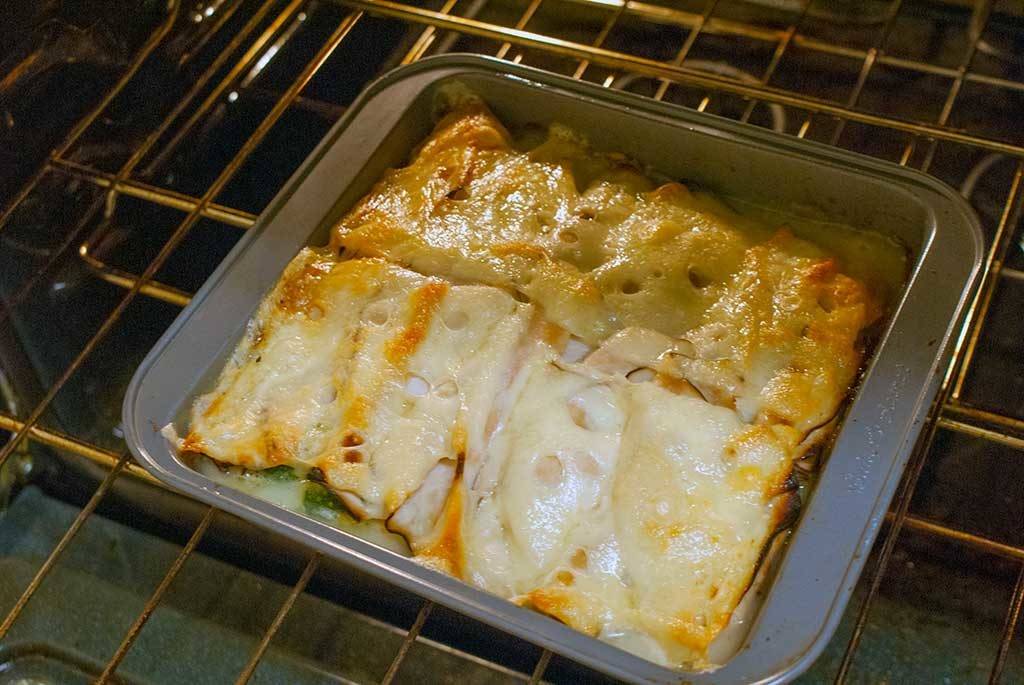 Let your casserole cool for at least 10 minutes before serving if you want pretty slices like this one, but if you're in a hurry it's ready to go when you are.
See how beautifully everything layers out when served?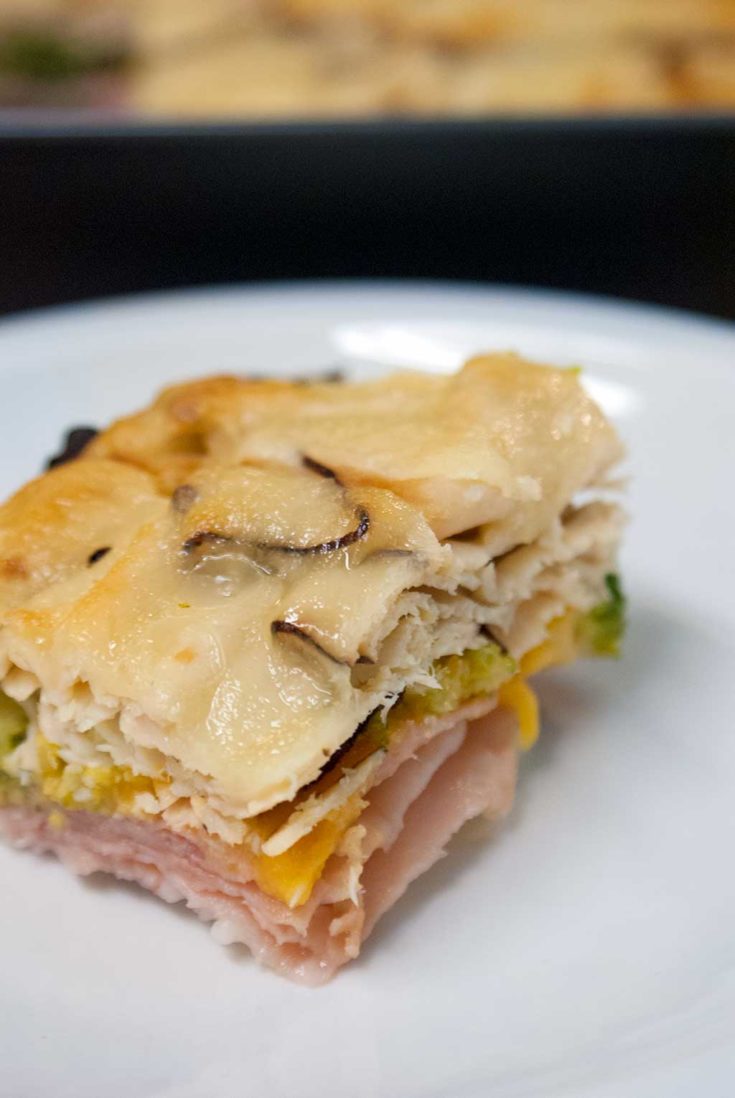 Yield: 4-6 servings
Ham, Turkey, Broccoli and Cheese Casserole - A simple family meal #ad @Walmart #BeyondTheSandwich
Prep Time: 5 minutes

Cook Time: 45 minutes

Total Time: 50 minutes
Ingredients
Butter, for greasing dish
4 servings mashed potatoes. (about 3 cups)
10 slices deli ham
4 slices sharp cheddar cheese
2 cups frozen broccoli florets
10 slices oven smoked turkey breast
4 slices good quality swiss cheese
Instructions
Heat oven to 350-degrees.
Grease baking dish or casserole dish well with butter.
Spread mashed potatoes over bottom of dish. Layer sliced deli ham evenly over potatoes. lay out sharp cheddar cheese slices.
Arrange broccoli florets evenly over cheese. Layer sliced turkey meat over boccoli. Top with Swiss cheese.
Bake at 350 degrees for 45 minutes, or until cooked through and cheese is bubbly. Allow to stand 10 minutes before serving.
Nutrition Information:
Yield:
6
Serving Size:
1
Amount Per Serving: Calories: 418Total Fat: 22gSaturated Fat: 9gTrans Fat: 1gUnsaturated Fat: 8gCholesterol: 80mgSodium: 1659mgCarbohydrates: 32gFiber: 4gSugar: 5gProtein: 25g