If you're looking for a quick, simple pasta recipe that won't let you down, this is the one you'll want to keep handy. We used gemelli for this dish, but it would work equally well with rotini or any other full bodied pasta. Gemelli just happens to be our recent new favorite, os we're doing a lot of experimenting with it.
This particular recipe came about from the need to get something on the table quickly. my wife called and announced that she would be coming home for lunch on this particular day, even though she was supposed to be having a lunchtime meeting. The result… Well, in a word it was fabulous. Or to quote Billy Crystal as Fernando, it was "Simply Maaaahhhvelous".
This recipe is also my entry for the ninth edition of the Frugal Fridays food blog event, where myself and several other very talented people, including Ben, from What's Cooking? There are others working on the project with us, but I'm not at liberty to discuss them just yet.
The purpose of Frugal Fridays is for foodies or food bloggers to create a recipe that costs $10.00 US or less that will feed a family, and this recipe falls so squarely into that category that it really should be a crime.
But without further discussion or ado, I present to you…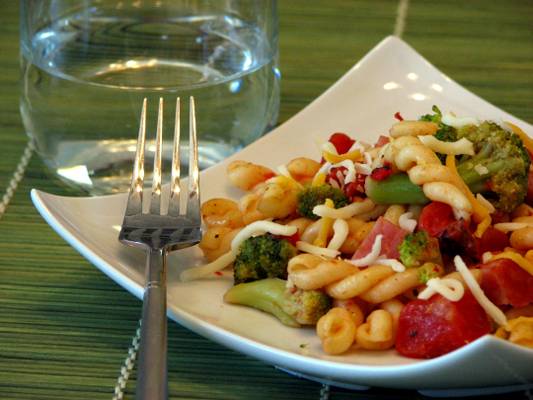 Yield: 4 servings
Pasta with Ham Broccoli and Fire Roasted Tomatoes
Ingredients
1 lb. curly pasta (We used Gemelli, but macaroni, ziti or rotini would work, too)
6 oz cooked ham, cubed
Approximately 2 cups broccoli
1 small onion, chopped finely
4 cloves garlic, minced
1-14.5 oz can fire roasted tomatoes
4 tbsp extra virgin olive oil
Herbs of choice. (I used a sprig of basil, finely chopped and a branch of oregano)
salt and pepper to taste
Parmesan or jack cheese to taste
Instructions
Heat water for pasta over high heat. Boil pasta for approximately 7 minutes. Drain, but do not rinse.
In a large saucepan over medium high heat, add olive oil and onions. Saute onions until lightly golden. Add garlic and cook, stirring often for 2 minutes.
Add broccoli and cover. Cook for approximately 5 minutes, or until broccoli is just tender. Add tomatoes and cook for approximately 4 minutes. Add ham and cook until warmed through. Add herbs of choice and toss well. Mixture should still appear oily, if not add a bit more olive oil and heat through.
Add pasta to pan and toss well to coat. Season with salt and pepper.
Serve immediately with a pinch of cheese over the top.
Nutrition Information:
Yield:
4
Serving Size:
1
Amount Per Serving: Calories: 448Total Fat: 20gSaturated Fat: 4gTrans Fat: 0gUnsaturated Fat: 14gCholesterol: 35mgSodium: 719mgCarbohydrates: 48gFiber: 7gSugar: 6gProtein: 21g


What I would have done differently had I thought of it at the time:
I really can't think of anything. This was really quite fabulous.