Have you ever wondered what to do with a leftover ham, especially through the Holidays? If you're like us and prefer to have ham on the table for Thanksgiving and Christmas as well as a turkey or roast beef (Or whatever your tradition happens to be), then this quick little throw together might be just what you've been looking for as a way to get a bit of new life out of some of your leftover holiday feast.
Almost everyone has a few boxes of mac-n-cheese stuffed somewhere in their pantries. You may not use it regularly, but I'm sure its in there somewhere. This recipe calls for two standard sized boxes, but hey, I'm not going to say you can't make your own Mac and Cheese and make this up either. It would surely be better, but I always have the boxed stuff, because my son doesn't prefer homemade yet.
So with a few boxes of noodles, a bit of cheese leftover from an Antipasto platter that I made, a bag of frozen broccoli and a bit of this and that, you can have a beautiful comfort food meal on the table and go through some of those leftovers in the process. Not a bad deal, is it?
And did I mention that this is freaking wonderful? It really is. We actually ate the leftovers of the leftover solution for lunch the next day… Yup. It's that good.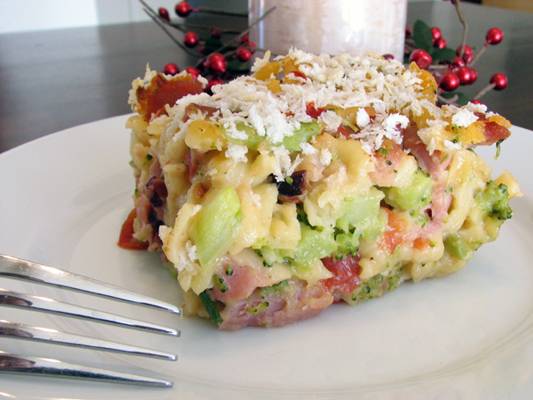 Yield: 12 servings
Cheesy Leftover Ham and Broccoli Casserole Recipe
Prep Time: 10 minutes

Cook Time: 20 minutes

Total Time: 30 minutes
Ingredients
2 boxes store bought macaroni and cheese
1 lb. leftover ham, cut in chunks
1 (16 ounce) package frozen broccoli florets
1 (22 ounce) can chopped tomatoes, drained
1/2 bunch green onions, chopped
1/2 cup milk
1/4 cup half and half or heavy cream
5 tbsp. butter
Approximately 1/2 cup fresh mozzarella
Approximately 1/4 cup grated Parmesan cheese
2 tbsp prepared yellow mustard or Dijon mustard
Salt and pepper to taste
1 cup panko breadcrumbs
Instructions
Preheat oven to 350 degrees.
Boil macaroni according to package directions, but just until almost finished cooking. (Very al dente.)
If using a pasta pot:
Drain noodles and set aside in a large bowl, but do not rinse. Add broccoli florets to the basket and blanch in pasta water for approximately 2 minutes. Rinse under cold running water and drain well.
If using a colander:
Place broccoli florets in a large heat-proof bowl or pot. Place colander over broccoli and drain water onto the broccoli. Allow to sit in hot water for 2 minutes, then drain and rinse under cold water. Allow to drain in a second colander or on a clean dish towel.
In the same pot you made the pasta in, mix the cheese packets as directed on the box. (Generally 2 tbsp. butter and 1/4 cup milk per packet…) When mixed add heavy cream or half and half and butter, stir to combine. Stir in mozzarella 1/2 ball at a time, waiting until the last addition is completely incorporated before continuing.
Add macaroni, ham, broccoli, green onions, tomatoes, Parmesan, mustard and salt and pepper. Stir until everything is well coated in the cheese mixture. Pour into a large casserole or jelly roll pan. Top with breadcrumbs and bake at 350 degrees for 20 minutes, or until bread crumbs begin to brown and mixture is bubbly.
Remove from heat and allow to rest uncovered for 15 to 20 minutes.
Serve and enjoy!
Nutrition Information:
Yield:
12
Serving Size:
1
Amount Per Serving: Calories: 375Total Fat: 19gSaturated Fat: 8gTrans Fat: 2gUnsaturated Fat: 10gCholesterol: 53mgSodium: 968mgCarbohydrates: 33gFiber: 2gSugar: 6gProtein: 18g


What I would have done differently had I thought of it at the time:
That would depend completely on what I had on hand. Skip the broccoli and use green beans or peas if you prefer. Add cheddar or pepper jack instead of mozzarella. Spice it up with some chili flakes.
This really is one of those "anything can work" recipes, so feel free to play with it.
Links to other recipes like this: