It's been said for a very long time that chicken soup is good for a cold. It's been proven that the vapors help with congestion, but I still think it's the comfort factor that makes us feel so much better when we're under the weather.
Mrs. seat of her Pants was down with a bug over the weekend and the only thing she could tolerate was soups and broths. In true style, she fussed at me that I didn't need to go out of my way to make her anything "special" and that she would be quite happy with the soup in the little red box.
Powdered soup… For my sick wife… I don't think so.
While I'm sure that this isn't in any standard recipe book, it came out very well and has the advantage of being entirely homemade. I know that Mrs. seat of her Pants was in a blissful soup and cold medicine coma shortly after having some and managed to return to her duties today carrying two large bowls of this soup with her.
This is made like many soups, in two parts. First there's the stock, then the soup proper.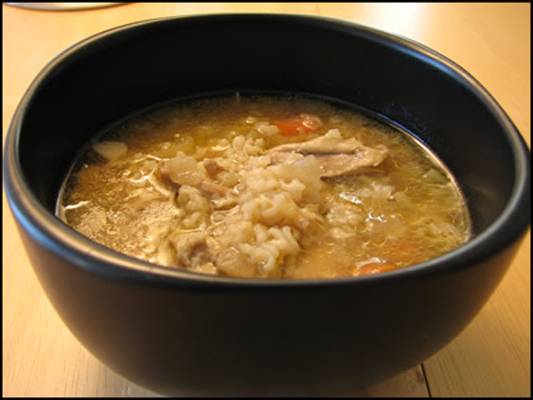 Yield: 4 servings
Chicken and Rice Soup Recipe
Cook Time: 30 minutes

Total Time: 30 minutes
Ingredients
Stock:
4 chicken leg quarters (or equivalent amount, about 6 thighs) skin ON
3 stalks celery
3 carrots
1 onion, quartered
4 cloves garlic
¼ tsp curry powder
1 tbsp black peppercorns
2 tbsp salt
Water to cover
2 tbsp Olive Oil
Soup
4 chicken leg quarters, poached and split into bite-sized pieces, skin and bones discarded.
2 carrots, chopped into ½ pieces
2 celery stalks, chopped into ½ inch pieces
1 onion, chopped
¼ cup Chardonnay
1 cup rice
4 cups chicken stock (see above)
Salt and Pepper to taste
Instructions
Stock:
Salt and pepper chicken quarters liberally. Brown both sides well in large stock pan over medium heat. Add remaining ingredients. Simmer until chicken is done and vegetables are soft. Strain liquid through sieve, retain chicken.
Soup:
Add stock, vegetables and chardonnay to large sauce pan or stock pot over medium heat. Bring to a simmer and cook 10 minutes. Add rice, cover and simmer for 20 minutes.
Add chicken, season to taste, serve hot.
Nutrition Information:
Yield:
4
Serving Size:
1
Amount Per Serving: Calories: 769Total Fat: 35gSaturated Fat: 8gTrans Fat: 0gUnsaturated Fat: 23gCholesterol: 353mgSodium: 4254mgCarbohydrates: 34gFiber: 4gSugar: 9gProtein: 74g


What I would have done differently had I thought about it at the time.
Watch the salt. It seems no matter how much I added it was just never enough. I probably would have added some chili flakes or hot sauce as well, as it helps to clear the sinuses.
I also would have skimmed the fat off of the broth a bit more vigorously, but I was in a hurry to get it done.
Do you have a favorite chicken soup recipe? If so, let me know.