I have to admit it. Up until I made this, dirty rice was one of my guilty boxed pleasures. I'd never seen a recipe for it, and I have to admit that I really hadn't looked. I'd just grab a pound of ground beef or sausage and cook it up, then mix in the packet, some stock, and presto! A hearty meal that took all of 35 minutes, start to finish.It's not what I'd call health food coming out of a box, but it was just so good!
Then one day while the Food network droned on as background noise to cleaning the living room, I saw it. There on the screen before me, Paula Deen, the First lady of Buttah was doing a segment on low country cooking, and her second dish was that elusive, delectable dish that I'd come to love so much from a box.
And it was too simple for words.
Literally, it's probably the simplest thing you could ever make. Just brown up some proteins, add some green stuff, fold in rice and as much heat as you want, and viola! Enough dirty rice to last my rice luvvin' wife over a week of lunches. The flavor.. Something just this side of heaven, in our opinion.
Dirty Rice is now one of those things I would never dream of buying in a box. It is a comfort food that I'll lovingly recreate time and again. I'll make my own at least once per month and freeze it up in individual serving sizes for a quick bite or a glorious side to any meal that needs a bit of kick to go along with it.
I hope Y'All enjoy this recipe as much as we did.
EDIT: I had a few people suggest that they would prefer giblets over livers. I'm here to tell you NOT TO DO THIS! I tried the recipe with giblets last night and the resulting dish was summarily thrown out. It is not a good combination at all!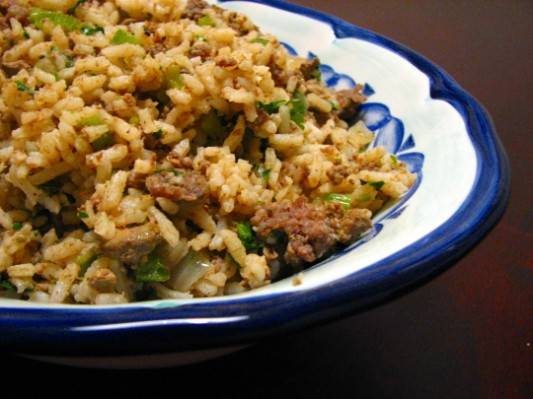 Yield:

10 servings
Low Country Comfort, Dirty Rice Recipe
Ingredients
1 lb bulk pork sausage (Mild or hot, depending on your preferences.)
3 cloves garlic, minced.
1 lb chicken livers, chopped fine.
1 medium onion, chopped.
1 green bell pepper, chopped.
3 celery stalks, chopped
4 cups hot cooked white rice
1/4 cup chopped fresh parsley leaves
1 1/2 to 3 tsp. Cajun seasoning or Louisiana hot sauce.
Salt and pepper to taste.
Instructions
Cook the sausage and chicken livers in a large heavy skillet until browned, breaking up any large chunks as you go. Add vegetables and saute until soft. Gently fold in the rice and parsley, serve immediately with Louisiana hot sauce on the side for those who like more of a kick.
Nutrition Information:
Yield:
10
Serving Size:
1
Amount Per Serving:
Calories:

318
Total Fat:

16g
Saturated Fat:

5g
Trans Fat:

0g
Unsaturated Fat:

9g
Cholesterol:

294mg
Sodium:

943mg
Carbohydrates:

22g
Fiber:

1g
Sugar:

2g
Protein:

22g
thumbnail="https://www.unclejerryskitchen.com/wp-content/uploads/2008/01/dirty-rice1-533×399.jpg" type="recipe"]
What I would have done differently had I thought of it at the time:
While I fully plan on toying with the flavors in this a bit, probably with the addition of a little anduille sausage and a bit of mucking with the ratios on the trinity (Onions, celery and bell peppers), I'm not in any hurry to change this recipe much. It makes a lot of dirty rice. Something like 6-8 cups, total, so there will be leftovers and that, my friends, is a good thing! If anything, it tastes even better the next day, and will keep a good long while in the freezer. Just pop it out and defrost in the microwave, add a tiny bit of chicken stock and a pinch of fresh parsley, and enjoy!
Links to other recipes like this: